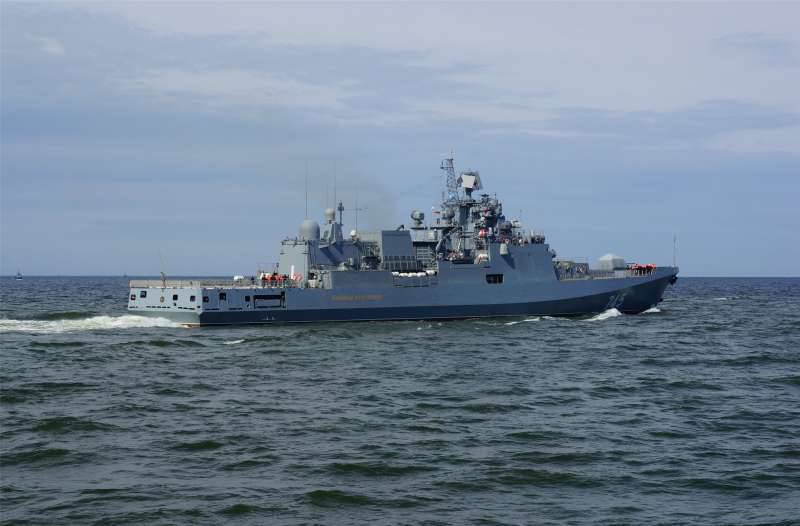 In the Mediterranean Sea, warship exercises from the permanent naval group of the Russian Navy were held, in which three Black Sea frigates took part
fleet
. This was reported by the press service of the Black Sea Fleet.
The naval strike group of the Black Sea Fleet consisting of three frigates "Admiral Grigorovich", "Admiral Makarov" and "Admiral Essen" performed rocket and artillery firing at sea and air targets from anti-aircraft missile and artillery systems
- said in a statement.
According to the scenario of the exercises, a group of ships of a conditional enemy was rocket attacked by a Russian ship group. In the course of repulsing a conditional attack, the calculations of the air defense systems of the ships destroyed the targets by electronic launches. After that, the frigates used Caliber (electronic launches) against the enemy of the Kyrgyz Republic and carried out artillery fire.
During the exercise, the combat calculations of the air defense of the frigates Admiral Grigorovich, Admiral Makarov and Admiral Essen destroyed the conditional enemy cruise missiles with the Shtil-1 anti-aircraft missile system. Aerial targets were conditionally destroyed by electronic launches
- Said the press service.
Note that at present, the permanent group of the Russian Navy includes three frigates of project 11356 at once: Admiral Grigorovich, Admiral Makarov and Admiral Essen, although usually ships serve one at a time, replacing each other. Most likely, all three frigates were brought into one group in connection with the situation in the province of Idlib, which developed in late February and early March this year. It is possible that in the near future one or two frigates will leave the Mediterranean Sea and return to Sevastopol.