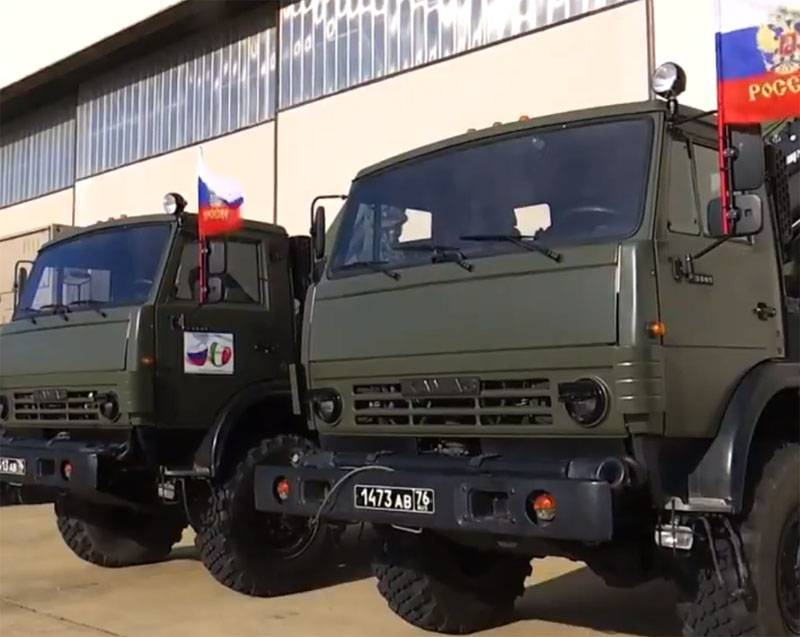 In the press of the NATO countries comment on the assistance that Russia provides Italy in connection with the coronavirus pandemic. Recall that Russia, through the main military department, sent to Italy several transport aircraft with military virologists, special vehicles and equipment. One of the columns of equipment has already arrived in the most affected region of Italy - the province of Lombardy.
The Norwegian press writes that the comments of the Italian authorities and ordinary citizens of the country show the fact: "there is no cold war that has been talked about all the last time." It is noted how the Italian authorities and representatives of the armed forces greet the Russian military, saying "to the Russians a word of gratitude for the assistance provided."
Norwegian Aftenposten:
Italy is in a deep crisis and notices where help comes from. The Russian military unloaded planes and urgently set off to assist in the fight against coronavirus infection.
In the British press, meanwhile, they wrote that "Russian assistance would prove to be not free for Italy." According to the British author, supposedly Russia "will ask Italy to soften anti-Russian sanctions." A strange statement, especially from the representatives of the United Kingdom, which, firstly, has not provided any worthy assistance to Italy itself, and secondly, is itself known for the fact that then it will seriously ask for any of its help from the one to whom it provided it.
A few reader comments in the European press and blogs (comments are often diametrically opposed in meaning and assessments of Russian activities in Italy):
Today in Rome, Italy: A Russian military convoy carries doctors, medicines and medical equipment en route to Bergamo.

In spite of EU sanctions, Russia was one of the first countries to answer #Italy's call for help to contain the spread of #Corona virus. pic.twitter.com/F8H92UYZ2a

- Sarah Abdallah (@sahouraxo) March 25th 2020
Cool propaganda. They also took it off themselves.
It has long been noticed that where the Russians come, peace eventually sets in, and where, for example, the USA comes, chaos and war. What did NATO and the EU provide suffering Italy? Only words.
Countries prone to socialism tend to help even those countries that are based on capitalism.
Everyone in Europe today will tell you: beware of Danians bringing gifts.
Meanwhile, in Italy itself, the vast majority of assessments of Russia's actions in terms of assistance in combating the pandemic are positive. And only a few people, especially prone to Western propaganda, seriously consider Russian aid a "Trojan horse".