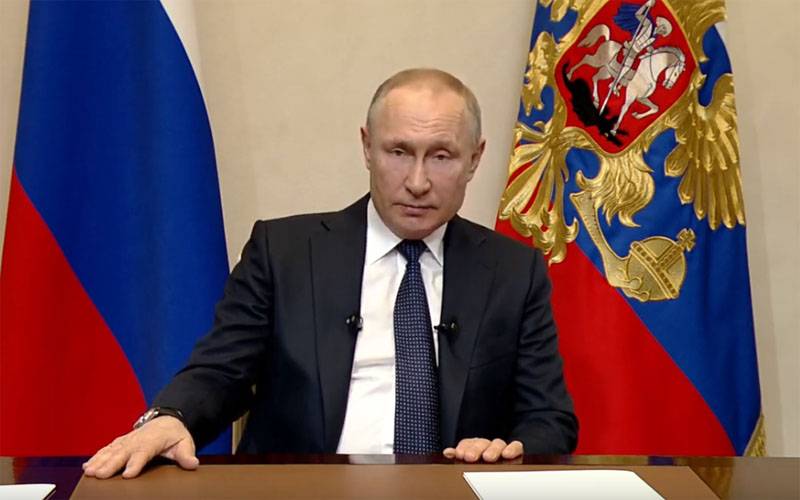 Russian President Vladimir Putin addressed the people. For the first time, the appeal of the head of state is associated with the epidemiological situation in the country and the world. However, it was devoted not only to issues, so to speak, of the sanitary protection of the population in connection with COVID-19, but also to related issues of a socio-economic nature.
At the beginning of the speech, the head of state thanked the Russian doctors for their work and asked citizens to pay utmost attention to the recommendations of health workers and authorities, to take care of health conservation.
Vladimir Putin touched on the issue of voting on constitutional amendments. The President said that he was asking citizens to come to the polls and express their opinion, but the vote itself will not be held on April 22, but later.
Putin:
Based on the opinion of doctors, we will decide on a new date for voting.
To prevent the spread of the disease, Putin declared non-working wages the following week.
Putin:
Weekends: from March 28 to April 5. At the same time, medical institutions, pharmacies, shops will work. All recommendations must be followed. It is necessary to protect both yourself and your loved ones.
Vladimir Putin noted that in the near future we will focus on a new version of the economy. He promised special support to small and medium-sized businesses during the pandemic. In particular, it was about temporary changes in the taxation system of companies, about tax holidays.
The head of state noted that for withdrawing funds to foreign accounts, the tax bar will be increased to 15%. At the same time, Putin added that leverage is needed to avoid double taxation.
The President spoke out that if any of the countries does not accept such a norm, then Russia will withdraw from the agreement with it.
The head of state touched on support for families with children, announcing an additional payment of 5 thousand rubles per child under the age of 3 years in families that are entitled to receive the so-called maternity capital.
Address by the President of Russia to the nation: