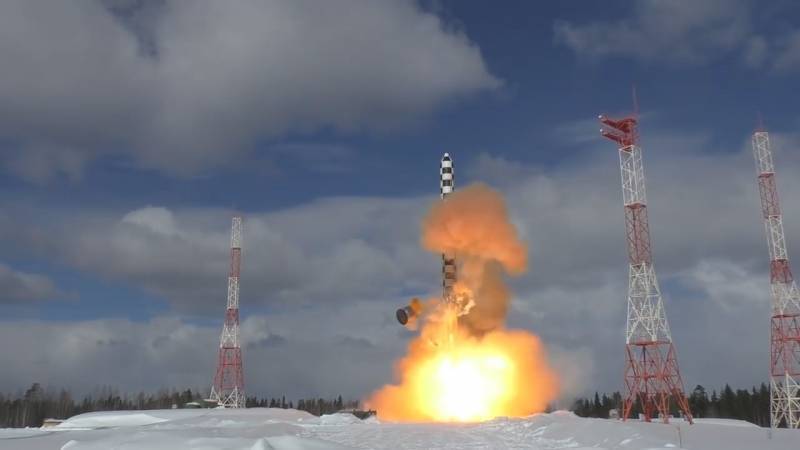 Russia is ready for serial production of the latest Sarmat intercontinental ballistic missiles. This was stated by Defense Minister Sergei Shoigu in the Federation Council.
Speaking to Russian senators, the head of the military department announced the completion of modernization of production for serial production of Sarmat ICBMs. According to Shoigu, Russia is building up its containment potential.
The minister did not say anything about the future rocket manufacturer, but previously it was reported that the Krasnoyarsk Machine-Building Plant, which in Soviet times was the leading manufacturer of missiles for submarines, would be engaged in serial production of Sarmat. Back in 2017, the Ministry of Defense announced the modernization of production in Krasnoyarsk and plans to conclude a contract with the enterprise for the production of Sarmat ICBMs.
At the end of last year, it was reported that the start of flight design tests of the Sarmat ICBM was set to 2019 year, and the end - 2021 year. In the same year, 2021, the industry will have to master the mass production of the new
weapons
and related systems. In addition, in 2021, the first rocket regiment armed with the Sarmatians will take up combat duty. This will be one of the regiments of the 62 th missile of the Uzhur Red Banner Division of the Strategic Missile Forces. Next, the ICBM will go into service with the Dombarovsk division of the Strategic Missile Forces.
ICBM RS-28 "Sarmat" is being prepared to replace the world's most powerful ICBM of the mine base RS-20В "Voevoda" (NATO - SS-18 "Satan"). It is possible that the rocket will become the carrier of hypersonic Avangard blocks.