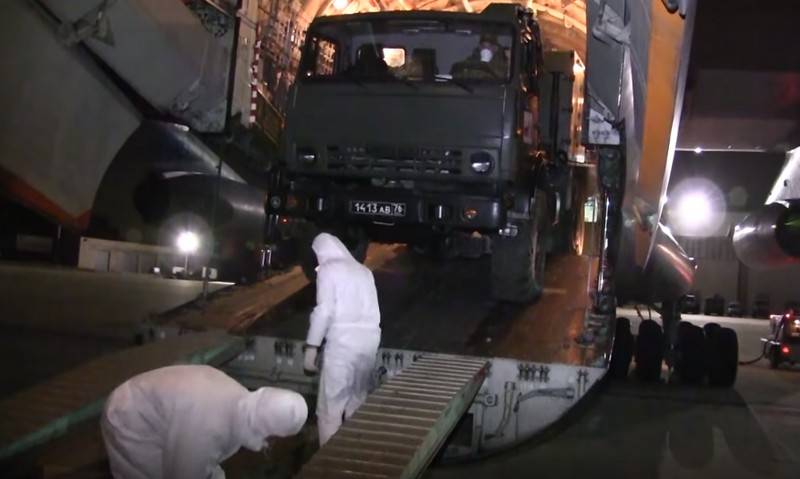 The Russian Ministry of Defense sent to Italy the fifteenth military transport aircraft Il-76MD with special cargo for the fight against coronavirus. This was reported by the press service of the military department.
The fifteenth BTA aircraft of the Russian Aerospace Forces Il-76MD took off from the Chkalovsky aerodrome (Moscow region) to deliver special equipment and means to fight the coronavirus to the Pratik de Mare air base in Italy. After unloading, the delivered property will be included in the cargo intended for transfer to the province of Lombardy in the city of Bergamo, where Russian specialists will assist in the fight against the spread of infection.
In agreement with the Italian side, the city of Bergamo will be the first area for the use of Russian military specialists who have arrived in Italy as part of assistance to combat the spread of coronavirus infection Covid-19
- said in a statement.
At present, the Russian military, together with Italian colleagues, are preparing to move special military equipment and equipment to the designated area and agree on traffic routes.
As previously reported in the military department, Russia sent one of the fifteen laboratories of the Russian Chemical Forces Army, eight medical teams, about 100 military virologists and epidemiologists, and special equipment for diagnosis and disinfection to Italy. Major Group of the RF Ministry of Defense in Italy is led by the Deputy Chief of the Radiation, Chemical and Biological Defense Forces of the RF Armed Forces Major General Sergey Kikot.