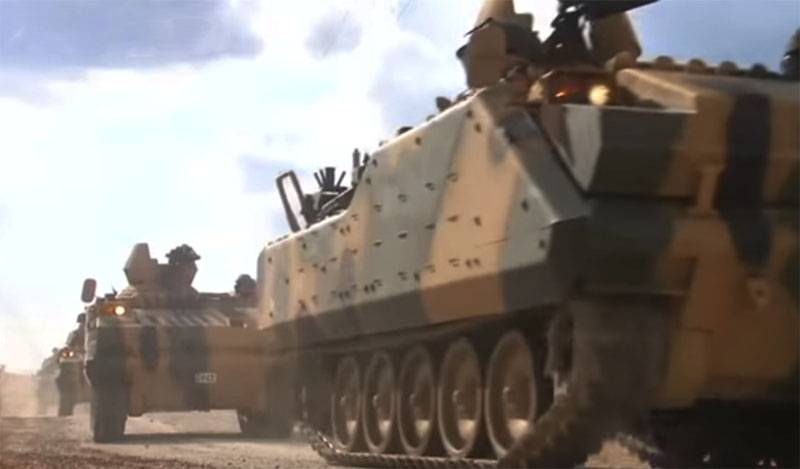 The Russian center for the reconciliation of the warring parties confirms the attack carried out by militants on the Turkish patrol in Idlib. Recall that reports of the attack appeared the day before, and a few days earlier militants under the black flag of Jebhat al-Nusra (* a terrorist group banned in Russia) in the Serakib region threatened to attack Russian and Turkish troops. Whether these threats are related to what happened the day before is not clear.
The Russian center for the reconciliation of the warring parties noted that the militants installed explosive devices along the route of the Turkish military patrol in Idlib province. As a result of the explosion, two armored vehicles were injured, two Turkish soldiers were wounded and sent to the hospital.
From the message of the Russian center:
Militants continue to take steps to destabilize the situation in Idlib province. During the last day they carried out seven shellings.
It is noted that the groups, in fact, are not controlled by the Turkish side.
Recall that earlier in the media, experts suggested that a Turkish conspiracy in Idlib could be in collusion with militants. The militants carry out attacks by the Turkish patrol "for the appearance of independence of action", but in reality they are actively supported by Turkish troops. There is no official confirmation of these arguments, but if so, then it turns out that the Turkish command is ready to make the so-called sacred sacrifices by ordinary Turkish soldiers in order to achieve their goals in Syria.
The Russian center for the reconciliation of warring parties called on leaders of illegal armed groups to abandon ceasefire violations and embark on a peaceful settlement. It is noteworthy that Turkey does not make such appeals to the militants.