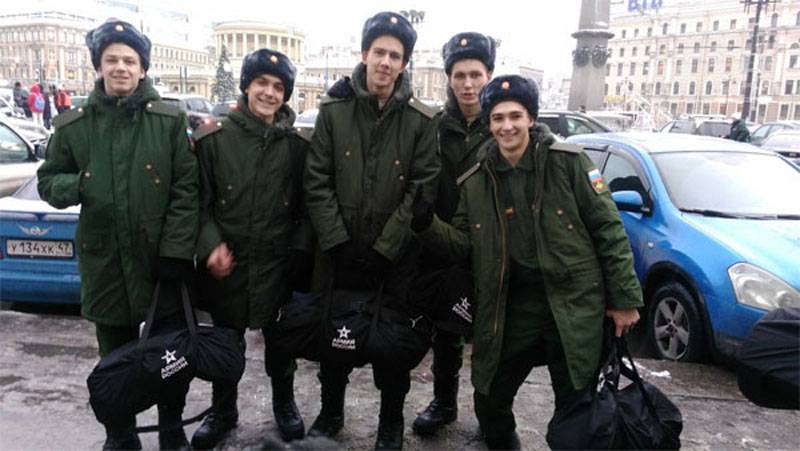 No matter what happens in the world, Russia will soon begin another draft in the army. So, once again, military registration and enlistment offices will look for in the general mass of conscripts healthy children who are necessary for planned rotation in a number of units and subunits of the army and
fleet
.
This means that medical institutions will again see already enough boring "chronicles", whom the military commissars have already enrolled in limited fit, but according to the order they are obliged to check twice a year whether they have suddenly recovered.
This means that many young men of draft age will again bother the secretariats of universities to receive a certificate of training, and therefore the right to deferment from military service.
The routine work of the military commissariats
On the one hand, this is the usual, routine work of military registration and enlistment offices, and on the other hand, life constantly throws up difficulties that must be overcome. The demographic hole in which the country is located is one of these difficulties. But there are "sudden." In particular, coronavirus.
Most of the problems that the military registration and enlistment offices encounter during conscription are known and no longer cause heated debate in society. Moreover, the popularity of military service among young people is not declining. For many today, this is the only way to get a future life perspective, to break out of routine and hopelessness. Many go to the army with the thought of further service already as a contractor.
Very often there is talk about the differences between the recruits of the USSR and Russia. Veterans recall what brave conscripts they were. And they complain that today's youth is more sitting at a computer monitor than pulling themselves on a horizontal bar. Youth, on the contrary, talks about the new capabilities of equipment and weapons that can only be mastered by a conscript who is well versed in modern technology.
So is there a difference in the quality of draft material of Soviet times today?
Naturally, there is. And these differences are caused not so much by the reluctance of modern youth to play sports. In general, young people today are not very different from fathers at their age. Another thing is that those who are called up are different for a number of reasons.
Quite unexpectedly, the army and universities became adversaries. In fact, this "completely unexpected" is just the coquetry of both sides. Everything was expected. The fact is that everyone knew about the demographic pit. But, every sandpiper praises its swamp. The military needed to solve the problem of completing parts, and the heads of higher educational institutions the problem of filling student classrooms.
A new system of admission to universities, according to which a graduate of a school can choose an educational institution and become a student almost immediately after exams, provided the opportunity for a postponement to almost everyone who wanted it. Universities, in their desire to maintain state funding, take almost everyone to the budget places. An elementary desire to keep the university in the face of a shortage of applicants.
This is where the opinion appears that modern youth "will be worse than their fathers." No matter how the military commissars try, the law is the law and no one is allowed to break it. We take what is.
Naturally, the question may arise about why the recruits themselves need it? Why do those who finished school badly and could not enter the university army? The answer is on the surface. Now it is quite difficult to get a job without a military ID. And the majority of parents, for obvious reasons, cannot support adult children on their salaries. So the parents are trying to send the "child" to the army.
Unexpected Summon Issue
If I write about draft dodgers, who are lacking even today, the understanding reader will grin skeptically. What an unexpected surprise, sorry for the pun. Indeed, deviators were, are and will be. Another thing is that thanks to proper propaganda of the service, real improvements in the conditions of service and other measures, young people have ceased to be afraid of service.
After a conversation with one of the doctors who is involved in the draft committee, I unexpectedly found out another problem that the military commissariats are solving today. Draftees on the medical board hide their illness! That is, obviously sick people want to go to serve. This, I must say, has happened before. But against the backdrop of statements by ultra-liberal representatives about the alleged 100% reluctance of young people to join the army, this is a particularly significant nuance.
Many people remember the idea of ​​the army, widely spread by Soviet propaganda, as a structure not only protecting the state, but a structure of "making men out of young men". Any slobber, the field of service in the army becomes an almost ideal builder of communism. Even today, Maxim Perepelitsa or Ivan Brovkin is shown more often than modern films about the army.
So recruits hide their illnesses, parents hide their children's illnesses. This applies to any disease. Both physical and mental. But it is one thing to hide a very small ailment, and another thing to hide something serious. Imagine what will happen in the part if there are drug addicts, alcoholics, gambling addicts and other "mana". Moreover, the commanders will learn about their existence after the fact. And what about soldiers with chronic heart and other internal diseases?
What needs to be done today
The problem with the quality of recruits must be addressed today. Talk that modern conscripts prefer to get a higher education first and then serve in the army must be suppressed in the most severe way. One year of service is not three or two earlier. It is necessary to return the call for students.
Moreover, you can argue this appeal with the same factors as universities. A student who has served in the army is more adult, he will study consciously, not in order to sit out time, but in order to obtain a specialty. And his further fate will develop better.
An engineer or other specialist who is drafted into the army immediately after graduation from the university causes much less confidence than the one who came to the company immediately after graduating from an academy or university and moves up the career ladder, grows as a specialist "in front of" the leaders.
And the officers who graduated from civilian universities, but who received officer ranks after serving as soldiers and sergeants for a year before studying at a university, will be much better prepared for military service. We will solve this problem too.
Further. For military registration and enlistment offices it is necessary to organize a completely different system for studying draftees. Not limited to duty characteristics and information, but to track the life of a future soldier from the moment of registration. Military commissars should know everything about the future warrior. Starting from the state of health, habits and inclinations and ending with personal life, relationships with relatives and neighbors.
We talk a lot about psychological services. I think the questioning of recruits by psychologists will not hurt. Stop relying on the experience and flair of military commissars. It is necessary to have scientific data and make a choice on them.
It is necessary to solve problems not ex post, but to act in advance. Plan for future challenges.