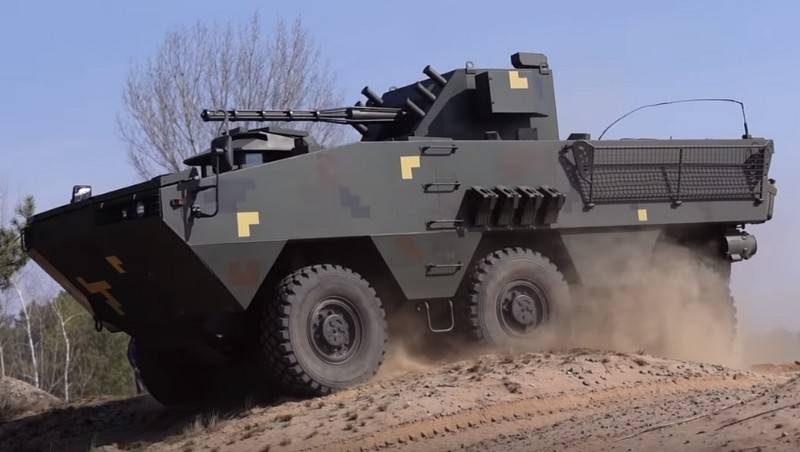 A test video of the latest Ukrainian Ataman 6X6 armored personnel carrier developed by the private Ukrainian company Praktika appeared on the Web. The video on its YouTube channel was hosted by Defense Express.
As explained in the description of the video, a feature of the new armored personnel carrier is the front engine with the landing in the rear. In addition, it is alleged that the armored personnel carrier received full-fledged mine protection created by the NATO standard STANAG 4569, and for the manufacture of an armored personnel carrier uses the armor of NATO member countries and the EU.
The possible deployment of the new Ataman 6X6 armored personnel carrier to the Ukrainian marine corps was announced last April during a meeting at the Ministry of Defense of Ukraine.
At the same time, preliminary TTX armored personnel carriers were announced. It was proposed that in the variant for the Marine Corps, the Ataman BMB would have a gross mass of 23500 ks with a payload of at least 5500 kg. The crew of the combat vehicle is 3-4 people, while 6 marines in full combat gear should be transported in the landing squad. It is planned to install a Deutz 410kW / 558 hp diesel engine. with an automatic transmission. Wheel formula 6X6.
Frontal reservation protects against 12,7-mm caliber, side projections of PZSA-5 (protection against a 7,62 mm bullet of a 57-BZ-231s submachine gun cartridge with a BZ bullet (AKM submachine gun) from a distance of 10 m). Additional reservation is provided.
Armored car is supposed to equip the weapon station BM-3M "Sturm" (30-mm automatic gun ZTM-1 with ammunition 200 shells paired 7,62-mm machine gun CT-7,62 with ammunition 2000 cartridges, 30-mm automatic grenade launcher KBA-117, ATGM "Barrier "with four missiles).