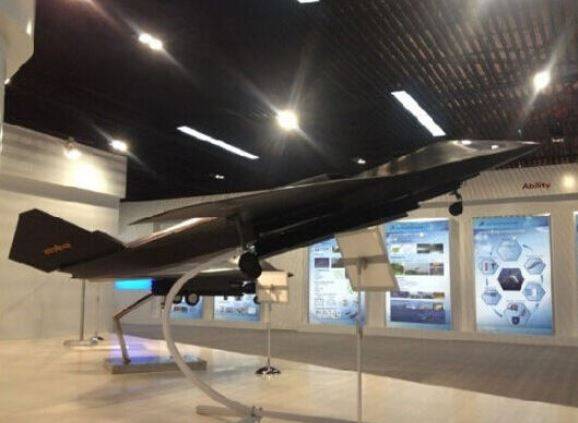 According to foreign intelligence, Chinese
aviation
The industry is now developing two new bombers at once with different goals and objectives. To solve problems at intercontinental ranges, an H-20 aircraft is being created, and a machine known as J / H-XX will become a "regional" bomber.
Two projects
Currently, the PLA long-range aviation is equipped with several modifications of the Xian H-6 bomber. Despite constant upgrades, such aircraft no longer meet current requirements and need to be replaced. In the past few years, the topic of replacing the H-6 has shifted to the practical plane.
Back in 2013, one of the Chinese exhibitions showed a model of an aircraft of unclear purpose. Foreign media suggested that this is a promising long-range bomber. Soon, the unofficial designation J / H-XX appeared. Also, some sources featured the H-18 index.
In 2015, it became known that Xi'an Aircraft Industrial Corporation was developing a new long-range bomber called the H-20. Due to lack of information, an assumption has appeared that J / H-XX and H-20 are one and the same project.
In early 2018, the U.S. Department of Defense Intelligence Agency (RUMO) published another report on Chinese promising developments. It stated that for the PLA Air Force, two bombers were simultaneously being developed - a long and a medium one. The strategic niche should be occupied by Xian H-20, and J / H-XX will solve problems of a regional scale.
Estimated appearance
According to available data, mainly from outside of China, the J / H-XX project provides for the creation of a medium-mass stealth bomber with a combat radius of several thousand kilometers. He will have to use conventional and, possibly, nuclear weapons to destroy key enemy targets at the operational-tactical and operational-strategic level.
It is believed that the appearance of the future J / H-XX is already known. Back in 2013, an unusual airplane model was shown at the exhibition, which was quickly connected with information about the new bomber. Then in 2018, on the cover of the May issue of Aerospace Knowledge magazine, an artistic image of two such machines appeared. Most of the available estimates are based on these materials and often come to very interesting conclusions.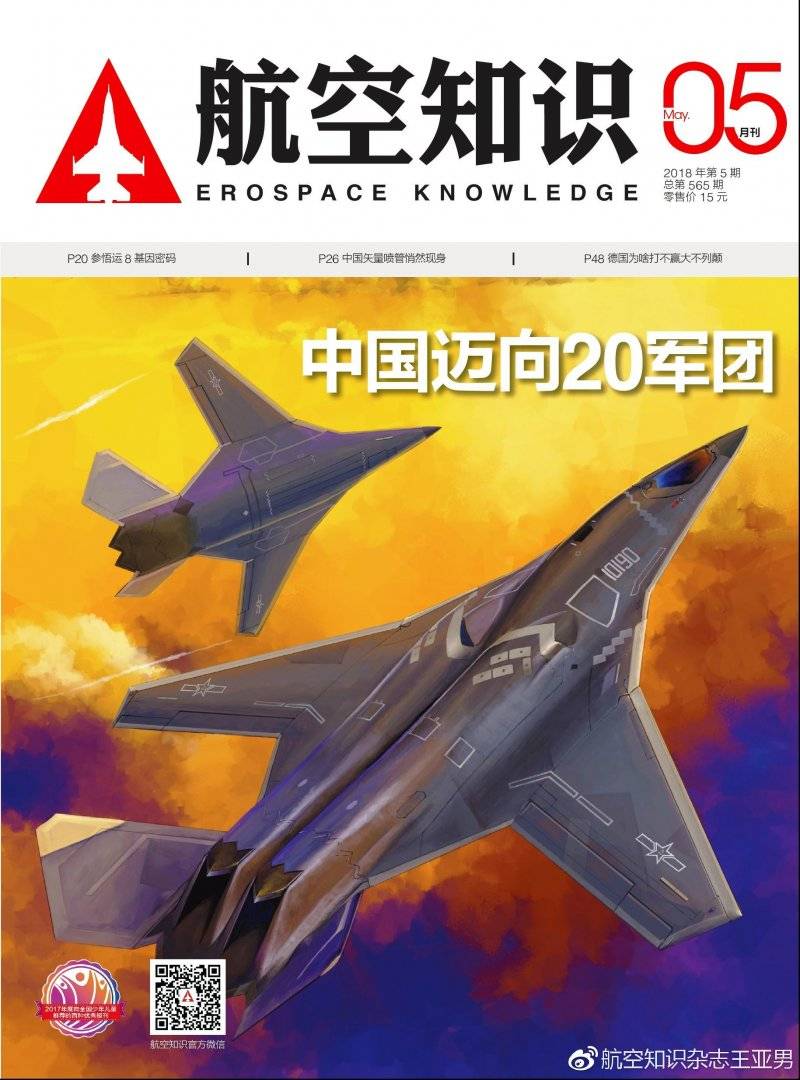 Prospective magazine bombers
The presented aircraft is made according to the integrated circuit with a swept wing and a V-plumage. The glider was built using stealth technology, as a result of which it has the corresponding contours and layout. In particular, the air intakes and nozzles of the engines are brought to the top of the fuselage. An internal cargo bay is used to deploy weapons.
The exterior of the aircraft may indicate the ability to supersonic flight, providing a breakthrough enemy air defense. In addition, assumptions are expressed about maneuverability that is uncharacteristic for bombers, suitable for conducting air combat - probably with some limitations.
J / H-XX is regarded as a "regional" bomber. To perform tasks within the region, a combat radius of 2-2,5 thousand km is required. Work at a greater distance from the bases will be assigned to the long-range bomber H-20.
Very interesting estimates are given in The Military Balance 2020 from IIHS. Its authors suggest that in the draft J / H-XX we can talk about a fighter-bomber with special characteristics and wide capabilities. They suggest that along with air-to-surface systems, this aircraft will be able to carry
weapon
air-to-air class. The main weapons of this kind can be missiles PL-15 and PL-21.
According to reports, the PL-15 missile with a range of 200 km is already in service with the PLA air force. Product PL-21 with a doubled range is still under development. With this weapon, J / H-XX will in theory be able to hit key elements of the enemy's defense, such as AWACS or air command posts. After such a strike, fighter-bombers will be able to "handle" other targets.
To defeat ground targets, it is possible to use a wide range of missiles and bombs of various types. J / H-XX will probably be able to attack both ground and surface targets with the same results.
Timing and Results
According to the US RUMO, in 2018-19. Project J / H-XX was at the development stage. In the coming years, a prototype should appear. Achievement of initial operational readiness will take place no earlier than 2025. Thus, by the end of the new decade, the PLA Air Force will have enough new equipment.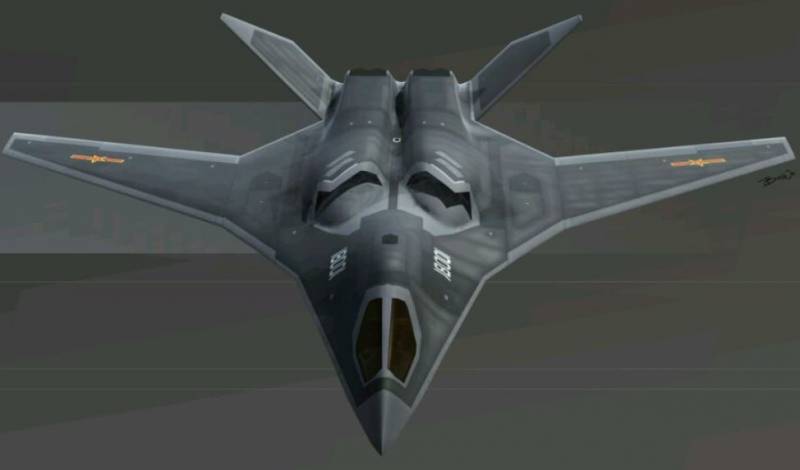 Reconstruction of the appearance of J / H-XX based on available images
Around the same time, the first H-20 strategic bombers are expected to appear. Thus, in 2025-30. China will launch the process of modernization of long-range aviation through the supply of long-awaited new equipment. The positive effects of this are obvious. The main one is that the PLA, after decades of waiting, will still receive completely new long-range bombers that meet current requirements.
With the help of two new aircraft, China will be able to radically modernize its long-range aviation, making it a more flexible and convenient tool for solving emerging problems. Two bombers with different characteristics will be able to solve combat missions in different areas of responsibility, which will give obvious advantages. In the operational-tactical zone will be able to operate J / H-XX, and this will release the H-20 for strategic tasks. Now all such missions are assigned only to the H-6 in various versions.
Whether a real J / H-XX can carry air-to-air weapons is unclear. If the Chinese industry provides such opportunities, the PLA will receive a universal tool with a significant combat radius. Perhaps the formation of new methods of combat use, taking into account the main capabilities of the distant "fighter-bomber."
The estimated combat radius of the future J / H-XX will allow the PLA Air Force to control a significant part of the water areas and islands near mainland China. It is likely that the aircraft will be equipped with a refueling system in the air, which will expand its area of ​​responsibility. Thus, the authors of The Military Balance fear that the new Chinese bombers could pose a threat even to Australia.
Reasons for Concern
Most of the information about the J / H-XX bomber has not yet been officially announced, and therefore you have to rely only on fragmentary data and estimates. How plausible the existing forecasts will become clear only in the future. In the meantime, a very interesting and intriguing picture develops on their basis.
After 2025, PLA air forces can receive two types of long-range bombers at once. To replace the obsolete subsonic H-6 designed stealth aircraft with modern equipment and weapons. One of these aircraft will develop supersonic speed and, possibly, will master the specialty of a fighter. It should be noted that this will be the first Chinese supersonic long-range bomber.
Thus, in just a few years, the Chinese Air Force will begin the largest modernization program for its long-range aviation, which should end in very interesting results. Of course, if known estimates, leaks, etc. correspond to reality and reflect the real situation in the draft J / H-XX.