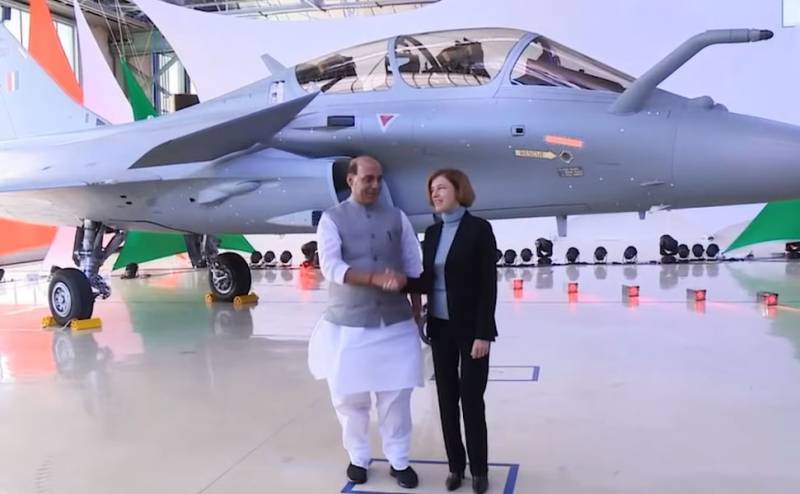 Indian media publish materials that the delivery of Rafale aircraft from France under the previously concluded contract will be postponed. Indian journalists write that this became known from two sources in the defense industry who wished to remain anonymous.
The Hindustan Times reports that the decision to postpone the delivery was made by the French side due to the threat of the spread of coronavirus.
At the moment, in France, the production line of the aircraft manufacturer Dassault Aviation is completely stopped, at one of the enterprises of which they are creating fighters for the Indian Air Force. Quarantine at the French enterprise was initially announced until March 31, however, it is noted that, most likely, it will be extended for at least another 2 weeks.
Recall that India had previously ordered 36 Rafale fighters from France. As it turned out, the amount of the contract is such that each aircraft will cost the Indian budget a huge amount - almost $ 200 million. This, for example, is twice the cost of a fifth-generation fighter F-35. But in India, it was stated that this amount includes arms transfers, maintenance and training of flight personnel.
From the report:
The first batch of four Rafale aircraft was supposed to fly to a base in India in May 2020, but the plan was faced with uncertainty due to the rapid spread of the Covid-19.
The contact implied the delivery of a second batch of fighters to India by February 2021, and the final batch of Rafale by April 2022.
CEO of Indian Research Center
aviation
Manmohan Bahadur:
The transfer of supplies will not cause significant difficulties in updating the Indian Air Force fleet. I hope the air forces of the country deal with this situation.