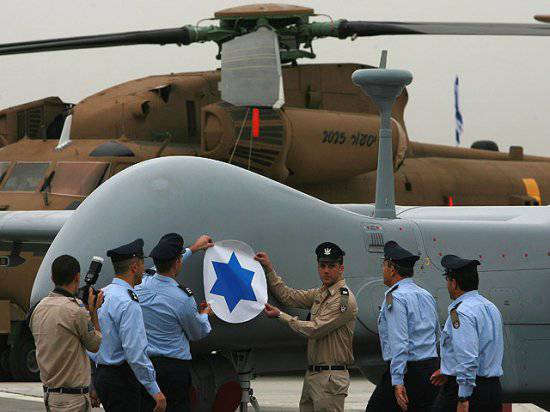 On Tuesday, October 5, during the annual inter-military conference in Latrun, the defense concern "
Aviation
industry "introduced a novelty that could change the methods of warfare in urban conditions - the Panther UAV (Bardelas).
The main difference from all other UAVs is the use of rotary screw technology, which allows the Panther to take off and land vertically, as well as to hang in the air. This makes the new TAA development the world's first unmanned tiltrotor (an aircraft that has the capabilities of both an airplane and a helicopter).
Features of the convertoplane allow the Panther to work regardless of the presence of the runway, fly close to the houses and hang over one point. At the same time, "Panther" can work as a normal drone.
Machine weight - 65 kilograms. Three silent electric motors can lift the Panther to an altitude of 3 kilometers and hold it there for 6 hours. The range of the UAV - 60 kilometers. Panther is equipped with TAA's Mini POP system, which allows monitoring to be conducted around the clock in all weather conditions. In addition, at the request of the customer, a laser pointer, a distance meter or a guidance system can be installed on the UAV.
A ground control and monitoring station located in one car can control three "Panthers" at once.
The Panther was also developed in a mini version weighing 12 kilograms and controlled by a portable station. This system is designed for special forces units, as well as company and battalion commanders.
The press service of the TAA reports that both systems are in the final testing phase and should be operational in the 2011 year.