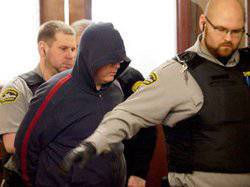 According to Western media, intelligence services of the United States, Britain and Australia may be compromised.
Former military intelligence officer based on the Canadian Navy in Halifax, Jeffrey Paul Delyle, accused of espionage, is suspected of selling secrets of Western intelligence to Russia. What kind of intelligence was disclosed, not yet reported. Nevertheless, according to sources in the security services of Australia, the level of their secrecy is quite high. According to Western mass media, the intelligence services of Australia, the USA and the UK may be compromised.
Jeffrey Paul Delile was brought to trial in Canada in mid-January on charges of transferring secret data to a foreign state. The fact that it was precisely Russia was not officially mentioned. However, this was indicated by indirect signs. After the detention of Delilah, Canada allegedly sent two Russian diplomats. True, the Russian Foreign Ministry denied the information about the expulsion. According to the Foreign Ministry, the diplomats left the country themselves, in connection with the expiration of travel.