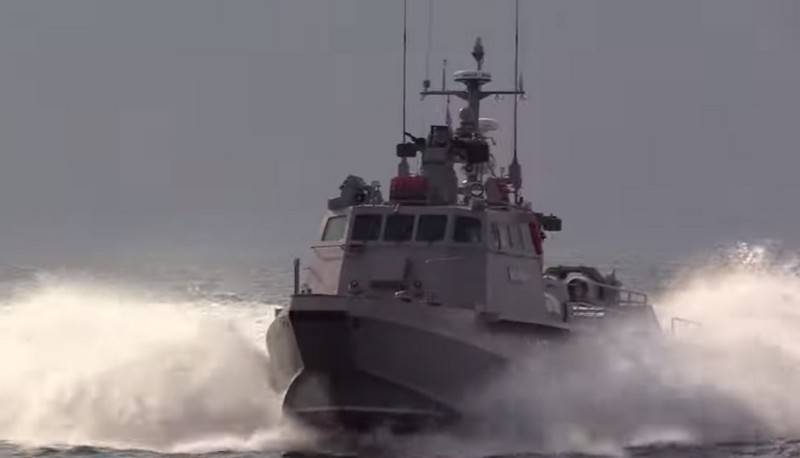 The Ukrainian centaur assault boats are significantly superior to the Russian large landing ships (BDKs). This statement was made by the representative of the Naval Forces of Ukraine. A report on the Centaur Trials was released on the Breeze Channel.
On the eve of the Black Sea, exercises were held with the participation of three BDK Black Sea Fleet: "Saratov", "Novocherkassk" and "Caesar Kunikov". During the maneuvers, the ships practiced firing from artillery mounts at coastal targets, and also worked out coherence in repelling the air attack of a conditional enemy. In response, the Navy brought two Centaur boats at sea, which in stormy weather tried to fire from NURS S-8 units digested from helicopters, the tests were not entirely successful.
According to the head of the shipbuilding department of the Ukrainian Navy Vasyl Radchuk according to the test results, "you need to refine the mathematics and system." However, such results did not prevent him from declaring that Ukrainian centaur boats significantly surpass Russian BDKs and are capable of even resisting the Black Sea Armada of Russia in small numbers.
Thanks to water cannons, armored landing assault boats armed with 40 missiles each are capable of reaching speeds of up to 30 knots. After firing near and far volleys, quickly approach the shore and put forward an assault group of up to 36 people. Such characteristics are completely satisfied with the command of the Navy, and, most importantly, are a worthy answer to the obsolete BDK of the Black Sea
fleet
RF, which have long exhausted their resources
- the Ukrainian media quote the words of Radchuk.
Note that currently the Ukrainian Navy has three boats of the Centaur type: two are being tested and one is being completed. Despite laudatory material periodically published in the Ukrainian media, Ukrainian military experts criticize the design of the boat and build quality.
The workmanship is very low, there are a lot of constructive issues, as it turned out already in practice ... something does not work with something, something does not hit, and questions, questions, questions
- said the head of the military center Taras Chmut.