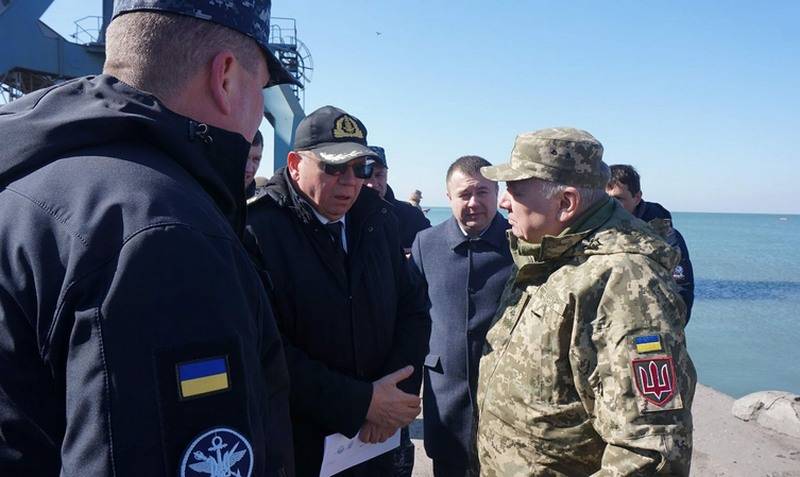 The Ministry of Defense and the command of the Naval forces of Ukraine announced their intention to create a new naval base for the Ukrainian in Berdyansk
fleet
. It is reported by the Ukrainian military portal.
The Ukrainian Defense Ministry reported that Defense Minister Andriy Taran, together with Colonel-General Ruslan Khomchak, Chief of the General Staff, and Admiral Igor Voronchenko, commander of the Ukrainian Navy, had a working trip to the Zaporizhzhya region, where they visited the port of Berdyansk. As a result of the trip, it was decided to consider the Berdyansk port as a potential location for the base of the Ukrainian Navy. As explained in the Ministry of Defense, the prospects of creating a naval base in Berdyansk have been considered for a long time.
Reportedly, the main task of the new Azov Naval Base (Navy) should be to guarantee the security of the city itself and the surrounding area, as well as control of the Sea of ​​Azov. At the same time, the Minister of Defense of Ukraine noted, the military base will not interfere with the work of the commercial port and will not reduce its capacity.
Recall that in December last year, the Ukrainian Navy announced the formation of a new surface forces division in the Sea of ​​Azov, which will be deployed in Berdyansk and Mariupol. Currently, the new formation includes: the search and rescue vessel Donbass (A500); sea ​​tug "Korets" (A830); artillery boats (MBAK) "Lubny" and "Kremenchug". It is planned to increase the combat and numerical strength of the formation through the introduction of new units of equipment.