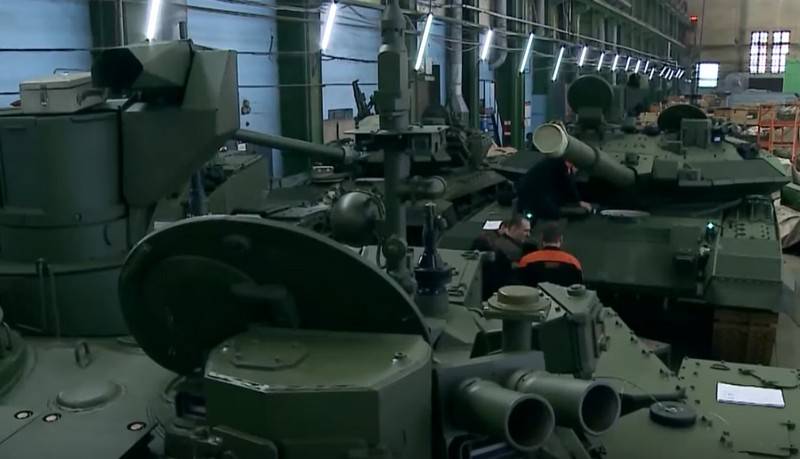 Newest Production Party
tanks
T-90M "Breakthrough" manufactured by Uralvagonzavod. These tanks are prepared for shipment to Moscow to participate in the Victory Parade on May 9 on Red Square. Video about the preparation of tanks provided the channel "Star".
As previously reported by the Ministry of Defense, the newest T-90M "Breakthrough" tanks will be shown for the first time at a parade dedicated to the 75th anniversary of victory in the Great Patriotic War. It also became known that the tests of the newest Russian tank T-90M "Breakthrough" were successfully completed, the timing and volume of serial deliveries of tanks to the troops will be determined by the Ministry of Defense. It is also known that funds for the purchase of T-90M tanks have already been allocated, the delivery of serial vehicles is expected in 2020.
According to available information, in the period 2017-2018, the Ministry of Defense concluded two contracts for the supply of 60 T-90M tanks. Under the first contract, the enterprise was supposed to supply 10 tanks of new construction, and another 20 will be converted in the course of major repairs and modernization from T-90 tanks. Under the second contract, 30 tanks should be delivered, upgraded to T-90M from T-90.
The third contract for the modernization of another 100 T-90A tanks to the T-90M level was signed on June 28, 2019 at the Army-2019 International Military Technical Forum. Another contract also for the modernization of another 100 T-90 tanks to the T-90M level is possible this year.
The T-90М tank was developed as part of the Breakthrough-3 development work and is a deep modernization of the T-90 with increased combat and operational characteristics.
In the course of modernization, a new turret module with a 90-mm gun of increased survivability and accuracy was installed on the T-125M. A remote-controlled machine gun installation caliber 12,7-mm is installed on the turret. In addition, the new tank is equipped with a highly automated digital fire control system that provides search, recognition, auto-tracking and hitting targets.