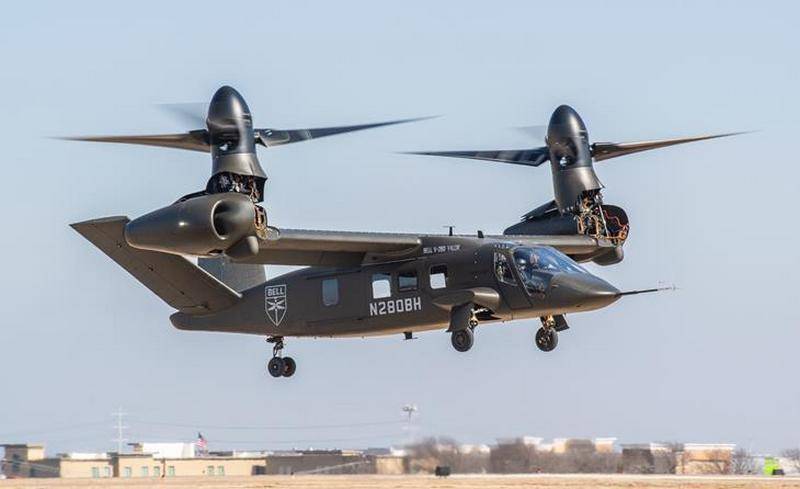 The U.S. ground forces decided on two finalists for the supply of a promising long-range transport assault aircraft FLRAA (Future Long-Range Assault Aircraft). Bell and the Sikorsky-Boeing consortium entered the final of the program. This was reported by the command of the SV.
According to the command, with the company Bell and the Sikorsky-Boeing consortium signed contracts to demonstrate competing designs. Under this agreement, applicants must finalize their aircraft to conduct a comparative assessment, based on which the aircraft will be chosen to replace UH-60 Black Haw helicopters in the CB. The current contract covers two phases of development, each of which will take about a year. Thus, by 2022, the US Army will be able to conduct the next stage of comparison, and the first unit, equipped with new rotorcraft already, should appear by 2030.
Among the requirements for a new aircraft, the maximum cruising speed should be about 280 knots (519 km / h), the combat radius without refueling - 300 nautical miles (556 km), and the range without refueling - at least 2440 nautical miles (4520 km ) In addition, rotorcraft must accommodate at least 12 passengers or 4,5 tons of cargo, while the cost of one unit should not exceed $ 43 million.
As previously reported, the Sikorsky-Boeing consortium developed the SB> 1 Defiant multi-purpose high-speed helicopter with two coaxial rotors rotating in different directions and a thrust propeller. Bell offers an improved version of the V-280 Valor tiltrotor.