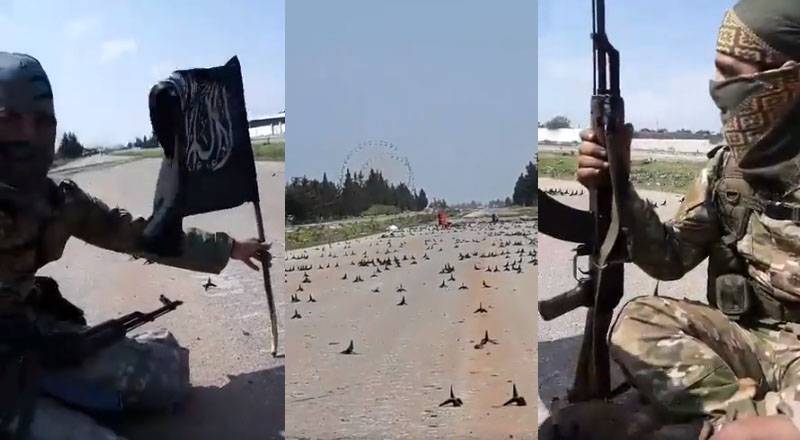 The militants publish video footage from the vicinity of Serakib, where they blocked the important transport artery M4. Earlier, Military Review reported that the militants of Khayyat Tahrir al-Sham (formerly Jebhat al-Nusra *, a terrorist group banned in Russia) threw metal spikes on the highway that prevented free movement. In addition, the road was blocked by burning tires and debris of concrete structures.
The video shows terrorists who openly demonstrate the black flag of An-Nusra *, sitting on a road dotted with spikes for hundreds of meters.
At the same time, the terrorists claim that they are "ready to confront both Russian and Turkish forces in Idlib province." However, the militants do not show their faces on camera.
#Idlib

Anasheed from the M4 against Turkey and Russia pic.twitter.com/xi7ojPC6Ns

- QalQal (@Qalamaat) March 15th 2020
It is noteworthy that to clear the road, the Turks drove a bulldozer accompanied by armored vehicles. At the same time, the Turkish bulldozer to a greater extent indicated an attempt to clear the M4 road. As such, the clearing as a result did not happen.
#Idlib

Tomorrow 15 march will be a date to watch in Idlib.

Civillians in Idlib swear no Russian militairy patrol will enter M4 road and they erected roadblocks to stop them.

Turkey has brought in an armored bulldozer to open the roadblocks and let the Russian patrol on the M4 pic.twitter.com/XRwhN2fJM7

- QalQal (@Qalamaat) March 14th 2020
This gives rise to suspect the Turkish side either in the complete absence of control over the militants whom they promised to "pacify", or in the fact that this is a coordinated game where Turkey pretends that it does not have to block the roads and other provocations by terrorist groups no relation.