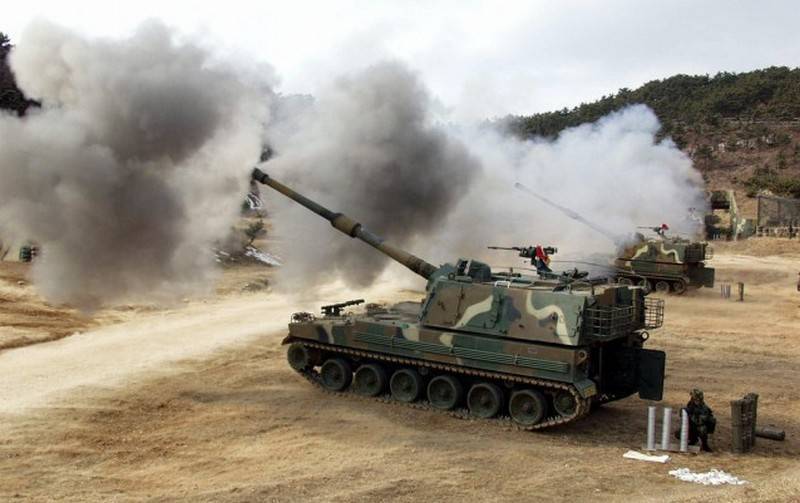 The Estonian Ministry of Defense cannot sign an agreement with South Korea on the supply of an additional batch of South Korean self-propelled howitzers K9 "Thunder". The spread of the new coronavirus is to blame.
The decision to purchase an additional batch of South Korean self-propelled howitzers K9 "Thunder" on the funds saved with the help of American military assistance in the purchase of ammunition was made in Estonia in October 2019. The Estonian Defense Ministry decided to send the saved 20 million euros for the purchase of 6 additional 155-mm self-propelled howitzers K9 "Thunder" in addition to the 12 self-propelled guns previously ordered in South Korea.
However, the current sanitary and epidemiological situation in South Korea threatens to disrupt the plans of the Estonian military for the supply of additional self-propelled guns. The country's defense minister had earlier postponed his February visit to Seoul due to an outbreak of coronavirus and it is now unknown when the signing of an additional contract may take place at all.
Estonia and South Korea signed an agreement to buy a batch of 12 units of 155-mm self-propelled howitzers K-9 "Thunder" in the 2018 year. The agreement, worth 46 million euros, also included training for personnel, maintenance of howitzers and spare parts. The purchased K9 howitzers will be delivered to Estonia in two batches at the end of the 2020 of the year and during the 2021. They are supposed to equip the artillery division of the 1 infantry brigade of the Estonian army, which is currently armed with the German 155-mm / 39 towed howitzers FН-70 and Soviet towed 122-mm howitzers D-30.
155-mm / 52 self-propelled howitzer K9 Thunder weighs 47 tons, a powerful diesel engine in 1000 hp provides speeds of up to 67 km / h. Cruising range 480 km. Armed with the KNUMX 9-mm gun with a barrel length of 155 caliber, the rate of fire reaches 52 rounds per minute. Crew 15 people.