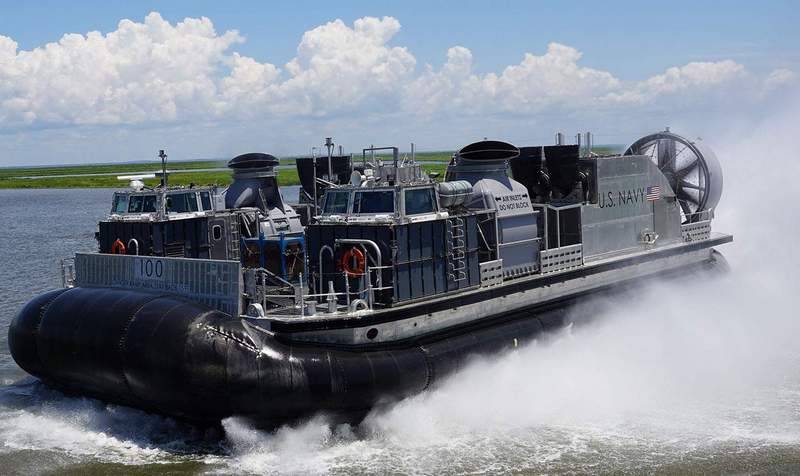 The U.S. Navy received a new type of SSC (Ship-to-Shore-Connector) SSC 100 (LCAC 100) hovercraft. According to the bmpd blog, the boat was handed over for state tests.
The newest SSC 100 hovercraft was built at the Textron Systems shipyard in New Orleans as the lead prototype of the SSC type. Factory sea trials were started on April 10, 2018, but were delayed until the end of 2019.
The boat was developed under a contract issued by the US Navy on a competitive basis to Textron Systems Corporation (in cooperation with L-3 Communications and Alcoa Defense). According to the agreement, the corporation was supposed to carry out the full-scale development and construction of the prototype of the new SSC (Ship-to-Shore-Connector) program for the replacement of those currently in the US
fleet
similar landing boats LCAC.
In total, according to the plans of the US Navy, they intend to get 72 serial SSC boats (in addition to the lead one) to replace all cash 2028 LCAC boats by 74.
The SSC boat is inherently an analogue of LCAC, but with a higher payload. Unlike its predecessor, capable of carrying up to 60 tons of cargo, the new boat is able to "lift" already 74 tons at a cruising speed of 35 knots. It is equipped with four Rolls-Royce MT7 gas turbine engines, which is actually a ship version of the Rolls-Royce T406 turboprop engines mounted on the Bell Boeing V-22 Osprey convertiplanes. The service life of the SSC boat is defined as 30 years.