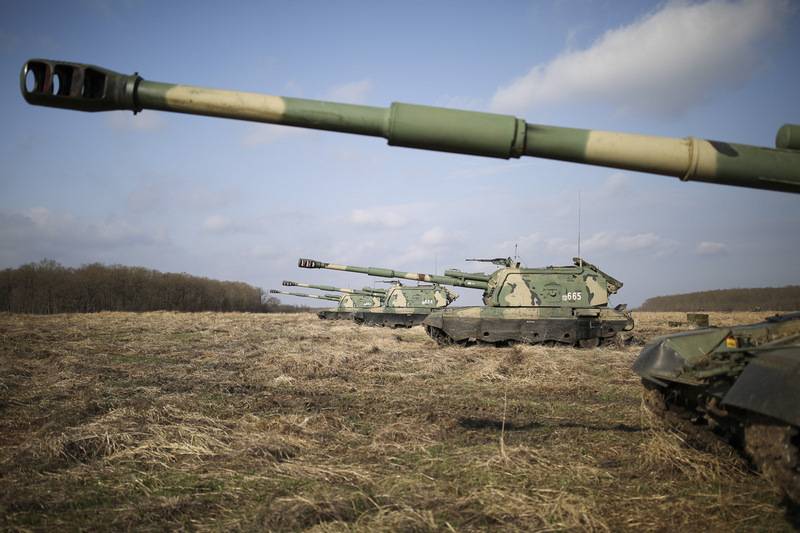 A batch of advanced 152 mm self-propelled artillery mounts (self-propelled guns) 2S19M2 Msta-S entered the artillery units of the 49th combined arms army of the Southern Military District as part of the re-equipment program. This was reported by the press service of the Southern Military District.
According to a widespread press release, two artillery batteries from the 49th combined arms army were re-equipped with new self-propelled guns capable of firing with Krasnopol high-precision guided munitions.
As the press service explained, the advanced MSTA-S self-propelled guns have significant design differences from the previous modification of the artillery installation: they have a new automated fire control system that can significantly increase the rate of fire, there is the possibility of using digital electronic maps, which significantly speeds up orientation on the ground.
152-mm ACS "Msta-S" is equipped with a programmable charging complex. The maximum firing range is 29 km. Ammunition - 50 shells. Speed ​​- up to 60 km / h, power reserve - more than 600 km. Upgraded SAUs can fire with high-explosive, active-rocket jamming projectiles, as well as Krasnopole precision-guided munitions.
The 152-mm howitzer Msta-S was put into service in 1989. It was created by the OKB-3 team under the leadership of the chief designer Yuri Tomashov. Its creation was awarded the Lenin and State Prizes of the USSR. Designed for the destruction of manpower, tactical nuclear weapons, artillery batteries, armored vehicles, anti-tank and air defense systems, as well as for the destruction of field fortifications and enemy control posts. Fire can be conducted on observable and unobservable targets from closed positions and direct fire. When firing, both ammunition shots and those fed from the ground are used.