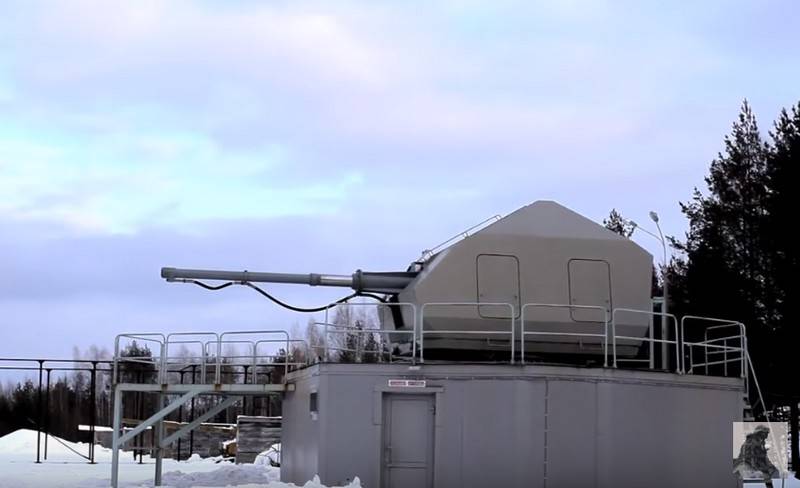 Undergoing repair and modernization, the former large anti-submarine ship, retrained to the frigate "Marshal Shaposhnikov", is changing its artillery. Instead of two bow 100-mm AK-100 guns, the ship will receive a 100-mm gun mount A-190-01. This was reported by Izvestia with reference to the Ministry of Defense.
The modified A-190-01 installation passed all tests and was adopted eight years ago. It has a rate of fire of up to 80 rounds per minute with a maximum range of over 20 km. She can also shoot down aircraft at an altitude of up to 15 km. At the same time, the installation tower is made using the "stealth" technology, which reduces the likelihood of "glow" of the frigate on radars. The two A-100 gun mounts previously installed on the ship were developed back in the 70s of the last century and were clearly visible on enemy radars.
Earlier it was reported that the large anti-submarine ships of Project 1155 will become frigates, a decision on this has already been made at the Ministry of Defense. In the first summer of 2019, the Marshal Shaposhnikov BPC, which is undergoing modernization at the Dalzavod in Vladivostok, was officially retrained. The remaining ships of this project will be retrained after passing the modernization. According to the source, the upgraded ships will combine the capabilities of carriers of precision cruise missiles and anti-submarine ships.
During the modernization, the Marshal Shaposhnikov has already installed the Uran anti-ship complex with X-35 missiles, the universal caliber, Onyx or Zircon cruise missile launcher, the Bagira fire control system for naval artillery, the ship electronic suppression complex TK-25.
After replacing two A-100 gun mounts with one A-190-1, the fate of the armament that stood on the BOD before modernization remained unknown: two 45-mm semi-automatic guns 21-KM, four 30-mm ZAK AK-630, two SAM "Dagger", two anti-submarine complexes "Rastrub-B", two reactive-bomb installations RBU-6000, as well as torpedo tubes. On board the BOD are two Ka-27PL helicopters.
The total displacement of the ships of the 1155 project is 7570 tons, the hull length is 163,5 meters. Speed ​​- up to 32 nodes, cruising range - 5 thousand miles on 18 nodes, autonomy - 30 days. Crew - 220 people (including 29 officers).