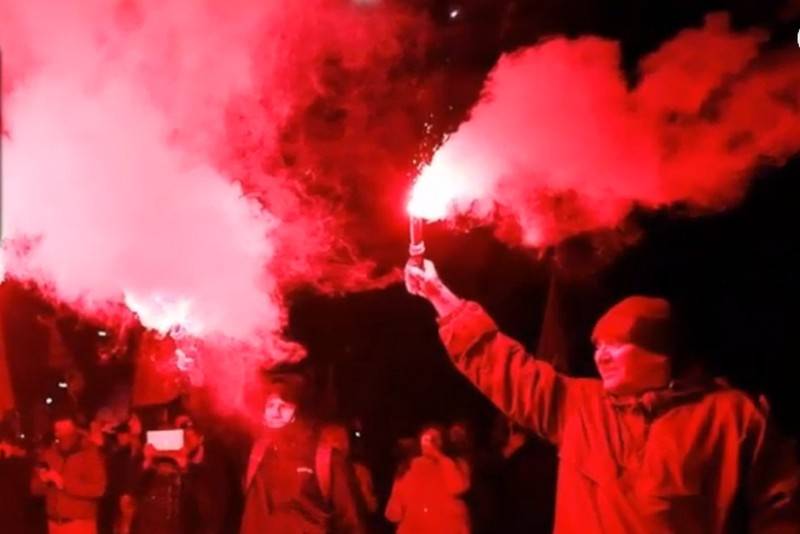 Another march of nationalists took place in Kiev. A column of radicals marched through the streets of the Ukrainian capital and staged a rally at the Russian embassy, ​​trying to bombard him with firecrackers and fireworks. This is written by local media.
A column of Ukrainian radicals, mainly consisting of former militants of the Ukrainian National Battalions, in particular the Azov battalion, under the flags of the Right Sector (banned in Russia), left Saturday from CSKA Moscow stadium to the Russian embassy. The march involved no more than 200 people. It is noted that there were much more police officers than protesters.
Arriving at the Russian diplomatic mission, the radicals began to chant the slogans: "Down with Zelensky!", "No agreements with Russia!", "We need a victory!", As well as nationalist slogans. A rally was organized near the embassy walls, during which the nationalists protested against the new agreements on the Donbass signed in Minsk. According to the protesters, "Ukraine is losing ground to Russia and is following its lead." It was stated that this was all "high treason" and they "would not allow surrender."
During the chanting of nationalist slogans, the radicals tried to bombard the embassy with firecrackers and fireworks, some of them fell into the territory of the diplomatic mission. A shot was fired towards the embassy from a rocket launcher, the rocket hit the roof. Some Ukrainian media claim that the Russian flag was also torn and crushed during the rally.
The embassy itself said that the diplomatic mission building was not damaged, but a perimeter tour will be made to assess the possible consequences of the rally.