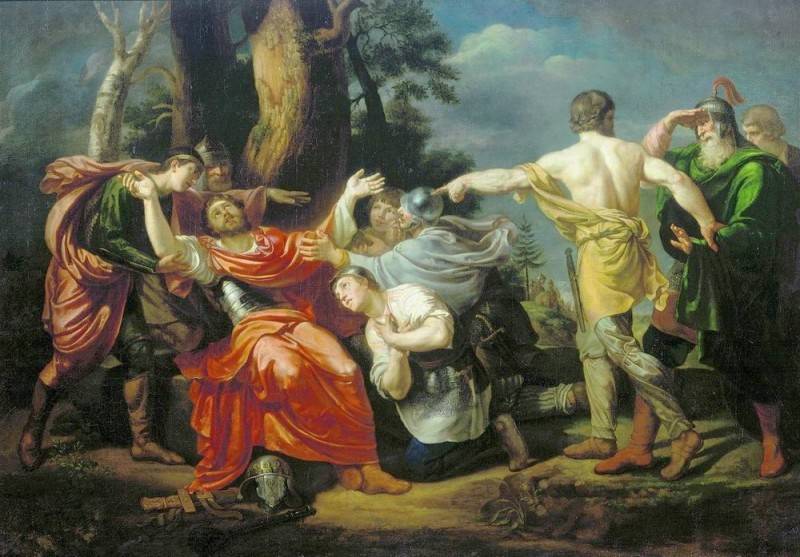 "Dmitry Donskoy on the Kulikovo field." Kiprensky Orest Adamovich, 1805 (1782-1836)
And, bowing his head to the ground,
A friend tells me: "Cut your sword,
In order to fight with the Tatar,
For a holy cause, lie dead! "
A. Block. On the Kulikovo field
Art and история.
After the release of material devoted to
triptych P. Corin
, readers of "VO" expressed their wishes for the continuation of the cycle, and proposed specific topics for new articles. Among them is the Don cycle by I. Glazunov. But I looked at the paintings of this cycle, and thought that it would probably be more interesting to arrange a kind of vernissage of paintings on the subject of the Battle of Kulikovo, that is, consider not one or two, but many paintings and compare what their authors have and what's more all inclined. Here, however, the question arose of selection, since there are many paintings. But, in my opinion, the principle of image is important. Someone copied the Roerich style, someone Vasnetsov, someone hit the epic, and someone into realism. In any case, we will be interested not in the idea embedded in these paintings, but in the image
weapons
and armor. After all, we still have a battle genre, and not something else ... So, let's start from the XNUMXth century.
Here is a picture of O. A. Kiprensky "Dmitry Donskoy on the Kulikovo field." What can I say? It was such a time! Everything was written expertly, but I just want to laugh a little at what is happening on the canvas. Prince: "Oh Lord, you are my God, how I got! My torment is unbearable! " A woman at his feet (by the way, where is the woman from?): "Lord, save and save!" A man in a torn shirt: "This is the prince, ulcerative velmi!". Warrior in a green cloak: "Is it really a prince, I am old with my eyes, I can't make out ..." Warrior in a helmet: "I'm prince bad! Water to him, water! "
However, he painted all this on ... a task. Everything was agreed! This Academy of Arts, as an examination test, invited its graduates to paint a picture on the theme "Dmitry Donskoy on the Kulikovo Field." And it was clearly stipulated how exactly the prince should be portrayed:
"Imagine Grand Duke Dmitry Donskoy when, after defeating Mamaia, the remaining Princes of Russia and other warriors find him in a grove with the last almost gasp, blood flowed from his wounds: but the good news of the complete defeat of the Tatars revives the dying grand duke."
And here is what was said in the Academy's response to this picture:
"The head of the grand duke is full of expression. And the joy of the victory, he is animated, bought with gratitude to the Almighty, vividly depicted in his languid gaze, directed to heaven. This work is the first experience of the works of this young artist, giving great hope for himself. "
And in the end, on September 1, 1805, Kiprensky was awarded the Great Gold Medal for this painting.
Well, the lack of national color did not bother the author or the examiners, and, therefore, that's not the right armor, not the weapon, but the picture of the master. And it, of course, corresponds to the era and the then vision of historical realities.
Subsequently, a number of artists followed his example and received appropriate recognition, but time passed, and people began to pay attention to history. It got to the point that Valentin Serov, for example, who was ordered the "Battle ...", did not write it and even returned the money issued for it. And all because he did not agree with customers in their views.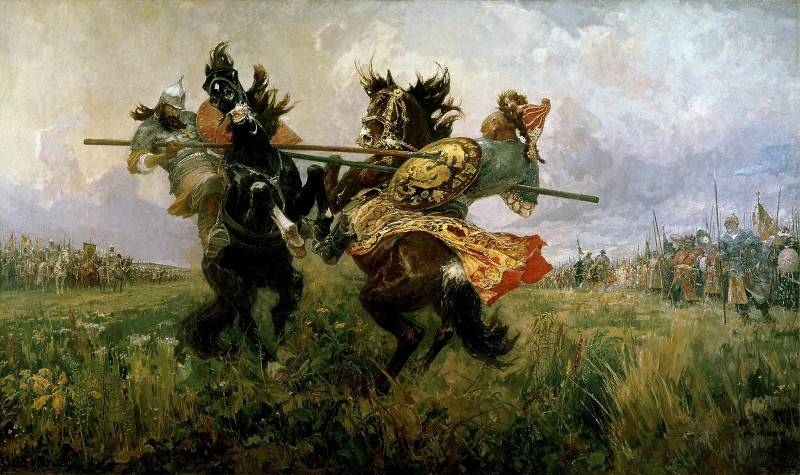 Then came the Soviet time, socialist realism, and with it came its own classic. Here, for example, this is the picture of Avilov Mikhail Ivanovich (1882-1954) "Duel on the Kulikovo Field", written by him in 1943, which is known to everyone from school.
Personally, I would only change the drawing on the shield of the Tatar warrior. Here it is shown painted, but in reality they were made of rods wrapped in thread, connecting one ring to another. It turned out a very beautiful pattern, which was additionally decorated with plaques and tassels. But, in principle, this is not even a comment. Just at that time, the reconstruction of the Tatar shields were still missing. And so is dynamism, and expression, and epicism - everything is present, not an inch span of historical authenticity. Actually, with this canvas Avilov raised the bar so high that anyone who undertakes to write on the same topic can be advised only one thing: to look at this canvas for a long time and at the same time think, can I at least get closer to this. And if the inner voice makes you doubt your strength - do not fight!
By 1980, on the 600th anniversary of the Battle of Kulikovo, Yu. M. Raksha wrote the triptych "Kulikovo Field". We are especially interested in its middle part. And it seems to be "all right." But why did the author draw the warrior on his left, with the shield on his right hand, the archery berdysh, which he holds in his left hand? Even if he is left-handed, chopping the enemy with a berdysh with one hand is impossible, and with two, with a shield, is inconvenient. And such trifles spoil the whole impression of the picture.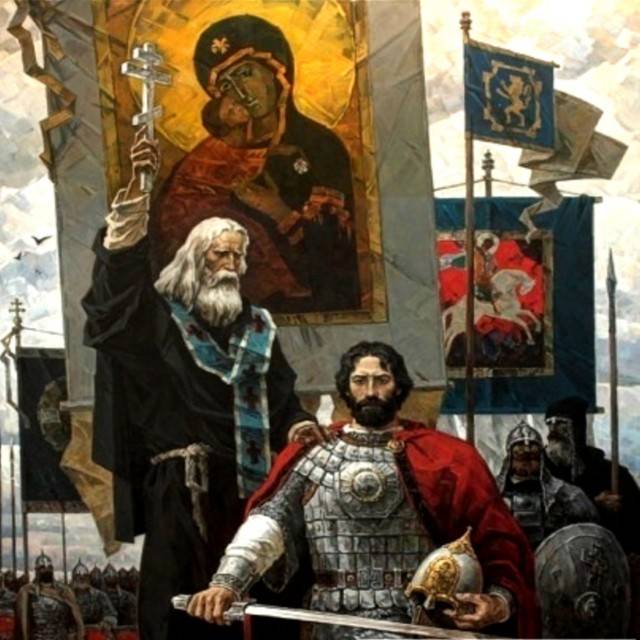 The artist Yu. P. Pantyukhin also created a triptych, with Alexander Nevsky placed on the left, Dmitry Donsky in the center, and Minin and Pozharsky on the right
What did you like? The way the author wrote helmets. Finally, they are as they should be. It is not clear why the elbow pieces that he portrayed on the left and on the right - an overlap on the brush. And what's interesting - where did the author get this from? Are there any elbow pads in the fonts of the Armory Board or GIM? Moreover, if something like this exists, then it can in no way relate to the era of Alexander Nevsky. Then there was neither of us nor the Western knights. However, we already spoke about Nevsky ... Here two more details are striking: the octagonal breast plates of both princes. It can be seen that the artist really liked them. But then it was not! Dmitri was at least 200 years separated from the mirror armor. And since it was not, then why draw it? And it's fun to read the descriptions of all these paintings made by art critics. Marked and "multidirectional views", and confidence, shining in poses, and the people in the background, supporting his leader. But what, dear ones, you don't see other elementary things that the artist painted "as he sees", although he should try to draw "as it was". So, we have historical fantasies and today even a dime a dozen.
For example, I'm preparing this material, browsing the Network, and there: "Three thousand six hundred heavily armed Genoese foot soldiers represented a formidable force." Where did 3600 Genoese infantrymen and another 400 crossbowmen come from on the Kulikovo field when we don't know exactly even the number of troops on the battlefield? Mommy hired? Where? In a cafe in Sudak? Yes, so many soldiers in all of Genoa were not. Magistrates - records of this have been preserved, dozens of soldiers have been recruited, and they were delighted. But the main thing is not even this, but where is the source, where did the author get these numbers: 3600 spearmen and 400 crossbowmen? I recall that in the publications of 1980 the number of 1000 Genoese was called - and even then it was called into question. And then ... by budding multiplied?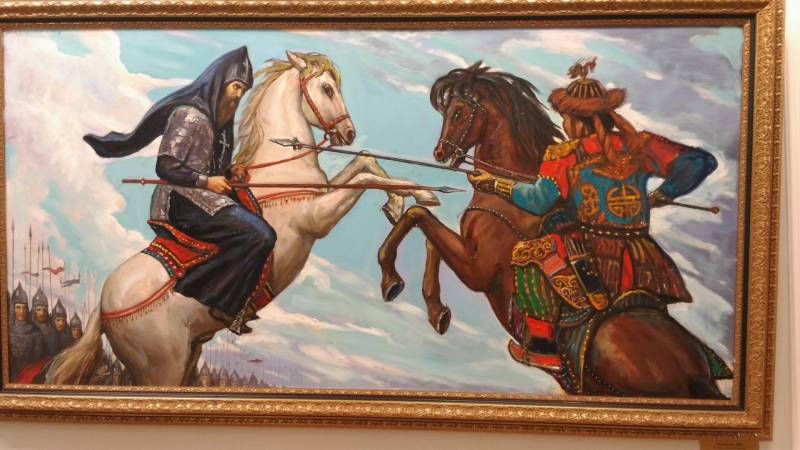 But I can't even explain this picture of Ilya Glazunov ... I don't understand what this can be connected with. And most importantly - why? Neither posture nor detailing makes any sense. Horses gallop in different directions, Glazunovsky Peresvet, instead of eating a spear like Avilov Peresvet, holds it like a reed ... not to understand how. And the Tatar with both hands grabbed at him - a grip that was probably not used for about five hundred years at least! And the horse itself under it is somehow "perverted" - the croup and neck in one direction, the head in the other ... Picturesque hooliganism is, not art!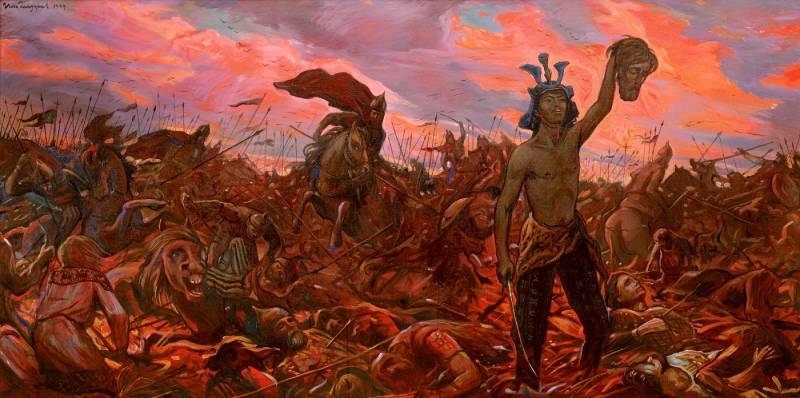 And here is another of his paintings in a recognizable Roerich style. But look at the half-naked Tatar on the right. Why did the artist put on his head a samurai helmet of the Nambokute era? Where did he come from this warrior? After all, the Mongols invaded Japan a century earlier ... That is, in Mamai the warriors could not have such helmets in 1380, since in 1274 and 1281, when one of the ancestors of this ... a helper could capture a helmet like a trophy, it's from such kuvagata simply did not exist. By golly, such bloopers disgusting even comment
It should be noted that in recent years, artists have become more demanding of themselves in relation to the depiction of historical realities.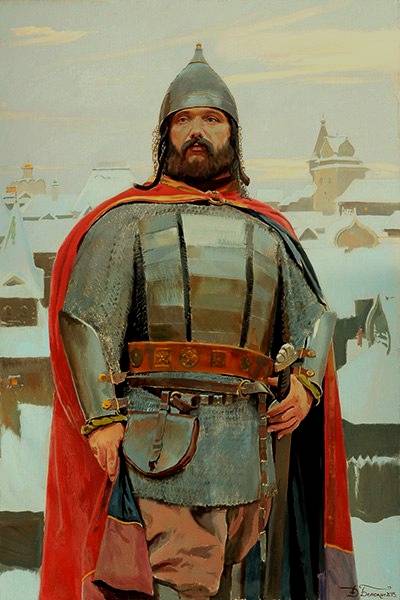 Here, for example, Dmitry Anatolyevich Belyukin's painting (b.1962) Dmitry Donskoy, 2015. Armor is a forged army, although it would be nice to show the plate mounts on chain mail. One can argue about the top of the hilt of the sword, but ... so in general - why not?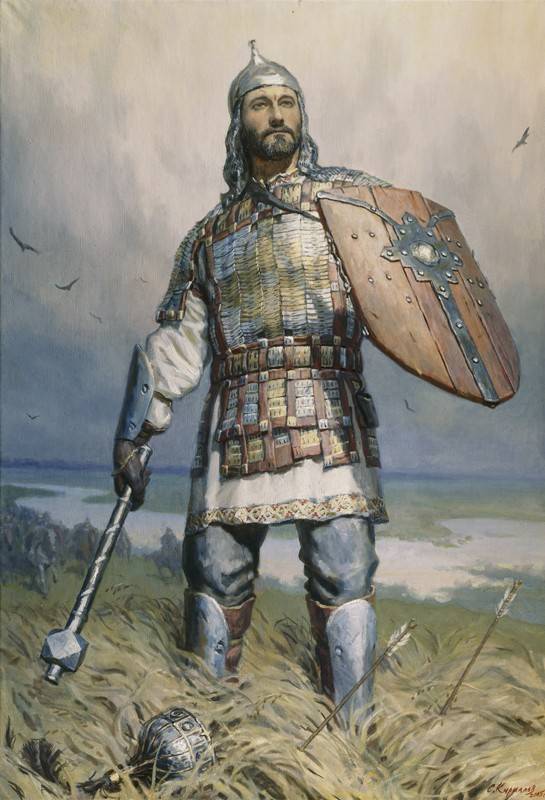 Prince Dmitry also liked me in the image of Kirillov Sergey Alekseevich (b. 1960) "Dimitri Donskoy", 2005
Moreover, such a mace is quite possible with him. And the plate armor is shown very realistically. Even plate leggings ... Well, that could be. That's just some kind of shield he has fantastic! Where is he spotted? Where, in what museum I saw such covers, I do not know. But ... shields were never just boards! This is not the door to your country cottage! They were pasted over with cloth or leather, or both skin and cloth, primed and painted, about which there are even reports of chroniclers who wrote about Russian scarlet shields. The cross sprouted on it painted at least - a well-known symbol depicted on our shields.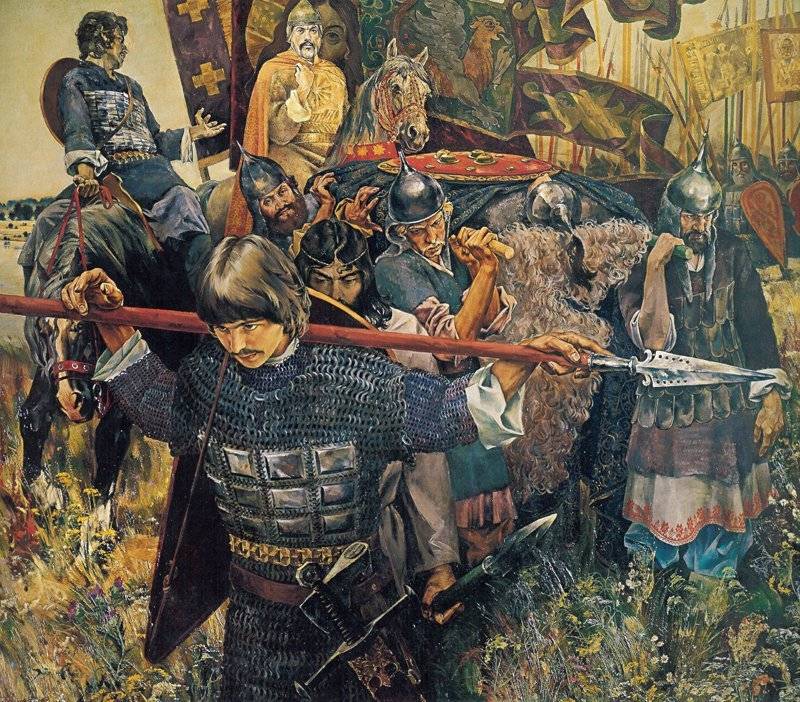 Prisekin Sergey Nikolaevich (1958-2015) "With a victory". Here, the prince, however, also gleamed, but he, at least, at least far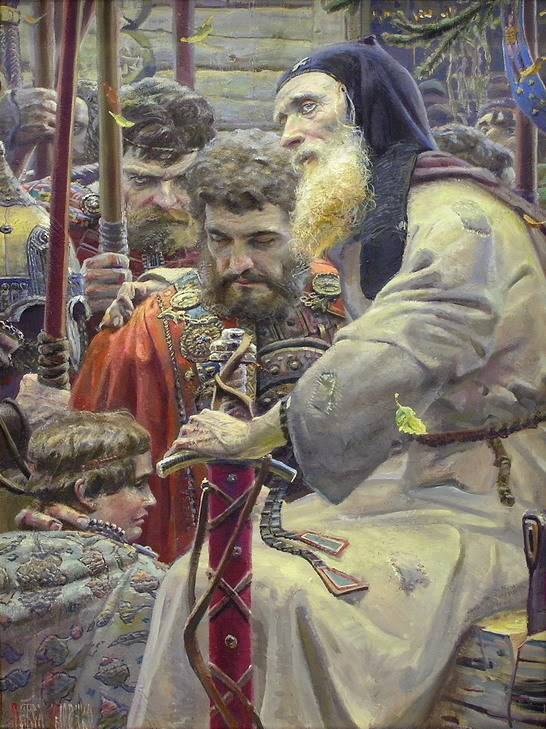 Ryzhenko Pavel Viktorovich (1970-2014) "Blessing of Sergius", 2005
Again this ... why not ?! Everything was written out very carefully, something, well, not quite, but bearable, within the statistical error between the typical and the unique. That is, or, at least, we had such painters in the paintings, which can be watched without feeling shame! That is, quite a bit, and the story and epic on the canvases of our masters can get along without interfering with each other.