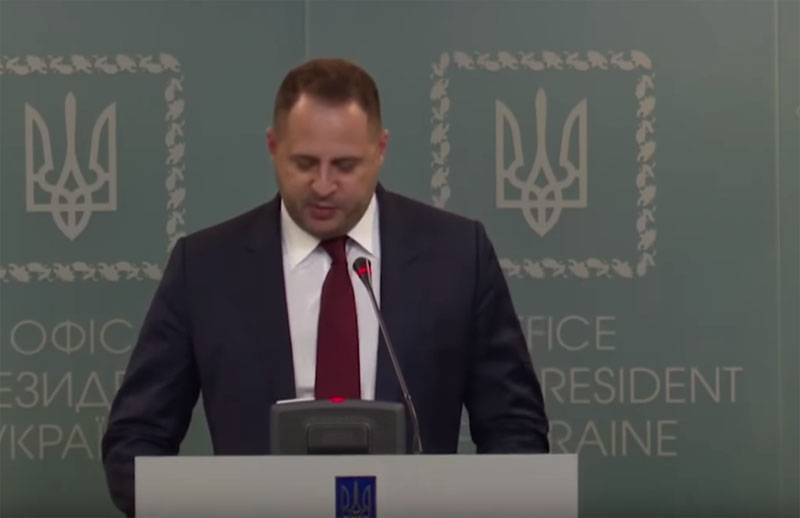 The next stage of negotiations on the situation in the Donbass in the so-called Minsk format has ended. Once again, the Kiev attempt to sit on several chairs is noteworthy: when the OSCE representatives are watching the negotiation process, the Kiev side declares its readiness to comply with the Minsk agreements, but as soon as the Ukrainian delegation returns to Ukraine, the exclamations that the Minsk agreements are resumed must be reviewed.
So, in Kiev they stated that "no LDNR should be considered as a party to the negotiations."
From the statement of the deputy of the Verkhovna Rada from the presidential party "Servant of the People" Evgenia Kravchuk after meeting with the head of the office of President Zelensky Andrei Ermak:
The deputies expressed public concerns and this is normal for a democratic country. The head of the president's office listened to these concerns and assured that the red lines would not be crossed. The Russian Federation has been and remains a party to the negotiations. No one is negotiating with the leaders of the militants and is not going to conduct them.
Refusing direct negotiations with representatives of the Donbass, they said in Kiev that they would refuse to implement the Minsk agreements, but ...
Andrey Ermak on the air of Ukrainian TV:
I can tell you frankly that many of them very often tell us that if you want to leave Minsk, if you are not going to fulfill the Minsk agreements, tell us, but we warn you that this will have a very powerful result regarding the extension of sanctions (against Russian Federation).
The head of Zelensky's office stated that Kiev "is ready to hold elections in the ORDLO (as the Ukrainian authorities call the uncontrolled territories of Donbass), but this cannot be done according to Ukrainian laws, since there are foreign troops there." At the same time, the presence of American, Canadian and British military contingents on its territory for some reason did not prevent the holding of elections in Ukraine.