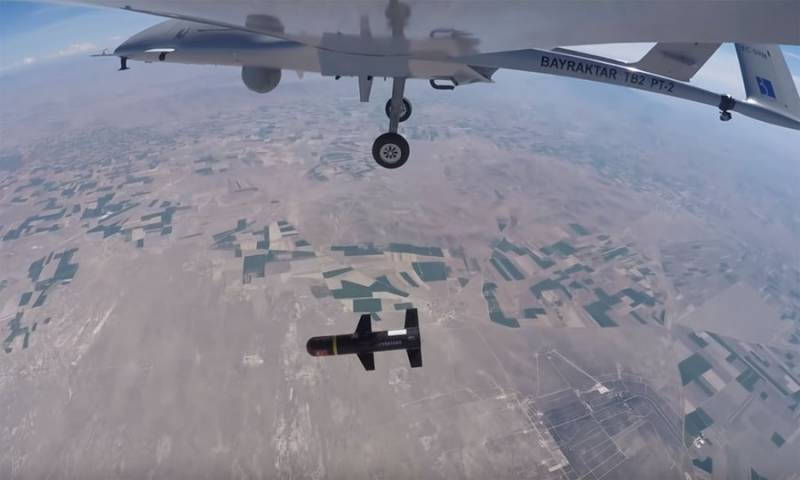 Turkish drone "Bayraktar"
The Eurasian Times has published columnist Nitin Tiku reporting India's decision to change its strategy for waging a possible war on two fronts - against Pakistan and China. In the article, the author refers to Major General of the Indian Army M. Naravane, who announced the change in the general concept and military strategy for such a confrontation.
From the article:
Mindful of the looming threats, the Indian Army has initiated the process of acquiring at least 100 portable munitions -
drones
, which will play a decisive role in destroying enemy targets near the border. The Loiter drone system should provide guaranteed use in Indian terrain and climatic conditions. There must be warheads to destroy manpower and lightly armored targets.
We are talking about the so-called "wandering" ammunition or kamikaze drones.
It is proposed to take into account the Turkish experience of using drones in Syria. At the same time, there was previously no evidence that the Turks in Idlib used kamikaze UAVs.
From the material of Nitin Chiku:
Such
Drones
much more profitable to acquire and operate than fighter jets or American attack drones. Two Turkish drone systems, Bayraktar-TB and Anka-S, are successfully operating in Syria. The Bayraktar has also been widely used in the Libyan Civil War, where Turkey is also intervening and proving its prowess with drone technology. At the moment, there are no signs of a deal between Turkey and Pakistan, but experts predict that Bayraktar could be a potential prospect for Pakistan.
The material reports that China is building up a drone fleet, which also equips Pakistan with various types of UAVs.
From the material:
It was previously reported that Islamabad will import 48 Wing Loong IIs air drones from China. Representatives of the Pakistani Air Force said the manufacturer of unmanned aerial vehicles - Chinese
aviation
Chengdu Industrial Group - will collaborate in the domestic production of unmanned aerial vehicles with Pakistan's Kamra aviation complex, a state-supported air force contractor.
The author says that drones become the most important
weapons
XXI century:
In Syria, they successfully compete with Russian-made air defense systems.