You can't live without women
In the world, no!
You are our happiness
As the poet said!
It's hard to keep my word
And I fall in love again
In you every time
Just an hour!
Operetta "Silva". Bonnie couplets
Weapon and firms.
Modern business, including
weapons
- This is a very complicated matter. For example, you are an excellent engineer, you can significantly improve any design (and improved!), But no one buys your products. And why? Yes, because you yourself, tired of sitting at the monitor, are trying to sell it. Call wholesalers, weapons stores, and you are denied everywhere. You are completely perplexed, but the whole thing is that you have an unpleasant timbre of voice, too harsh, for example, and you just don't know how to raise objections. They did not teach you this, an engineer, that's all. But here you have found a clever adviser, advised you not to be greedy, not to try to do everything yourself, but to hire an intelligent specialist to remove objections. Plus one more - for public relations, and the blonde, so that the legs from the shoulders and in a red suit, with a skirt like "don't drop anything, but drop it, don't lift it", and besides, in red underwear it's also capable of when necessary, drop something. He did all this, and things went smoothly. Journalists began to write about him well. Wholesalers - to place orders, and there the critics' reviews arrived in time: the goods were indeed good, that's what's important. That's how this engineer's business went. And it happens that women give smart advice to engineers - and thus arms companies achieve success!
So with the American company CMMG everything happened exactly the same. It was founded in 2002, when the brothers John and Jeff Overstreet, together with their wives Gretchen and Stephanie (that is, two consanguineous couples!) Decided to create a high-quality AR rifle, which everyone can afford at a price. Men took up technology, and their wives engaged in building useful relationships. All decisions regarding new products were discussed and taken together, the opinions of the wives were not ignored, but were considered quite seriously. And here is the result: since then, the situation with the production and marketing of the company's products has become better day by day! They themselves write wonderful things about themselves, to learn a lot from them:
"Despite the fact that our business continues to develop successfully, one thing does not change - our obligation to meet every morning to pray for the gift of God's wisdom in order to cope with the enormous responsibility that is imposed by business. We swear that it is thanks to his mercy that we grow every year! CMMG is constantly looking for new ways to improve its products and the company as a whole. Both our customer service and product line are still unparalleled. (What a wonderful statement, isn't it ?! We only have comparative advertising prohibited! - Approx. Author.) All our rifles and parts for firearms are made in the United States from the best materials. CMMG guarantees the absence of defects throughout the entire product life cycle. In the event of a breakdown or defect, CMMG Inc. Repair or replace any of our products immediately. "

CMMG Mk47 Mutant in the version with a chrome barrel of maximum length, mounted butt and collimator sight. The rifle has the usual mechanical sights, but they are made folding
It would seem that in the United States only the lazy do not produce rifles, "arches" (AR), which, incidentally, could be seen on the materials of previous publications (see the collection of links at the end of the article). They also began to be made in Germany, in Italy. But it was CMMG that approached their release very creatively, incorporating the Mk47 Mutant rifle - a semi-automatic 7,62 × 39 mm caliber rifle under the Russian Kalashnikov assault rifle in the line of samples. Moreover, it can work with all types of magazines for 7,62 mm cartridges, including steel, polymer and drum.
The start of production of the Mk47 was publicly announced in 2014. And already in 2015, CMMG released its first production Mk47 for sale throughout the United States. In the brochure it was written that this rifle "is distinguished by the endurance of the 47th AK, ergonomics of the AR-15 and high accuracy of fire." On the VO pages you can read about the family of small arms under the general name Banshees (Kirill Ryabov,
"Rifles and pistols of the CMMG Banshee family"
), however, Mk47 does not belong to this family.
According to CMMG Production Manager Tyson Bradshaw, CMMG
"Made this rifle because of the need to give consumers a reliable American-made rifle that could properly use 7,62x39 mm cartridges. That is, the CMMG needed to "make" a rifle around this caliber, fitting all its technical solutions precisely to the characteristics of this cartridge. To use AK stores was an obvious decision, as they are known to be one of the most reliable and affordable in the world, which work perfectly with a cartridge with a conical sleeve. "
Well, it's nice to read this, however, no one ever denies our merits in creating weapons. We still have problems with some other devices, but this is a matter of time. After all, how many years have they had a market and how much has it been with us ?!
At the SHOT Show 2015, CMMG representatives announced the possibility of making a variant of the same rifle and based on a 5,45 × 39 mm caliber cartridge.
So, what is the Mk47 Mutant, this hybrid of "Kalashnikov" and the American "arch"? First of all, this rifle has an enlarged receiver, since it is intended for the shutter from the AR-10 rifle, the shutter handle is also larger, and its upper and lower receivers are made of 7075-T6 aluminum alloy.
The rifle has a pistol grip taken from the AR-15, a fuse, a standard-type trigger from the same rifle, and a buffer tube with a spring. The Mk47 has a gas engine based on direct exhaust of gases into the receiver. Outwardly, however, the "Mutant" noticeably differs from both the AR-10 and the AR-15, primarily in the absence of a store mine. After all, she is not on the Kalashnikov's, and here the creators of the new rifle had to do without her.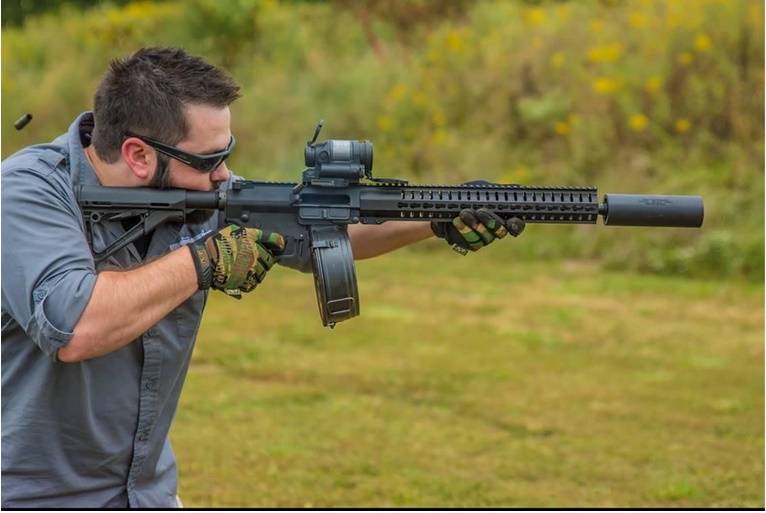 Mk47 shooting with drum magazine and silencer
However, this did not affect the stiffness of the magazine fastening. And its significantly curved shape immediately catches the eye, despite the fact that her fore-end is traditionally American - octagonal, with perforation on all six sides of it. The upper surface of the forend is a continuous Picatinny plate, on which you can install a whole arsenal of all kinds of sights.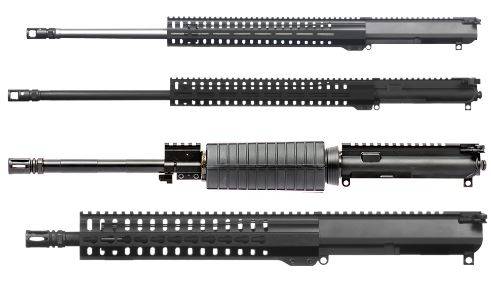 Other products of the company: interchangeable barrel blocks and upper receivers for a wide variety of ammunition
It would be strange if the CMMG did not immediately begin to produce the most diverse versions of this rifle. Today, the pistol version of the CMMG Mk47K with a barrel length of 254 mm with a conical profile, a Magpul pistol grip and a single-action trigger from CMMG is known.
CMMG Mk47 K, the Short-Rifle variant - the same characteristics as the K-pistol, but only with the addition of the Magpul CTR stock.
CMMG Mk47 Mutant AKM. It has a barrel length of 408 mm with a muzzle brake, and everything else - as with previous models.
CMMG Mk47 Mutant AKM CA, Carabiner. It has a barrel length of 456 mm mid-conical profile with a muzzle brake and a single-action trigger from CMMG.
CMMG Mk47 Mutant AKM 2 CA. It has the same characteristics as AKM CA, but is equipped with a different trigger.
CMMG Mk47 Mutant T CA. It features a 6-position folding stock A4 and pistol grip A2.
CMMG Mk47 AKS8. Released in 2016, can be used in configuration with 203 mm barrel and Krink muzzle device
CMMG Mk47 AKS13. Released in 2016, it has a 332 mm barrel and a Krink muzzle device.
The Mk47 passed several reliability tests and successfully passed all of them. So we can say that this company was completely successful with this weapon.

Attempts to create effective weapons under Soviet ammunition in the West were constantly made. For example, the Swiss SG 510-3 assault rifle is chambered for Soviet-made 7,62x39 mm caliber cartridge, designed for the competition for a new assault rifle for the Finnish army and produced in a small series
By the way, the weight of a discharged rifle does not even reach 3,5 kg! Among the features of its design is also the shutter from AR-10, which was shortened to a length of 203 mm, but made massive, which positively affected its strength.
One of the new models based on the "Mutant" - rifle "Black Diamond" DB15. 460 mm chromed barrel, 7075 T6 aluminum alloy lower and upper receivers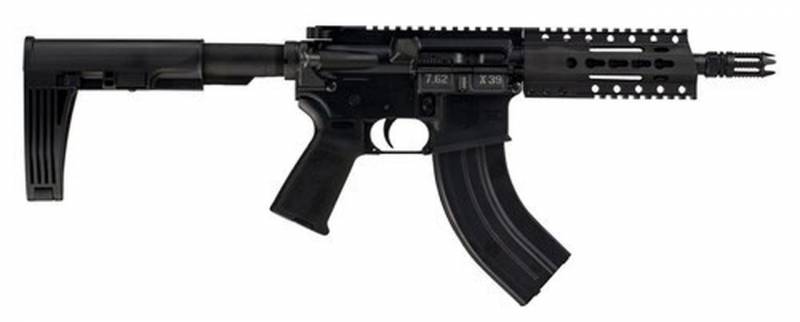 Shortened version DB15, 7,62x39 mm, barrel 178 mm long, Magpul handle, receiver made standard for AR-15, but compatible with AK stores
As already noted, the store acceptor works with all standard stores from AK. This is a huge plus, because these stores are simple, world famous and widely available. The standard method of recharging also migrated to the MK47 with AK. As standard, the rifle comes with one Magpul magazine for 30 rounds and ... a lifetime guarantee of quality! Trunk "freely posted" with 10 rifling.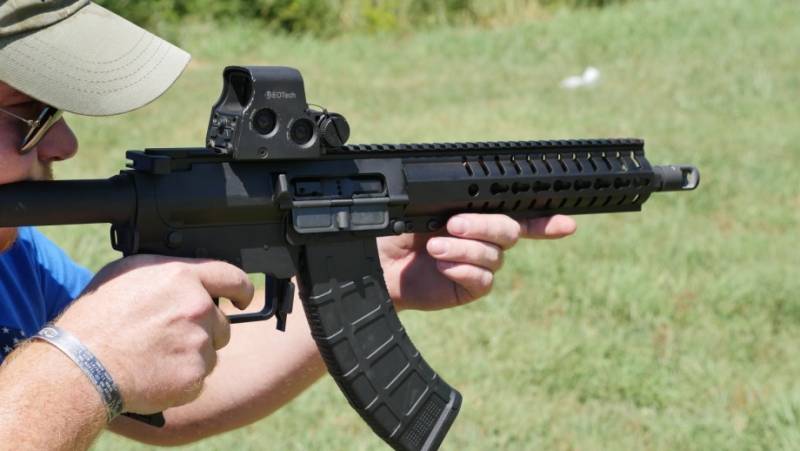 Fire leads a "mutant"!
Due to the high accuracy and destructive power of the Soviet cartridge Mk47, according to representatives of the company CMMG Inc.,
"... is an ideal multi-functional rifle that will find application in many areas."
Well, the market is a market, let's see how things go for this company of two men and two women!