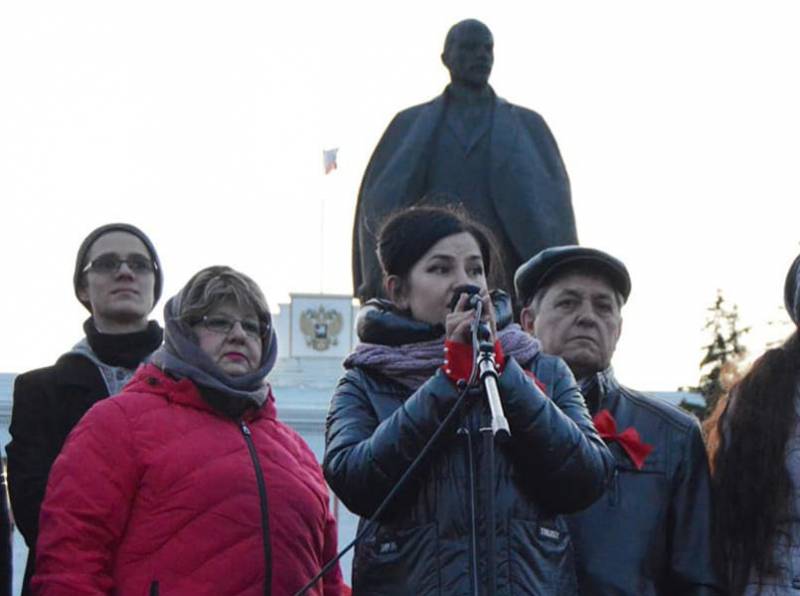 In our country, an active discussion of the proposed amendments to the Constitution continues. Against the backdrop of virtually "unified" approval by government officials of the initiatives taken, including the initiative to "nullify" the presidential term, voices are heard from those politicians who are not afraid to call a spade a spade.
One of these politicians is the representative of the Communist Party, the head of the Communist Party faction in the Altai legislative assembly, Maria Prusakova.
Taking the floor during the meeting of the regional assembly of deputies, Maria Prusakova spoke about what is proposed as amendments to the Basic Law. The Altai parliamentarian began by recalling the words of Vladimir Putin from 2012:
"If I considered totalitarianism or authoritarianism preferable for our country, I would just change the Constitution." Based on this, we state for today that Vladimir Vladimirovich recognizes that we need an authoritarian or totalitarian system of our state.
The first secretary of the Altai Territory of the Communist Party of the Communist Party notes the strangeness even in the system of voting on amendments. According to her, we have discussed the renaming of airports for six months, and people vote individually, and for some reason, it is proposed to vote for the amendments to the Constitution in a batch version.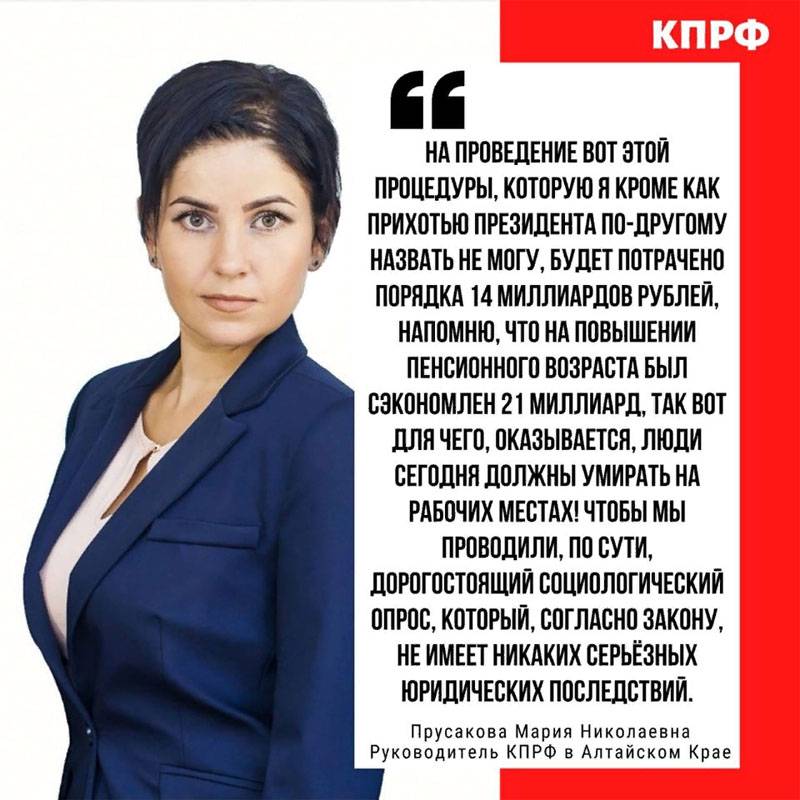 Maria Prusakova:
It turns out that what the Sheremetyevo Airport will be called is more important to us than what we will have in the Constitution?
The Altai parliamentarian notes that we must frankly admit: many amendments are, in fact, dummies and duplicate federal laws and acts. For example, it is noted that legislation has long spelled out that marriage in Russia is an equal union of a man and a woman.
Maria Prusakova:
So let's write in the Constitution that two, two, four, that air is air ...
The deputy of the regional legislative assembly says that truly significant proposals for amendments have been noted. For example, we are talking about the refusal to introduce amendments to the fixing of retirement age into the voting package.
Speech by Maria Prusakova: