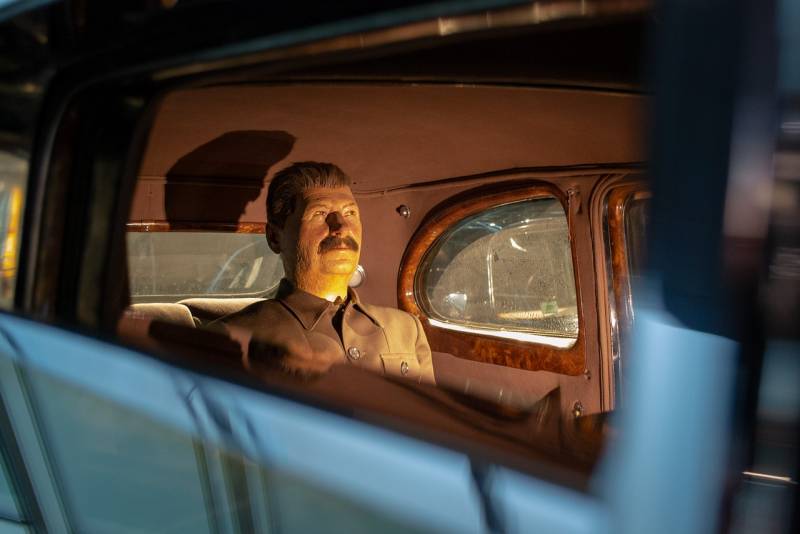 I wrote many times about the memory of the people. The memory that even contrary to our political views and preferences today makes us bow our heads to the mass graves of the soldiers of the Great Patriotic War, to the Eternal Flame, to memorials created on the borders of defense.
When people bring flowers to the monument to the fallen in the fight against fascism, no one asks them about party affiliation, nationality or religion. In front of the grave of a war soldier are their descendants. They stand, paying tribute to their feat, their dedication, their heroism. They are the descendants of the Red Army and ordinary, red commanders and officers, brigade commanders, commanders, commanders and generals.
Folk memory is different
We often recall our grandfathers on the eve of Victory Day. We are proud to say that my grandfather was a simple infantryman (tanker, artilleryman, pilot, partisan, etc.). In general, there are no heroic professions in a war. Although war veterans sometimes say that they didn't do anything special in the war, we know very well that military awards weren't just given.
It is in modern films that soldiers and officers are hung with awards, like Christmas trees with toys, and in war, the awards were really given for the cause. A medal for the defense, capture or liberation of any city was expensive. As a recognition of the merits of a soldier. As a sign of belonging to a particular caste of soldiers.
I remember the soldiers of the Patriotic War not as old as old, but as full of strength by 50-55-year-old men. And then the first question at the meeting was: "On which front did you fight?" And awarded the same medals "For the capture ..." met as close friends. Although they saw each other for the first time.
But there is another memory. A memory that they prefer not to recall or talk about at all. Have you ever seen veterans of firing squads or their descendants who destroyed traitors, alarmists, spies? Have you seen the veterans of the barrage squads? Maybe you saw those who wrote denunciations to colleagues? Who informed "whoever needs it" about anti-Soviet conversations among comfrey, about a newspaper that was put into a clue with a photograph of the leader? But it was! Memory, she is. I remember here, I don't remember ...
Do you know why we prefer not to talk about these fighters and commanders who did a terrible but necessary job? Yes, simply because then they went into battle in the general chain of fighters and died there. We didn't go to the warm barracks to rest, but crawled to the first line, to zero, to go on the attack with everyone. And they got their medals in the same way as the rest.
I want to report on the enemy of the people ...
No, I'm not talking about the Great Patriotic War. I'm talking about the 2020th year. And not in the trenches on the front line, but in our capital, in Moscow. It was there that bedbugs had already wound up again. It is there, I repeat, once again called upon to report "where should" about the enemies of the people. Moreover, the most interesting thing is that they suggest not reporting on spies and saboteurs, but on those who have their own opinions on issues
stories
. In particular, now, about the history of the war.
We are again being called upon nationwide to draw up "shooting lists of enemies of the people." True, they have not yet called for the application of the highest measure of social protection. Yes, and the lists are called so far only "black lists". Moreover, according to Izvestia reporters, the Moscow Bureau of Human Rights offers us recommendations on their creation! The head of the Human Rights Bureau, a member of the HRC, Alexander Brod, personally voiced the report.
Quote from the report of Alexander Brod, which contains this very recommendation to the relevant departments and the Russian parliament:
Go to the compilation of "black lists" of politicians, historians who have stained themselves with the rehabilitation of Nazism, attacks on the Red Army and the USSR during the Second World War. Conduct a detailed inventory of memorial sites and memorials to Soviet soldiers.
Compose a "red book" of monuments and memorials, as well as intensify the development of joint resolutions condemning racism, xenophobia, propaganda of nationalism, Nazism, Holocaust denial, and intensify criminal prosecution of vandals. "
How many times have I seen these lists of "enemies of the people" / For any reason. From any public or even some kind of "left" organization. The list of people whom any "honest patriot" is simply obliged to despise. Throw stones at them and smear the doors of their apartments with feces. State and law are for others. For the enemies of the people, only national anger and popular revenge!
How "people" make lists
I recalled the Moscow lists of August 2011. For most readers living far from Moscow, at this time, no serious events seem to have happened. Only Muscovites remember the epic with the construction of a new highway Moscow - St. Petersburg through the Khimki forest.
It was then that activists (a familiar word, right?) Of the movement in defense of the Khimki forest called on Russians to draw up "black lists of people acting to the detriment of Russian citizens and in violation of the law." Anyone who wants to should publish their list on accessible Internet sites and publicize it in public promotions. Corruption must "find a face"!
And after all has found. People with pleasure began to point to corrupt officials. Moreover, no one considered it necessary to prove their guilt. "I said so, then it is so!" Offhand, I'll give only a list of "Moscow corrupt officials" who did not sleep at night, considering how to destroy the Khimki forest. Naturally, they did not think about the direct route, according to activists. I call the posts of "corrupt officials" at that time.
So, then Prime Minister Vladimir Putin, Minister of Transport of the Russian Federation Igor Levitin, Chairman of the State Duma Committee on Natural Resources, Environmental Management and Ecology Natalya Komarova, Deputy Prime Minister of the Russian Federation Sergey Ivanov, Prosecutor General of the Russian Federation Yuri Chaika, Minister of Natural Resources and Ecology of the Russian Federation Yuri Trutnev , judge of the Supreme Court of the Russian Federation Nikolai Romanenkov, governor of the Moscow Region Boris Gromov, head of the administration of the city of Fr. Khimki Vladimir Strelchenko and many others. By the way, in St. Petersburg they also made up such a list. Naturally, the head of the corrupt team was Valentina Matvienko, backed by a whole group of prosecutors and police officers.
Or another example. Many readers remember the famous list of "enemies of the people" from culture, compiled in 2014 by Moscow lawyer Anton Sorvachev. This list was called quite loudly: "The black list of Nazi support in Ukraine." To be honest, I would not give a hand to those people who are listed. I really disgust Nazism, I disgust what is happening in Ukraine. But even more disgusting are our fellow citizens who openly support this.
Okay, Andrey Makarevich or Anatoly Pashinin. One carries nonsense, the second went to kill the Republicans. But you must admit, Sobchak, who became an "enemy of the people" only because she publicly asked Putin to deprive her of Russian citizenship, or Natasha Koroleva, who was visited by fellow countrymen who turned out to be Maidan activists, look somewhat ridiculous.
I was especially struck by our "enemy", the famous Noize MC rapper. Imagine performing in Lviv under the Ukrainian flag. Well, this is nonsense. You can forgive. But the performance at the festival "Kuban" can not be forgiven. Imagine, I wanted to say something about Ukraine there, but they turned off the microphone. So he stripped naked and continued to perform naked!
But there is still Rotaru, who did not want to become a citizen of Russia, there is Volochkova, for whom "Crimea is not Russia", there is a stylist Zverev who went to Kiev on the "Maidan" to see ... Now a simple question: why was this list compiled? So I hate them? Well, what happens if I hate them? Five years passed, and they stuck out every holiday on the screen of my TV, and stick out. And I won't go to their concerts, regardless of whether this artist is on the lists or not. I have a different criterion: like - not like.
Why patriots become radicals
You did not pay attention to how easy it is to manipulate patriots? How easy is it to slide from patriotism to radical patriotism? How imperceptibly for yourself to suddenly discover that you are already in the camp of enemies?
Those boys and girls who go to unauthorized rallies and rallies against the power and state system of Russia, in fact, feel like patriots. They really are for Russia. They want to build a state of happiness. And they don't understand why even their parents don't understand them. Why do they call them names in every possible way.
What is radical patriotism? Alas, with a similar name, it has nothing to do with patriotism. Just because it is based on protest moods. And what is the protest mood? This is nothing more than dissatisfaction with something, resentment at something. If you like, this is a kind of inferiority complex. Why do I live like this, but here it is in a different way.
And then what happens to us is successfully demonstrated, for example, by Alexey Navalny. Youth patriotism, public mood, it successfully transforms into the mood of the crowd. What does the crowd want? The crowd wants a leader. The crowd wants a "strong hand" that will restore order. Cohesion, if you will, the solidarity of the crowd is in no way connected with the people and the country. She is destructive.
To understand that the barrel was honey, you need to throw a spoonful of tar there
What Alexander Brod demonstrated to us is precisely radical patriotism. After all, the report does have "honey." Quite correct and understandable to everyone thoughts:
"With the help of discrediting the USSR, equating communism with fascism and Nazism, the memory of the Second World War is supplanted by the myth of the great victory of the collective West in it, where historical Russia is clearly regarded as a side of evil. As a result, the allegation of the illegality of taking her place as a permanent member of the UN Security Council. "
Someone will argue with this statement? We have repeatedly written about this and discussed on the forums. If we discard the nuances, it was precisely this point of view that was upheld by the majority. Returning to the beginning of the material, we note: we are the descendants of the winners. We feel like winners. And this feeling cannot be taken away from us.
"The closer the anniversary of the Victory, the more often we record cases of distortion of historical memory and vandalism. Politicians from Central and Eastern Europe, primarily Poland, the Czech Republic, Ukraine, and the Baltic states, are fighting the Victory symbols most consistently. "
And you can't argue with this statement. Alas, under the banner of democracy and worship of the West, the descendants of those with whom our grandfathers fought came to power in these states. Descendants of Bandera, forest brothers, the Home Army and others ... Yes, most of the population of these countries is reformatted. Yes, many hate us. Just because we are winners, and they, even with all the economic and other achievements, are defeated. Complex wimp who saw a wounded strongman ...
It is not necessary to beat for conversations, it is necessary to beat for deeds. But conversations must be answered by conversations. The worst
weapon
true for liars. We have already seen this recently. When the president of Russia told the truth about some events in Poland. The truth with documents and eyewitness accounts.
It is not worth compiling "black lists", "execution lists", lists of unreliable and others. There is a state. There is a law. There are bodies that are required to do this. If they can't cope, then you need to change them. For some reason, we got used to the fact that elections are always wrong, officials are always corrupt, businessmen are always thieves, and so on. And why? Who, then, are those who select or appoint them?
Maybe it's worthwhile to remain people, and not become the descendants of those who once wrote several million denunciations to the NKVD in the prewar years?