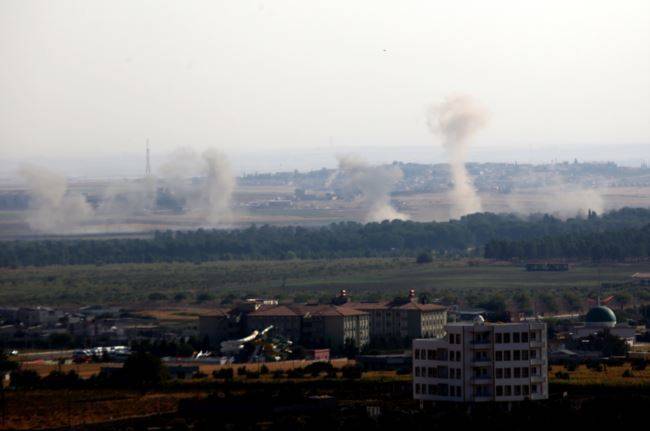 Michael Peck and The National Interest, God grant you good health and long life! And then there is not only Michael Peck, a specialist in the Russian army, but also Michael Kofman, an employee of the Center for Naval Analysis.
And together, two, as I understood, not stupid people, for some reason began to seriously discuss the topic "And if an elephant stands on a whale, who will win"?
Win, of course, stupidity on a global scale. Yes, a lot of things are happening in Russia that cannot be called smart. But constitutional changes, pension reforms, and other turbulences of today are one thing, and the outbreak of World War III is another.
I will not name a hypothetical conflict between Russia and Turkey as a prelude to the third world war. But someone really wants to see it under a magnifying glass from all sides.
Okay, let's and we will see where the Americans are looking and what they see.
"The balance of power is decisively against Russia in Syria."
"But if Turkish and Russian troops really entered the battle in Syria, Turkey would have the advantage."
Both Meehan's voice. Both Kofman and Peck.
And then they wonder why. Indeed, on paper, Russia still looks very sinister. Especially scary is the largest (not fact, by the way) arsenal of nuclear warheads. That is, Michael is very serious.
It is difficult to say why they needed to touch our nuclear arsenal, apparently, according to the old principle: if a gun hangs on stage in the theater in the first act, it means that before the end of the last one they will definitely shoot someone.
Well, there is a certain logic to this. If you squeeze very hard ... No, even if you squeeze hard, not so much independence today among our sovereigns in order to demolish the globe. They can't.
So, by the will of American experts (I am quite respectfully writing without quotes), Turkey and Russia may converge in a battle on Syrian soil.
Russia, a nuclear power, and Turkey. Non-nuclear. It is not clear, by the way, whether this is good or not. As for me, Erdogan is missing only nuclear bombs dreaming of a new Ottoman Empire.
However, the Turkish army is a very confident army. Although not so long ago a wave of purges among the high command staff swept there, nevertheless, this is the army. And the fleet is quite decent, capable of fighting on a par with our Black Sea.
But what's the point? What is in these comparisons, if there can be no talk of anything but political confrontation between Russia and Turkey?
For now, at least.
What is located at the Khmeimim base is just a laugh compared to the Turkish army. This is simply a very very limited contingent of not even the Russian army, but the VKS.
"Estimated" by the Americans, the grouping of Russian troops consists of several thousand military personnel and several dozen aircraft. And plus support ships.
Well, let one and a half to two thousand flight technical personnel, auxiliary structures and guards with the military police be a few.
Turkey also has several thousand troops as part of its ground forces. 260 to be exact. 260 thousand against two.
Mikhan, what are you talking about?
It is possible that there are only a few dozen (more precisely, 26) F-16Cs that also cost a few dozen (two, well three) Russian aircraft at the Turkish Air Force.
And if we take into account that all the supply of the Russian forces's group goes through the Bosphorus and Dardanelles, which are controlled by Turkey ... And if Turkey closes the straits, and it also has its own airspace for Russian planes, excuse me, you just have to wait until across the Mediterranean Sea taken out. Slightly hungry.
So just Michael talk about the vulnerability of the Russian contingent. Kofman believes that
"... In a scenario where Russia has one air base, a presence that does not increase, a presence that requires access to the Bosphorus for logistical support, the Russian troops are in a very vulnerable position."
Is logical. But excuse me, why do we need to increase our presence in Syria? Sorry, potential gentlemen, but this is YOUR, not OUR scenario.
Even if we compare the participation in the life of one country (of course, Afghanistan), we also had a limited contingent there. They left with their heads held high, leaving behind cities, schools, hospitals, airfields.
Which Americans use today. Here is a paradox. But what the Americans will leave behind - this is a very complex issue. But obviously not hospitals and schools. They Americans build democracy. But schools and other things are not related to democracy.
Well, a little distracted.
Further, Kofman and Peck reasonably reasonably talk about ... Russia's retaliatory strike on Turkey!
Well, yes, they argue well, but how sensible is hard to say. We look hypothetically, right?
Good. Suppose Erdogan went as far as to strike at Khmeimim. I simply don't see any other scenario, because he simply has nothing to reach the territory of Russia. Frigates and corvettes, on which it is theoretically possible to place rockets, will meet the "Balls".
Aircraft ... Aircraft will also have something to correct the trajectory, and the worst
weapon
that Turkish F-16Cs can carry are Mark 84 bombs, as ancient as ... And with a combat weight of 900 kg.
So in fact, Turkey will not be able to deliver such a blow to Russia in order to have a decent response. And indecent ...
This is where the blow to Khmeimim begs. To which Russia can answer "from the heart", I agree.
But, firstly, Turkey simply has no reason to seek such an adventure on all points. Of course, no one (thank God) is talking about a nuclear strike, but cruise missiles will be more than enough for Turkey. Moreover, there will be practically nothing to neutralize them.
Very poorly imagine the Atilgan and Zipkin complexes made on the basis of the Stinger, intercepting the Caliber. It would be a very epic sight.
In general, before buying our S-400s from Turkey with air defense it was very so-so. But now the S-400 is not a panacea against Russian weapons.
Count on the help of colleagues in the block?
Complex issue. And the American Michael himself very gently stroking it. On the one hand, yes, Turkey is a member of the NATO bloc. On the other hand, the bloc, according to the charter, is not required to support the participation of bloc members in campaigns in territories outside the NATO zone.
That is, the war of Turkey with the Kurds on the territory of Syria is a matter exclusively of Turkey. But if the Armenian army launched an attack on the city of Kars, citing the fact that Kars was the capital of the Armenian kingdom of Bagratuni and the capital of the Armenian Kars kingdom, then all the forces of the NATO bloc would have to fall upon the hordes of Armenians.
But not before the first Armenian (or non-Armenian) soldier crosses the Turkish border. And no one will forbid having fun outside the national territory of Turkey. At one's own risk.
That is, American experts confirm that 7 thousand people of the Turkish military in northern Syria, coupled with heavy equipment and
aviation
supporting supporters or simply beneficial Turkey people - all this is done outside the framework of NATO.
That's why, in fact, Michael is considering such a turn of events as the military confrontation between Russia and Turkey.
But it can really begin. It's hard to argue with the Americans. In the area of ​​the same Idlib are Russian advisers and military police. It is easy to imagine several scenarios when Turkish and Russian troops enter into direct battle.
"For example, a Turkish attack on Syrian troops could injure Russian advisers who require air support from Russian aircraft. Or Turkish planes accidentally shot down Russian planes mistaken for Syrian planes, and then Russia could strike back by shooting down Turkish planes. "
The translation is accurate. That's just again the Americans speak in accordance with their standards. This was already when a Turkish plane shot down a Russian one. Therefore, in spite of all the curtsies, "by chance" it is unlikely that anyone will take the Turkish plane for a Turkish one, and therefore they will receive whoever they need with a rocket. But no one was horrible.
But in general, Kofman and Peck are well aware that both Russia and Turkey will "understand" the political arena until the last moment. And only then the guns can speak, and even then it all looks so ... How can the Russian air contingent pose a real threat to the Turkish side, I personally do not really understand. This is exactly the case when the Turks will be taken in bulk.
Yes, the question is whether Turkey and Russia have goals that can be satisfied, given the interests of both countries.
Here yes, it is unlikely. Turkish troops are occupying northeastern Syria in order to create a buffer zone between Syrian Kurds who want to live apart from Assad and Turkish Kurds who have long wanted independence from Turkey. In general, to arrange a sort of reservation, where it will be possible to place all dissenters.
In addition, Turkey does not hide its joy over the hypothetical collapse of the Assad regime with the desired death of the latter. Then the borders of the Kurdish reservation could be extended towards the oil-bearing areas, and then many of Turkey's problems would be resolved as if by themselves.
And the third problem that I mentioned in one of the previous articles: a million Syrian refugees in Turkey. A bit not the "reward" that Erdogan would like. More precisely, not at all. Erdogan needs gas (albeit Russian, okay) and oil. As cheap as possible.
For its part, Russia supports the Assad regime. Yes, the Americans do not understand the difference between the legal stay of their troops in the territory of another state, because for them the opinion of another country is not significant. The main thing - the Senate and Congress decided, and then the grass does not grow, because they still trample it.
Very old and very American position.
Kofman, however, understands that the Russian side is beginning to act in the style of the Americans. And this frankly doesn't amuse him or infuriate him.
"It is clear that the Russian military will intervene on behalf of the Syrian regime if the stability and survival of the regime are in question. But she (Russia) is not going to intervene on behalf of the Syrian forces in Idlib. Idlib Russia is not needed. "
Well, we'll see it, by the way. Whether Idlib is needed or not needed on the map of Syria as a Syrian city - yes, this will be decided in Moscow and Damascus. It's a shame that it's not in Ankara and Washington?
Such is the current political situation in the region.
The military alignment to look closely at the point, as you see, is not. There is nothing to compare with the Turkish army from Russia. So I'm sure you don't have to worry about the escalation of hostilities and the hypothetical conflict between Turkey and Russia.
Peck and Kofman did a very good job. And a conflict of interests between Russia and Turkey on Syrian territory is very possible. And even as a prelude to the third world.
But still, I think that the World War III will be provoked by the Swiss Navy corvettes, who will open fire on fishing vessels in Belarus, catching trout in the wrong places.
Source.