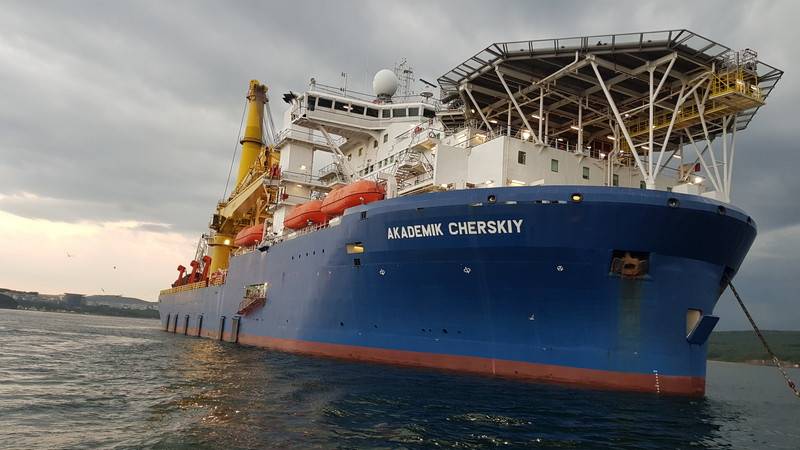 The Russian pipe-laying vessel Akademik Chersky, capable of completing the Nord Stream-2 gas pipeline, will pass from the Indian Ocean to the Mediterranean Sea, accompanied by Russian warships. It is reported by the web resource EurAsia Daily.
The portal came to this conclusion by studying data from navigation portals and messages from the Russian Ministry of Defense. Reportedly, Academician Chersky changed course from Sri Lanka to the Suez Canal, but stood on the island for several days, after which it turned off data transmission.
According to the data of navigation portals, the pipelayer approached Sri Lanka on March 3, after which he changed the route to the Suez Canal. However, the ship stood at the island for another three days, and on March 6 it simply turned off the automatic identification system (AIS). On March 4, the Baltic Fleet patrol ship Yaroslav the Wise arrived in Sri Lanka, which on March 6, after replenishing supplies, sailed back to the Gulf of Aden on an "anti-piracy" shift.
Moreover, at the same time as the watchman, a pipelayer also came out, who, under the cover of a Russian warship, could safely pass into the Red Sea and the Suez Canal. It is noted that when passing through the Aden Strait, ships traditionally turn off the AIS so as not to "shine" on pirate radars.
Meanwhile, it became known that after the "Academician Chersky" a large anti-submarine ship of the Pacific Fleet Admiral Vinogradov arrived in Sri Lanka, which, apparently, unofficially guarded the ship on the route from Nakhodka to Sri Lanka.
It is assumed that after the Akademik Chersky vessel passes the Suez Canal, a warship from the permanent group of the Russian Navy in the Mediterranean will take on its escort. Allegedly, the ship goes to St. Petersburg with the call to Kaliningrad.
Earlier it was reported that the Akademik Chersky vessel is the only Russian vessel capable of completing the Nord Stream-2 gas pipeline without involving foreign companies.