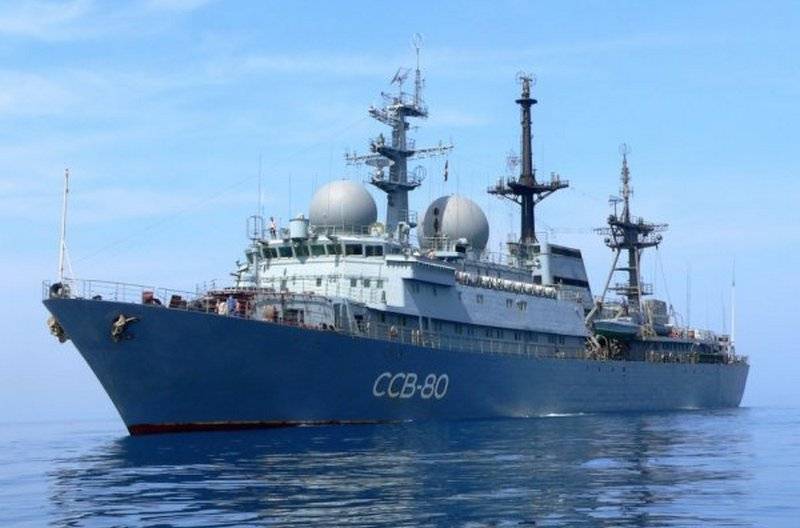 Large reconnaissance ship "Baltic" (SSV-80) Pacific Fleet spotted near the island of Oahu, Hawaiian archipelago, where the main naval base of the Pacific
fleet
USA Pearl Harbor. This was reported by the US Coast Guard press service.
At noon on March 8, local time, the US Coast Guard ship USCGC Kimball, patrolling south of the Oahu island of the Hawaiian archipelago, discovered a ship that was identified as a large Baltic reconnaissance ship of project 1826 (code "Rubidium"), part of Pacific Fleet of Russia
- said in a statement.
As suggested by the US military, the Baltic States is located in the area to monitor upcoming tests of missile defense systems.
The USCGC Kimball Coast Guard boat is currently monitoring the movement of the Russian reconnaissance ship.
"Baltic" - a large reconnaissance ship (BZRK) project 1826 "Rubidium" (official name - communications ship). It was commissioned in 1983, part of the Pacific Fleet. It is equipped with radio intelligence equipment complexes for collecting data on the characteristics and operating modes of radio equipment, including radar, tracking missile launches, intercepting communication lines, as well as sonar stations and satellite communications equipment for transmitting received data in real time.
According to information available in open sources, the following reconnaissance equipment was installed on the ship: Volga radar, OGAS MG-349 Ros-K, GAS sound-communication communication MG-13, anti-sabotage OGAS MG-7 Bracelet, RR and RTR equipment Cool "," Tug-N "," Rotor-N "," Octave "," Memory ".
The ship is armed with two quad launchers of anti-aircraft missiles "Strela-2M" and six-barrel 30-mm anti-aircraft artillery system AK-630. The standard displacement of the ship is 3,1 thousand tons, the total - 4,6 thousand tons. Length - 105 meters, full speed - 20 knots. Cruising range - 10 thousand miles at a speed of 14 knots. The crew is 189 people.