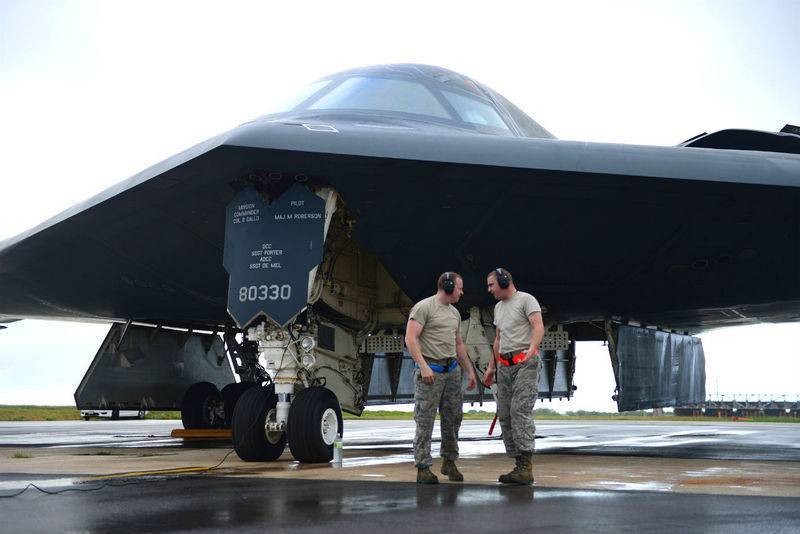 The U.S. Air Force deployed B-2 Spirit strategic stealth bombers to Europe. This is stated in a press release from the US European Command (EUCOM).
Bombers on Monday flew from an air base in Missouri (USA) to an air base in the Portuguese Azores. During the flight, the B-2 was refueled in the air using KC-10 Extender refueling aircraft. The number of B-2s transferred to Europe is not called. The main task is to get acquainted with the European theater of operations.
Aircraft will operate at various military facilities in the area of ​​responsibility of the European Command. The transfer of strategic bombers allows crew members to get acquainted with the European theater and shows the support of allies and partners from the United States
- said in a press release.
The American stealth bomber B-2 Spirit is built according to the "flying wing" scheme, it can carry both conventional and thermonuclear charges. Its creation began in the late 1970's and as the work continued, the costs of the project continued to grow. If the first aircraft cost 737 millions of dollars, after improvements this amount increased to 929 millions. After another improvement in the 1997 year, the B-2 Spirit began to cost 2,1 a billion dollars apiece.
It is reported that in the 1988-1999 years the 21 B-2 Spirit aircraft was produced, and 20 of them are now in service with the US Air Force.
Earlier, the U.S. Air Force command reported that as new B-21 Raider bombers came into service, all B-1 Lancer and B-2 Spirit planes would be decommissioned, while older B-52 Stratofortresss would remain in service until the 50's.