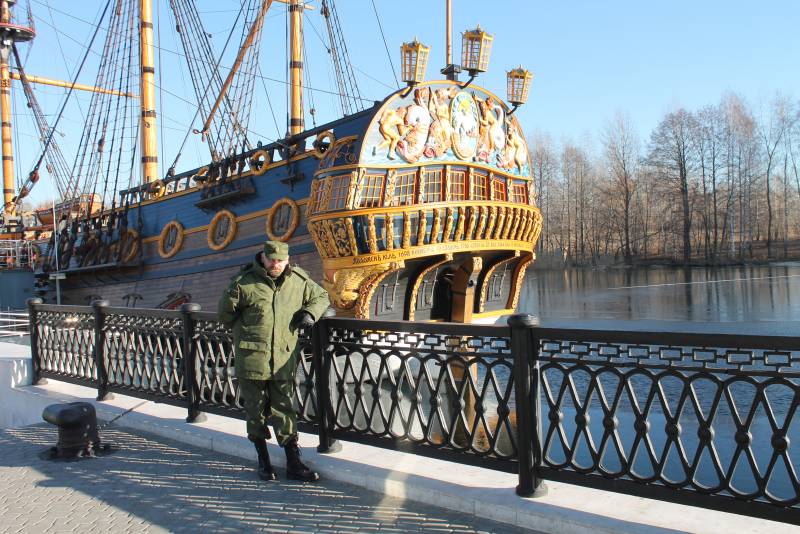 In Lugansk, a trial was held of the former deputy commander of the Ghost brigade Alexander Kostin, the call sign August, at which he and the deceased brigade commander Alexei Mozgovoy were officially called criminals.
Kostin was sentenced to 14 years in prison.
Well, you can only congratulate all involved. And ask just a few substantive questions.
I will not paint much, just lay out copies of the indictment in the Kostin case, which were obtained by colleagues from the Russian Spring, for which they are very grateful.
Who wants to - read, who does not want to get acquainted with this scribble - do not read. I was forced to read.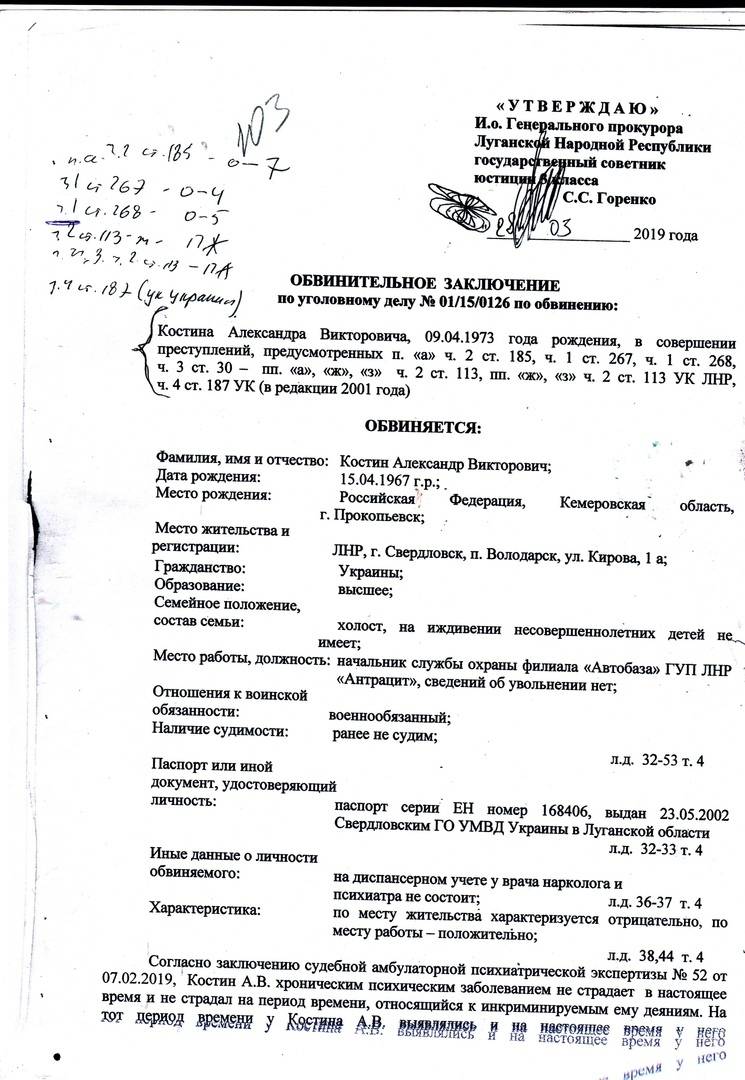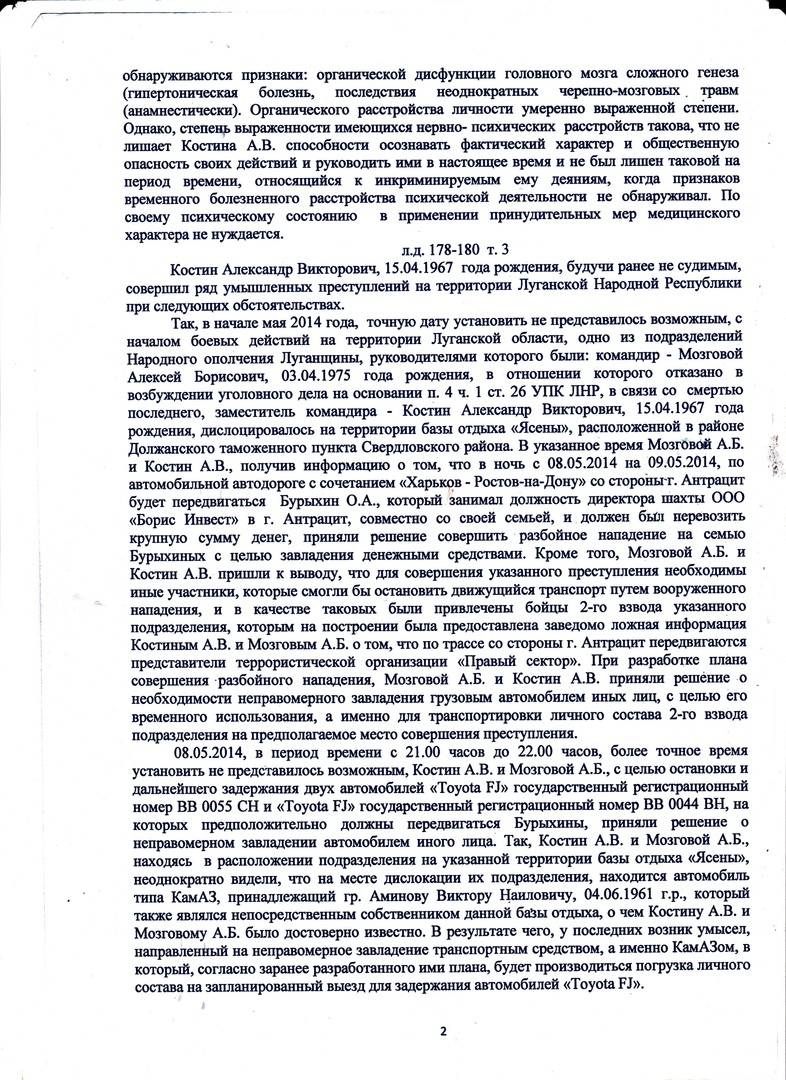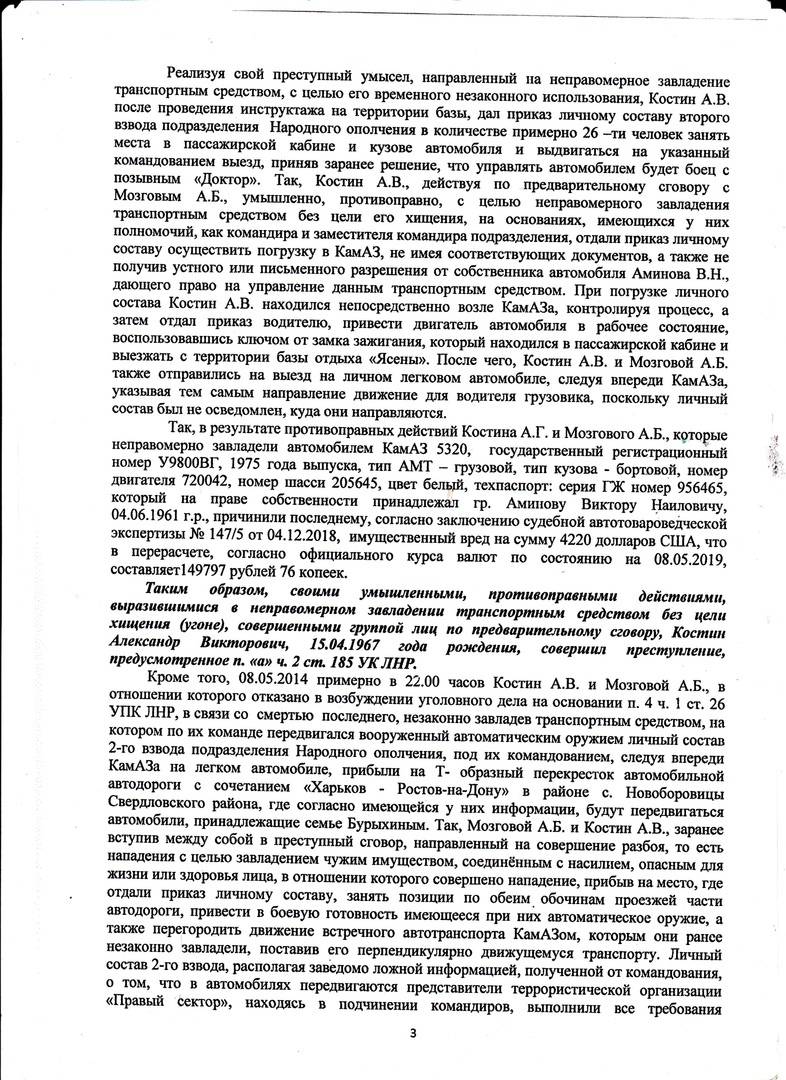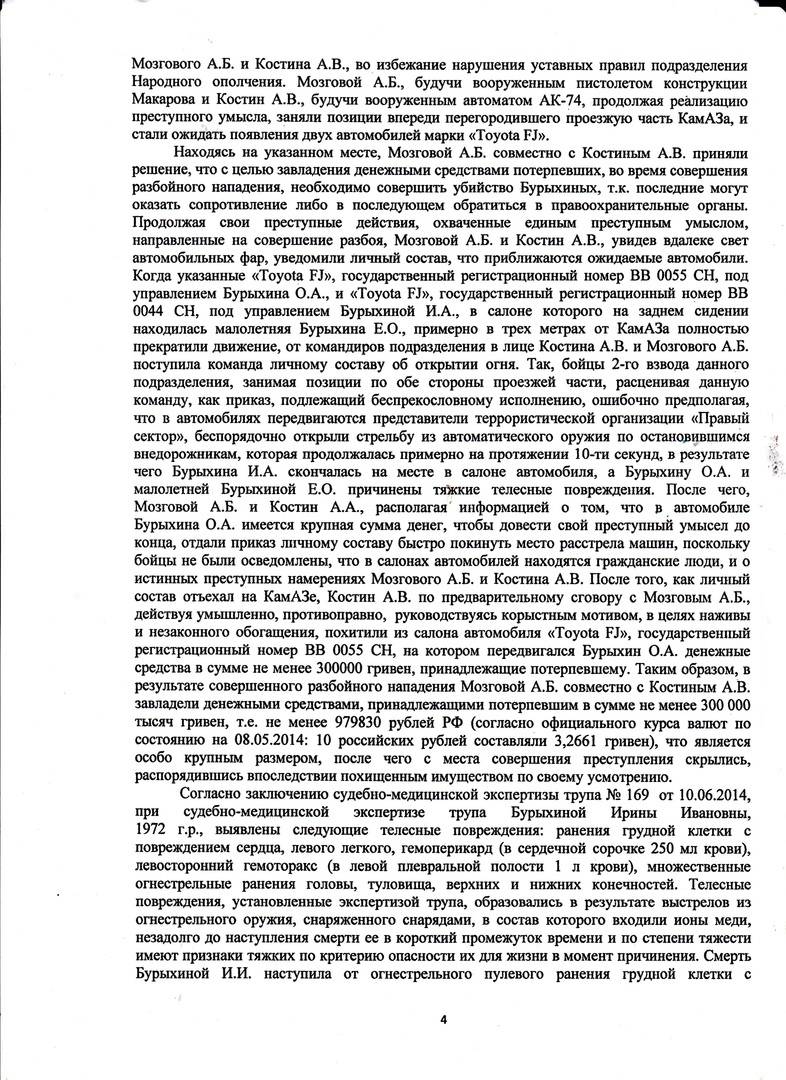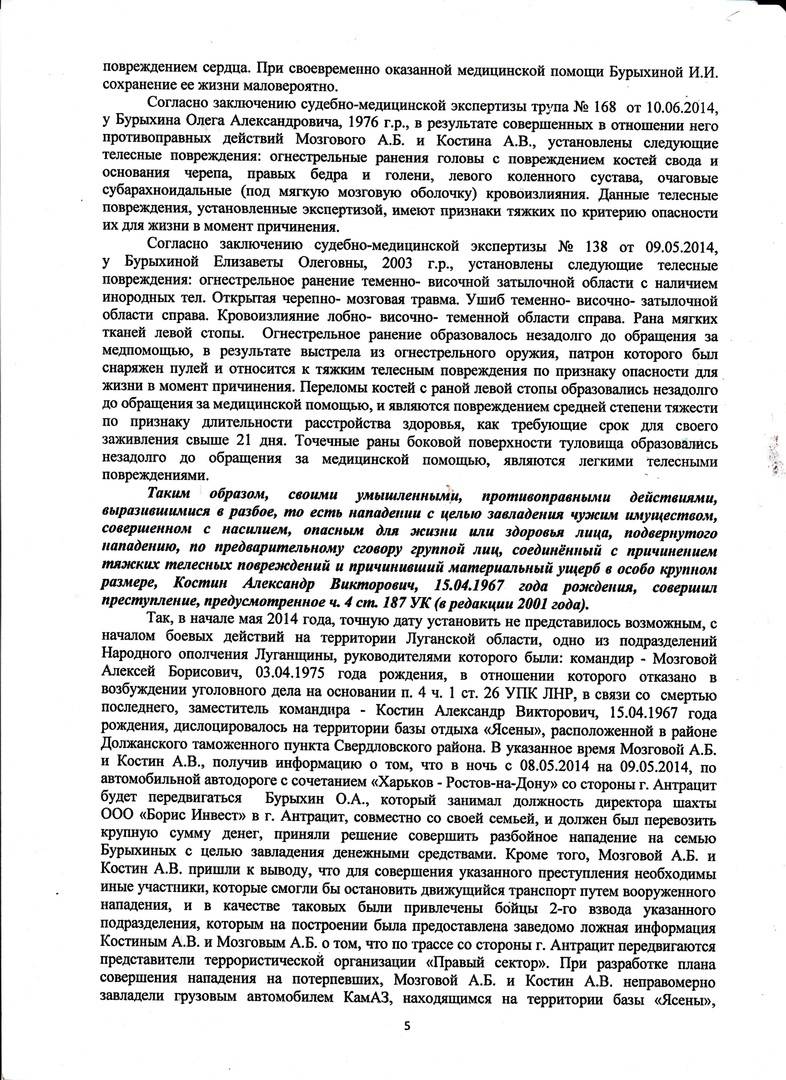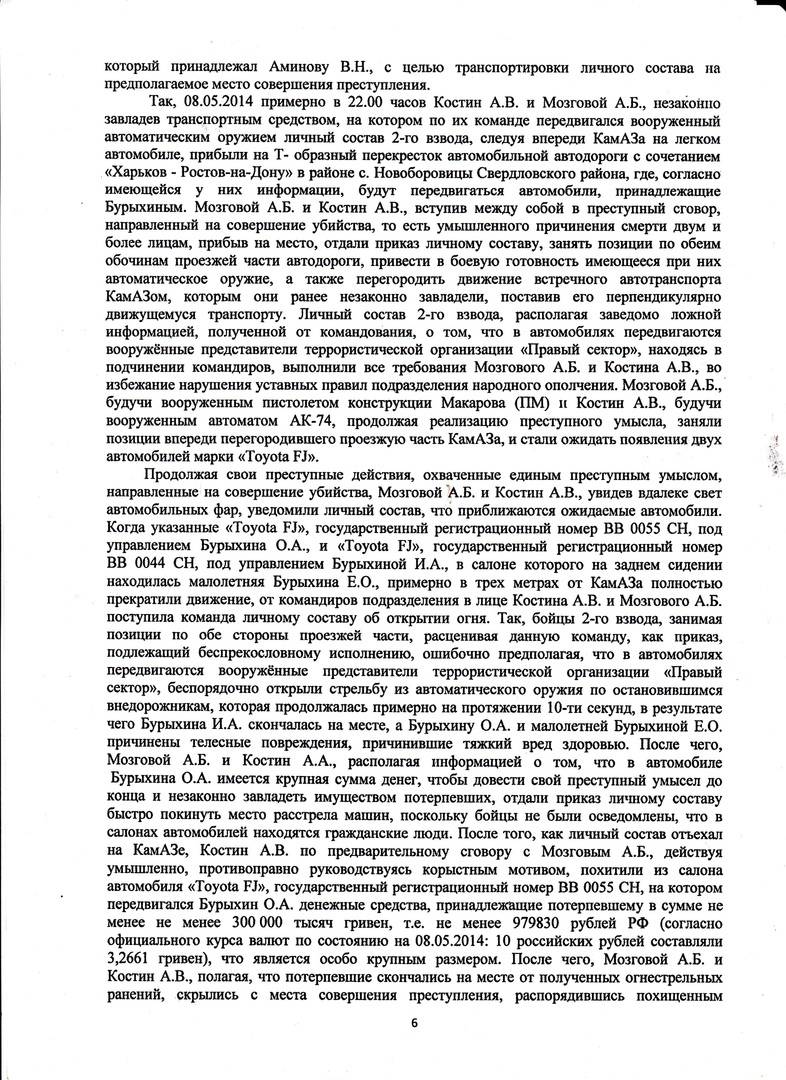 So, on the night of May 8 to 9, 2014 near Sverdlovsk (Lugansk, God forgive me, the republics), two cars were shot in which were the former head of the mine of Boris Invest LLC in Anthracite Oleg Burykhin, his wife Irina and their young daughter.
Irina, who was traveling with her daughter, died on the spot. The girl herself suffered greatly, but miraculously remained alive. Her father, injured, got out of the car, but died under the wheels of a passing car.
300 hryvnias, which he was transporting, were allegedly stolen from Burykhin's car.
In the end I will give a link to the material "RV", there are many inconsistencies and a link to "Seraphim", a very ... remarkable person. Nevertheless, this is a very good job, which allows you to start asking questions.
Question number 1. Why just now?
Indeed, why only now did the organs of the LPR decide to investigate this case? Only six years have passed, where does such a rush come from?
As I understand it, for five years "to the buildup" for the LPR is normal. Well, we are patient people, I hope that in another five years we will be able to see at least something intelligible in the case of the murder of Brain himself.
I really hope that we can.
And the sub-question right there: who are the judges?

Read the list of articles carefully. There everyone goes with a pointer to the LPR People's Criminal Code, but the last one is the same ... clause 4 of article 187 of the Criminal Code (as amended in 2001).
UK, excuse me, which country? LPR? So in 2001 she didn't even smell. Glory to Ukraine was everywhere and everywhere.
Are you seriously? A native of Russia, a resident and citizen of the LNR will be convicted under an article from the Criminal Code of Ukraine, what are the prosecutorial LNR bashfully so silent about?
Amazing ... UK. Just the 2001 Criminal Code. No matter whose.
Do you have a word other than "disgrace"? So I do not.
Question number 2. Car passage
I understand that with professionals in the LPR it is not just a problem, they simply are not there. Therefore, the trainee sewed the criminal case. I can not explain anything else about the hustle and bustle around KamAZ.
Just let's think. Allegedly, in order to fulfill their sinister plan, Mozgova and Kostin squeezed out a car belonging to citizen Aminov Viktor Nailovich at the Yaseni recreation center they occupied. By the way, the base belonged to Aminov.
In December 2018, an "examination" of the LPR found that, as a result of the unlawful actions of Mozgovoy and Kostin, Aminov's car was damaged at $ 4220. Or 149 747 rubles 76 kopecks.
I applaud. Standing up It's interesting, but after using KAMAZ, they wrapped it in a film and did he calmly wait for the examination until December 2018?
Question number 3. Who told you that Brain was a clinical idiot?
No, the truth is, after reading what was piled up at the LNR prosecutor's office, you begin to understand that everything was just that. A frankly inadequate person, having received information from somewhere that the Burykhins "tear their claws" to Russia with a large sum of money (at that time 300 thousand hryvnias — almost a million rubles), does everything to "light up".
"Squeezes" the car, puts more than two dozen fighters into it, shoots these "Toyota" and takes the money.
Forgive me.
Yes, our relationship with Mozgov was very far from ideal. Moreover, he and I drank enough blood from each other, he didn't like my reaction to the fact that he put "the basement" of the entire humanitarian department team, except for me (for reasons beyond his control, he could - would have planted), I did not like the fact that at the end of 2014 he began to surround himself with scoundrels and thieves.
BUT. ABM was not an idiot. Mozgovoy could be called anyone: an idealist, an overly gullible person, he could be accused of excessive pride, of stupid actions caused by a lack of education. Yes, he was a man with a wagon and a platform of flaws. In bulk. Yes, and God forbid everyone.
A very peculiar person.
But: Brain was not a moral monster who would shoot at a girl and a woman for a suitcase of money. This is my personal opinion, which I will not change, even if two hundred sheets of evidence are thrown into my face.
Each person has a price. It's a million rubles, and assuming that the "intelligence" of Mozgovoy conveyed the time when the Burykhins's family were lucky, and the amount, a million, is not enough.
Believe me (whoever doesn't want to - do not believe me, I don't care), in November 2014, when we had a quarrel for the first time, I sent evidence that the money was not stolen by those whom he thought and whom he planted "in the basement". And the amounts there were not millions, but quite comparable to themselves. 475 rubles were withdrawn on the same day in the Mines and Donetsk-Rostov. The fact was the case. It's not important now, but the fact that in May the Phantom was all right with the money, and to go on such a bloody business, substituting 000 people ...
After Lysychansk ...
Question number 4. Who did shoot?
In fact, in this regard, a complete mess. They shot from the PM (Brain). Lord, I won't believe it for anything. With such a collection of trunks that Borisych had, and that he went on such a thing with such shit ...
They shot from AK (Kostin).
Well then tell me, why were the other 20 people there? And, probably, as witnesses. So that there would be someone to blame Kostin and the dead Brain.
But even there is a mess in the testimony.
One "witness" cannot give an exact answer of what they fired from: from the PM or from the machine gun. Others have an action movie in general: either three shots up from the PM, or an automatic burst up from the AK, or shots at the windshield.
Not important, right? And then who is to blame? Why is there such a discrepancy, but on the other hand, all participants have unanimity: they all fired, and after 10 seconds, having heard crying, they stopped.
And who will believe it? No, really, dear readers, who knows what it is when a platoon of machine guns hits? Can anyone even hear something there? And especially the crying child?
You won't hear the sergeant. So these "testimonies" were painted by people who simply do not know what a fire from 20 machine guns is.
I am sure that everything was just that: two Toyota with the Burykhins and their personal savings ignored the signal to stop at the checkpoint and rushed towards the Russian border.
Itself once arranged it, the transition to Kuibyshevskaya, I really did not want to share it with the "Cossacks", and those who met were a little delayed. And to unfasten the "tithe" - well, it would be fat for the Cossacks, honestly. So I fully understand the Burykhins, Toyota FJ Cruiser is not a machine that they would not urgently "gut".
There was a chance to break through and leave, was. But it did not grow together, and therefore a call from Brain came from Anthracite. Like, Borisych, you block the road, there two jeeps went for a breakthrough ...
Blocked ...
Question number 5. Who in Lugansk is adequate today?
After reading this accusatory creation, I want to say only one thing. Gentlemen, witnesses, have you really not read the bible? Yanishevsky N.A., Domansky V.A., Tsyupka I.V., well, it is said that everyone will be rewarded according to his deeds and thoughts ...
Why did they buy you like that, why only the three of you from the whole brigade signed IT?
After all, there are no statements from the surviving survivor Burykhina E.O. and her guardians, there are no statements from Aminov. Only you three rushed to blame Mozgovoy and Kostin ... What was promised to you, where did you get so messed up that you had to get on the path of Judas Iscariot?
I believe in the call from A. Bubnov from the criminal investigation department of Anthracite, in which he told Mozgovoy that two jeeps were leaving the territory controlled by the Phantom towards the border.
I believe that one of the fighters opened fire without a team. I believe that the rest supported and the jeeps got very strong.
And I believe that the whole thing from the first to the last letter was fabricated, and fabricated ineptly and meanly.
Beautiful situation: Mozgovoy and Kostin, plus 20 people with machine guns in battle, stop two jeeps for three million civilians for the sake of the unfortunate one. Aw, what beauties, right?
22 armed bandits against three unarmed civilians ...
In general, in such
stories
at that time, Mozgovoy with a gun and Kostin with a gun would really be enough. And they would have the money, and no special effects are needed.
Yes, I declare as a person who has wound more than a thousand kilometers there.
But here's what Mozgovoy and Kostin filled the truck with fighters and went ...
Yes, hell, they went to stop, do not understand who. Maybe in these SUVs the DRG was real, who knows? They, jeeps, would not stop at the checkpoint ...
No, dear readers, not 300 hryvnias matter. Not in a million rubles. Not in Brain's desire to make money.
He had problems with money, if any, but not so steep as to get his hands dirty with blood. We, you, they, all carried and carried ourselves. And that million didn't decide anything for him. If only the Military Review brought in 5,5 million, what should I say?
No, I do not agree with the gentlemen crochet hooks Lugansk. It clearly stinks of the order, and the order is ugly.
It's very beneficial for someone that the commanders who actually took the first strikes of the Armed Forces of Ukraine would just be dumped in shit. Compromised, slandered, and often simply killed.
So profitable.
The question is to whom.
I will never believe that Mozgovoy would give the order to shoot at the car, knowing that a woman with a child was going there. I knew this difficult and intricate person. I did not know Kostin, but I heard that those who I knew well spoke about him. I am very sorry that for 14 years this person will be simply deleted from life, do not understand in the name of what.
And I (and not only me) understand perfectly well that everything can change in another five years. And we, who helped Brain, Givi, Motorola, Bes, Sail, Khodakovsky, can also get our own.
As accomplices to bandits, thieves, robbers and killers.
By the way, probably quite deservedly.
But we helped these people defend the very, now mythical Russian world, and I'll be damned if someone today and tomorrow regrets it.
By the way, one of the coolest humanitarian workers in Russia, Alexander Zhuchkovsky, wrote a book about Alexei Mozgovoy. Alexander talked with everyone who talked with the Phantom, it will be a worthy creation of a Russian person. We will be at the presentation, I am sure everyone will like this work.
Would Zhuchkovsky write about a robber and a murderer? Would thousands and tens of thousands of Russian people support gangs of killers and robbers?
What are all these brown-thread-sewn cases worth in the DPR and LPR?
There are a lot of questions. And honestly, I would not want to look for answers to them. Dirt, lies and meanness. And the Criminal Code of Ukraine as amended in 2001. And the complete impotence of the banana / coal republic.
At one time, we trusted these people. Field commanders of the militia of New Russia. Those whom, at best, were simply killed. At worst, they killed and lied.
We did not trust them with money. Money is still so ... a way to achieve. We entrusted Brain, Khodakovsky, Givi, Motorola, Bes, Bezler and many others with hope. Hope and dream of the Russian world. About a world where people can live in peace, speak, read, dream in Russian. The dream that New Russia will become the embryo of New Russia, such a bright dream.
For which it's not a pity to shed blood, give the last money, but you never know what else.
I am sincerely sorry that Novorossia has nevertheless died and instead the ugly grimace of ORDLO is becoming more and more apparent.
In LPR begin to rewrite history. It is clear, at whose direction, it is clear for what purpose. In general, everything is natural.
As an epilogue, I can only say that Aleksey Mozgovoy, for all his shortcomings and twists, died for a just cause. And dirty his memory - the lot of scoundrels and scum.
I wish Alexander "Augustus" Kostin strength to survive the "gratitude" that fell on him from the LPR authorities and simply survive.
As well as everyone who is clearly in line for a "fair and honest" court from the authorities of the Ordlo. No mercy should be expected, nor will it be. It is proved by 14 years of Alexander Kostin.
Great thanks from the new LDNR / ORDLO authorities. There is much to learn.
On the subject:
https://rusvesna.su/news/1583427490
.