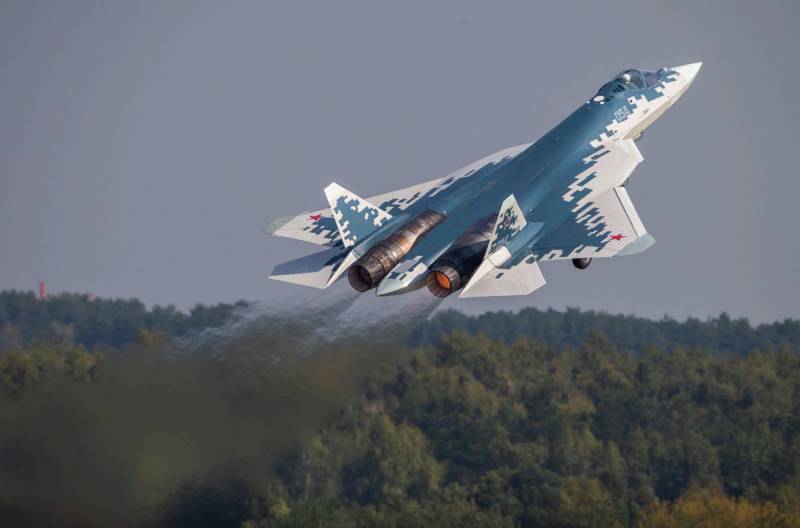 The Polish press recalled that in 2020 marks exactly 10 years since the creation of the first prototype PAK FA (T-50), which is now called Su-57. Observer Juliusz Sabak writes that Russia presents the Su-57 as a completely new machine, "superior in a number of components to the American F-22 and F-35 fighters." At the same time, Sabak asks the question: Is the Su-57 a real success of Russian industry or a "paper tiger", a propaganda campaign?
The Polish author notes that the first flight of the prototype Sukhoi T-50 took place in January 2010. The article says that at the end of 2019, the first Su-57 was supposed to be in service with the Russian Air Force, but this did not happen.
From an article in Defense24:
From a design point of view, the Su-57 is a continuation of the concept that has become successful for Sukhoi - from the Su-27 fighter and its versions, down to the Su-30 and Su-35. Among the "ancestors" of the Su-57, it is also necessary to mention numerous experimental designs based on the Su-27, including primarily the Su-47 (S-37) "Golden Eagle" with characteristic wings with a negative slope. However, visually the 5th generation Russian fighter is most similar to its competitor - Lockheed F-22A Raptor. Both aircraft are heavy twin-engine machines with stealth technology, that is, with reduced radar characteristics. However, in the case of the Russian design, a compromise was found between low detectability and high maneuverability, traditional for Russian cars. Hence, for example, the design of the air intakes, which provides a better and less turbulent air supply to the engines during maneuvers.
Juliusz Sabak notes that the Russian plane was an attempt to agree on several conflicting requirements in the format of a single machine.
The author notes that while the Su-57s are not equipped with engines of the second stage, the thrust of which was initially forecasted at about 19 tons.
Comment by one of the readers of the Polish resource:
Let's be serious. Aircraft number 1 crashed, and aircraft number 2 does not yet exist (in service). And still there is no engine (they mount the old type).
From an article in the Polish edition:
Russia has not yet improved many key technologies. For example, a coating that reduces reflection of waves. Or a very ambitious radar station designed for the Su-57.
According to Sabak, "the Su-57 is not as revolutionary as representatives of Russian industry claim."
The material deals with the weapons of the Su-57. In particular, it is noted that it is the Russian aircraft that may become the first 5th generation fighter equipped with hypersonic missiles.