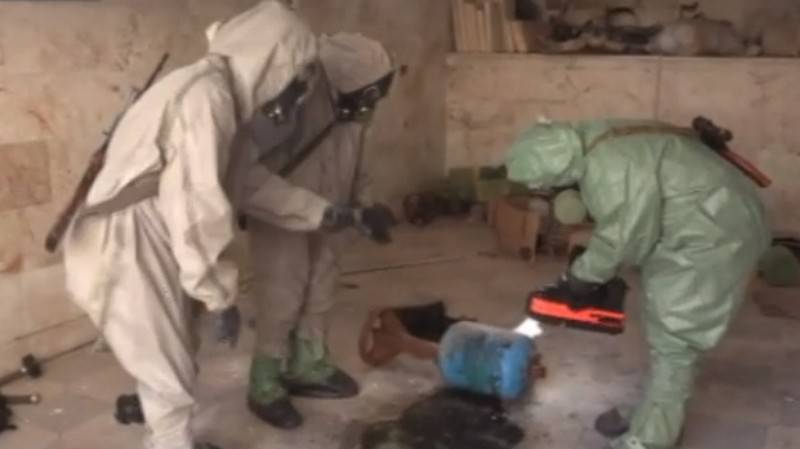 In the liberated city of Serakib, Idlib province, Syrian soldiers found evidence of an upcoming militant provocation using a chemical
weapons
. About it transfers RIA
News
with reference to his own correspondent, located in Syria.
Как сообщается, сирийские военнослужащие при осмотре одного из домов обнаружили баллон с вытекшей жидкостью и элементы химзащиты. Вызванные на место специалисты обнаружили самодельное взрывное устройство, а также установили, что находившаяся в баллоне жидкость являлась хлором.
During a more thorough inspection, an explosive device with wires connected was found, our equipment recorded that the yellow substance in the container was a chemical poisonous substance. According to preliminary analysis, this is chlorine.
- said the officer of the Syrian army.
At present, the explosive device has been disarmed, experts are working on site to record evidence of the provocation being prepared.
Earlier, the Russian Center for the Reconciliation of the warring parties in Syria reported on an attempt by militants to provoke using chemical weapons in Serakib. According to information received by Russian officers, about 15 terrorists tried to detonate poisonous containers in the west of Serakib in order to accuse the Syrian army of this and disrupt the offensive. However, during the preparation of the provocation, a poisonous substance was allowed to leak from one tank, which led to the poisoning of the militants themselves and the breakdown of the provocation.