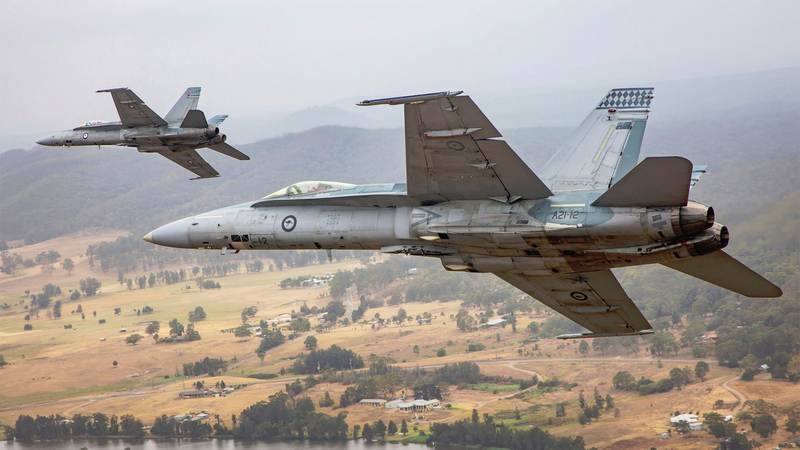 The Australian Air Force continues to dispose of McDonnell Douglas F / A-18A / B Hornet retired fighters. According to Australian media reports, 46 Hornet fighters were sold to an American private company.
The Australian Air Force sold 46 F / A-18A / B Hornet fighter aircraft to the US private company Air USA; currently, the aircraft are concentrated at the Australian air base, Williamtown, where they undergo necessary repairs. The transfer will take place within three to four years.
The American company Air USA, founded in 1994 and based at Quincy Airport (Illinois), specializes in providing combat training services to the US military and other government services.
aviation
and training, including simulating enemy aircraft during exercises.
The company offers two training programs. The first, denoted by Red Air, is to provide aircraft to simulate the enemy in training air battles with air force fighters. The second, known as Blue Air, is to train advanced ground-based aircraft gunners, with the allocation of aircraft that mimic attack aircraft.
Currently, the company's fleet has a nominal number of 67 jet aircraft, mainly Hawk, Alpha Jet, L-59 and L-39 combat trainers, and only four "real" MiG-29UB combat trainers ( two planes each from Ukraine and Kyrgyzstan). At the same time, only 16 aircraft are in good condition, including 11 former South Korean Hawk Mk 67, four L-39ZA and one L-39C.
According to Air USA, the acquisition of 46 former Australian F / A-18A / B will significantly expand the company's potential.
In turn, the F / A-18A / B Hornet fighter aircraft being withdrawn from service by the Australian Air Force are being replaced by fifth-generation F-35A fighters. To date, 20 new aircraft out of 72 ordered have already been received.