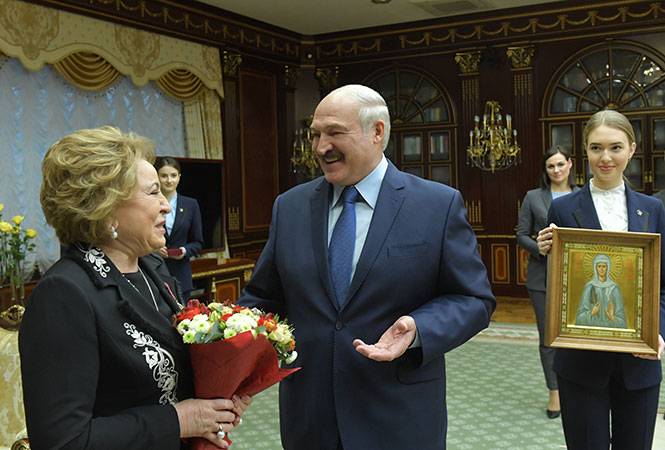 Unusual nearby
It sometimes happens that everyone speaks of a certain phenomenon, but in nature it is absent or has not been studied much (yeti, UFO, fellow travelers). About the same thing can be seen about the well-known "richness vectoring." Literally everyone discusses it, and it entered the political vocabulary very tightly, however ... however, if we talk directly and specifically about the country of Ukraine and its foreign and domestic policy before the second Maidan, then in fact it did not exist.
Here you just need to start with the very definition of what is richness vectoring. So, at least in Russia, for some reason, everyone proceeded from what this means
political
balancing between East and West. Maybe I'm wrong. I didn't find such an article on Wikipedia (maybe it's worth creating?). Thus, the richness of vector was also presented in the Ukrainian press. It was.
So that's it
political
I somehow did not notice the balancing of Kiev between Russia and the West. I didn't notice - and that's it. If anyone noticed - please tell.
What took place from the point of view of the author? Yes, elementary: a complete and exclusive political and value orientation toward the West. That's right - and nothing else. Ukrainian elites, Ukrainian journalists and political scientists looked only at the West (certainly, the author's personal opinion). Well, there was no noticeable doubt, hesitation and discussion.
Yes, economically the country was very dependent on Russia, but
even that
It had no serious political significance. This did not sound serious on the Ukrainian political scene. The need to maintain trade with Russia. The only thing that caused serious interest was gas and all the issues related to its procurement and transit.
Everything, nothing more. They had some kind of strange feature-richness, don't you find? With us (it is with us!), We constantly recalled culture, language,
stories
, religion, economics and concluded that we are without each other nowhere. In Ukraine, they have never reasoned like this. Free-will, decisive movement of the hand they
all
pushed aside. Everything. Already. And religion, and history, and culture. And even the economy.
So what do they want?
But gas, unfortunately for them, was critical. And only
so
they agreed to talk with Russia about something. Just because. And then through gritted teeth. And at us immediately the unsuccessful "analysts" rushed to draw the pathos "figs of friendship".
And then we were sent completely and completely. This is me for those who did not understand, translate. Ukraine (in the person of its elite) completely and finally chose the West. Already defiantly and discarding all the "fig leaves".
That is, in fact, "balancing" took place - an attempt to feed at the expense of Russia, while politically orienting itself to the West. It's kind of yes, but it's kind of not quite like the very richness of the vector that we have been promoting for so long. It looks like something completely different. That is, if the West agreed to feed and finance Ukraine, then they would have fled there much faster and much earlier.
The fluctuations did not lie in the plane of "civilizational choice," but in the plane of solving the problem of European integration at the expense of Russia. It is clear that all this sounds rather banal today, but we are stubbornly continuing to discuss some alternatives. They even continue to invite certain "pro-Russian Ukrainians" to the central heating center, it is not clear for what purpose. Today, the situation with Ukraine is more than obvious.
But people with persistence worthy of a better application continue to analyze what is not clear. It's time to understand that the "choice" was made a long time ago and not in our favor. What else is there to discuss? Is that gas. And by the way, after the actual break
all and every relationship
"Gas negotiations" are ongoing. "Despite everything, ice cream is on sale." That is, even after Russia became an "aggressor country", gas negotiations continue non-stop.
And why? Yes, because that is precisely what was critical for Ukraine from the very beginning. They did not give a damn about everything else. A stormy stream washed away all the turbidity, and gold of true values ​​shone on the sieve of the gold digger. And this is by no means a common history and a common culture. And today, Ukrainians are really ready to discuss the same gas as 15 years ago, but nothing more.
In Minsk as in Kiev
In the most paradoxical way in fraternal Belarus, the situation is completely similar. The main topic for intergovernmental discussions is the price of gas (well, and other purely material issues). And that's all. Other topics somehow do not recall. At least right away. Gas prices, export of incomprehensible quality and quantity of "milk", tractors and other things. And even the transit of foreigners through Belarus to Russia - all this is very important. Everything else matters much less. That is, Belarusians consider the money very carefully, and even those pennies that are received from the transit of individuals to Russia are very, very interesting to them.
But everything else they are interested in is much less. That is, just material issues occupy 99% of the discussion field. Excuse me, does this remind you of anything? No analogies pop up in my head? That is, in fact, the question is not even what our gas price is and how many "milk" are imported into Russia. This is just absolutely uninteresting. Another thing is interesting: Belarus also made a political choice a very long time ago, and by no means in our favor.
And so, in order to hide this extremely unpleasant and extremely disappointing fact, a loud tantrum unfolds around the "economic issues". Allegedly, everything is decided here and it is here that a certain choice is made. Apparently, having brought every batch of "sanctions" to Russia, Belarus simultaneously makes a strategic civilizational choice, and so every time with every new smuggling wagon.
In fact, there is no choice anymore, the country is in full swing along the Euroslash. That is why it is absolutely impossible to discuss any purely political issues, as previously with Ukraine. I.e
Any
attempt to discuss with Belarusians
любые
political issues immediately leads to a series of scandals. That is why Belarusians are very fond of reducing negotiations to a purely economic theme, they say, and if we have one Union State, then why are gas prices different?
That is, they are ready to suck up this very topic endlessly, while any refusal to immediately satisfy all "Wishlist" is perceived as a terrible evil and causes a powerful hysteria and high-profile threats to go to the West. It is impossible to discuss political issues in principle, because well, we have very different domestic and foreign policies. And then it begins: Belarus is an independent state, with an independent foreign policy, Belarus should first of all follow its interests, and not the interests of its ally ... and so on.
Well, or actively (under a magnifying glass), the shortcomings and failures of Russia begin to be considered, a very critical approach to the Russian leadership and the like begins to be shown ... Note that the topic will be transferred to the political plane and get
at least one honest answer
from Belarusians is not just difficult, but incredibly difficult. About the same cholera took place (and continues to take place) with the so-called "pro-Russian Ukrainians". There, too, in order to break through the most powerful curtain of lies and hypocrisy, truly titanic efforts must be made. But the "species" that open after this can shock many.
There is no truth in words
This interesting (truly interesting!) Moment was noticed by some clever observers just when communicating with fraternal Ukrainians - people compose so professionally, so automatically, that in order to understand at least something in their true political appearance, ask not just a question, but
chain of related issues
, and demand (namely, demand, not ask!) to answer precisely these asked questions, and not to reformulated ones, and here
then
truly shocking details come to light.
One of the main myths is the myth of economic cooperation as the basis of a political alliance. Both in Ukraine and in Belarus. The essence of this myth lies precisely in the fact that Russia "offered little", but if it offered more ... then the choice could be made in its favor. Beautiful fairy tale. In fact, a non-alternative choice in favor of the West was made both there and there a long time ago. And in response to absolutely
any
Russia's proposal could be said that this is not enough.
You understand that absolutely any amount of benefit can be called "insufficient" - this is a kind of path that has no end. And each time you will be right, because ten billion more than five, and thirty more than ten, and so on to infinity. And after all, no one in Ukraine today claims that the West "helps a little", no, just everyone is very happy. This is the wiring, gentlemen.
That is, we do not discuss political issues, we are constantly conducting an economic discussion and constantly declare the lack of assistance from Russia. Here, Medvedev also stated that Belarus should value the help that Russia provides to it. What's the problem? And the problem is precisely that ordinary and not very Belarusians compare the received Russian aid not with zero (which would be logical for a sovereign state), but with their "Wishlist". And regarding these "Wishlist" - yes, Russian assistance is very insignificant. What they managed to do after the 91st both in Ukraine and Belarus was to "grow Wishlist" just to an unearthly scale.
Therefore, we do not observe any gratitude in response. People by default assume that Russia is just the same
must
solve
all
their material problems immediately, and if this does not happen, screams, threats and insults are immediately sent to her. Oddly enough, in the Republic of Belarus in this regard everything is even much worse than in Ukraine. The situation along the Moscow-Minsk line has simply reached an exorbitant level of insanity. In the last ten years, the anti-Russian and pro-Western line of Belarus's foreign policy has clearly taken shape. And there is already no doubt or hesitation there.
And the choice has long been made
The choice is really
was done
but for quite some time now. Not at all yesterday. And he was made not in our favor. That is why official Minsk has not recognized anything and is not going to recognize it. And then "Belarusian honesty" works: that is, hints and equivocations are made that if this or that material issue is resolved in favor of the Belarusians, then ...
Sorry, the geopolitical choice is not exactly a dessert choice. That is, he is being done seriously,
once
and for a very long time. And all further decisions stem precisely from this very choice. RB (its elite) made such a final choice back in 2008. And then did not recognize neither Abkhazia, nor South Ossetia, nor Crimea. And the videoconferencing base did not place and was not going to place. Ukraine made such a choice in 2004 (dates are approximate, perhaps everything was decided much earlier). After which the provision
any
contracts and preferences on the part of Russia has not changed anything.
At the end of 2013, Ukraine requested 15 billion "loans." The West refused in a rude form (we do not trade in democracy!), And Russia provided a loan ... after which Ukraine predictably jumped to the West! But if he had a short-barrel ... That is, just in the framework of the narrow channel that the western choice provided for her, Ukraine painfully tried to get something from Russia there. From here all problems arose. Ukrainian negotiators did not have free hands in political matters. Hence all these jumps and tricks.
And in the late autumn of 2013, Ukraine no longer made any choice. Forget it. Mr. Yanukovych (such a whole pro-Russian one!) Went to Sochi to Mr. Putin with a big personal request for money ... just for money. Wherein
for no
He could no longer make political concessions in principle.
Pan Lukashenko fled about the same parasites in about the same place in February 2017 (February 17th!). About the same place he wound this year "just for money", just money, without any conditions. All the years after the "non-recognition", that is, after 2008, negotiations on the Moscow-Minsk line have been "ever more difficult." The "secret" is elementary - at least in the Kremlin, they realized that Belarus is no longer with us, and completely revised the policy.
With Ukraine, the same disgrace began after 2004. That is, Ukraine, in the person of its elites, has finally chosen the West (Maidan-1 is a kind of mega-referendum), and Russia, in response, began to fasten the faucet of economic assistance. I can, of course, be mistaken, but in 2004 they offered gas for almost $ 40 per thousand cubic meters. It seemed "little." After Maidan-1, prices crawled up and crawled far for $ 300 for the same thousand cubic meters. Even up to 400 dollars. Something like this.
But
no
it did not influence the foreign and domestic policy of Ukraine. This is where we lie about the choice! The choice has already been made. Ukrainians could spit and swear, but they could not demonstrate any riches. Because it was not originally. There was a myth about her. And there were endless gas talks. That is, they could just "start spitting gas from the pipe," but they could not make any serious political concessions.
With Lukashenko - the same story. The same endless gas talks. The reason for their infinity is simple: Belarusians need low prices, and they can't make any political counter-concessions. They are no longer free in this regard. An extreme case is the story with the base of the videoconferencing. In fact - a trifle, so, a trifle. In strategic terms, this does not mean anything and does not change anything. Purely local event. But, having returned to Minsk, Lukashenko immediately disavowed all agreements on this issue.
The richness myth
Well, think for yourself: by and large - there is this base, it is not there, nothing changes in the life of the Republic of Belarus, as in the life of the Russian Federation. So, a minor concession. But even here, Lukashenko was categorically incapable of such a small tactical step. Dictator, speak? Richness of vector? Agree that even the recognition of Tskhinval & Sukhum did not change
absolutely nothing
in Belarusian politics (provided that it is really rich-vector). Here they lost to Europe, here to Russia ... It's something everyday. That is, this, in fact, petty solution almost completely removed a huge layer of problems in Russian-Belarusian relations. But at the same time
in itself, no alliance has ever meant.
This is a very dangerous illusion.
That is, three small, essentially local solutions (Crimea, base and Ossetia)
almost completely
cleared all the congestion on the path of gas negotiations and other economic negotiations. But this step was never taken. Is it exactly richness vector? Are you sure? That is, in fact, the mythical richness of the vector almost completely eliminates alliance. It is impossible to combine these two things. But the funny thing is that even the richness of the vector has not been observed for the past 10 years in relations between Belarus and the Russian Federation.
For all the pro-Western steps of Belarus, we are given explanations in terms of: we must work out an alternative (you don't take milk from us ...). On the proposal to indicate some pro-Russian steps, deathly silence in the refrigerator follows. Well, or reasoning in terms of: yes, we are really cool guys in life ... That is, today the discussion of a certain unification of the Russian Federation with the Republic of Belarus is just a complete and absolute political science fiction. Because in the last decade, even the previous step - alliance - was somehow not observed from the word "completely." And there wasn't even an even lower rung - richness of vector as such. Alas.
Therefore, even raising the question of unification today is completely absurd and untimely. That is why our Belarusian opponents, easily skipping the previous steps, begin to "rub" something about the union there. Which, of course, will take place, will certainly be, but not now, but in so many years ... many. No need to rush here!
No one, excuse me, does not start building a house from the roof, this is not accepted. That is, when the foundation pit has not yet been dug, you will not be able to lay the tiles unequivocally. This is impossible. That is, there is such a beautiful logical trick: they say that we are all talking about some minor disagreements? About some petty politics? We have the union (!) In front, but we must thoroughly prepare for it. In the meantime, you can start shouting "Hurray" and throwing bonnets into the air.
That is, the problem of Belarusians is precisely this: they need to offer the Russians at least something interesting, but there is absolutely nothing to offer. Both in politics and in ideology, a clear course "from Russia" has been taken. And when you get another "loan", some tension involuntarily arises. And here comes the magic wand: integration! People begin to chat animatedly about some future "integration" and its conditions.
Well, since everyone understands that integration is a serious matter, then it can be postponed to the far, distant future and thoroughly prepare for this and discuss everything. Thus, classic political technology, which has become classical, is used: "either check or donkey". That is, people have been ready to "integrate" for another 20 years.
Once again: all the same, I would like to see that very "multi-vector approach" in action, but, apparently, it is no longer fate — both with Ukraine and Belarus. Discussing a frankly artificial propaganda construct is ridiculous and absurd.