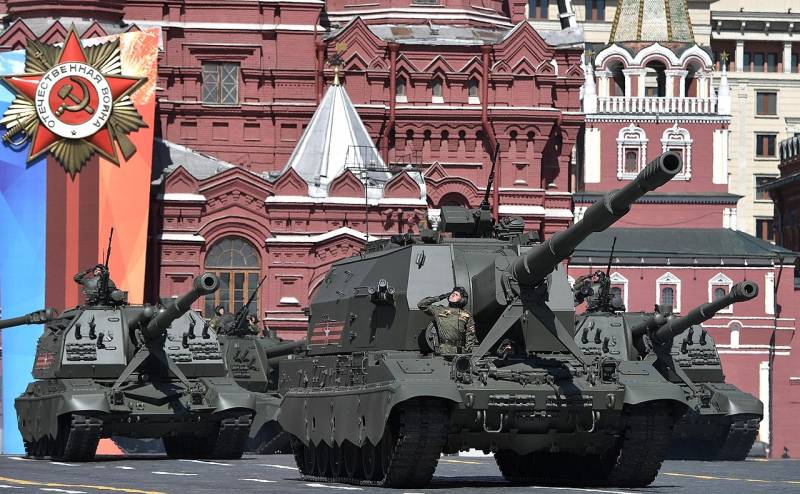 SPGs 2S35 "Coalition-SV" and 2S19 "Msta-S" at the parade. Photo Kremlin.ru
As it became known, Russian industry is working to create promising ultra-long-range artillery systems. Their basis will be the latest 2S35 Coalition-SV self-propelled gun, and the required characteristics will be provided with special shells. According to the domestic press, new types of ammunition will be able to hit targets at ranges of more than 100 km.
Special shells
Izvestia reported on work on creating new artillery ammunition on March 5, citing unnamed sources in the defense industry. Some technical details and main features of the projects are given. At the same time, the completion dates and the receipt of shells for service are not specified.
It is alleged that the industry is developing several shells of extended range with different features. While it is a question of design work, but soon it is planned to conduct the first tests of experimental products.
New shells are carried out in caliber 152 mm, which will allow them to be used together with modern artillery pieces. They will be able to use promising self-propelled guns 2S35 "Coalition-SV", serial self-propelled guns 2S19 "Msta-S" and towed guns 2A65 "Msta-B". It is alleged that due to such ammunition the firing range will be increased to 100 km or more.
For comparison, the maximum tabular firing range 2C19, depending on the type of shot, reaches 25-30 km. For 2C35, approximately twice as large numbers were called. The possibility of reaching the level of 70-80 km was also mentioned.
Technical details
Some technical information is provided. One of the ultra-long-range shot projects involves the creation of a telescopic munition with a ramjet engine. Moreover, such a product in its design as a whole does not meet the generally accepted definition of a telescopic projectile.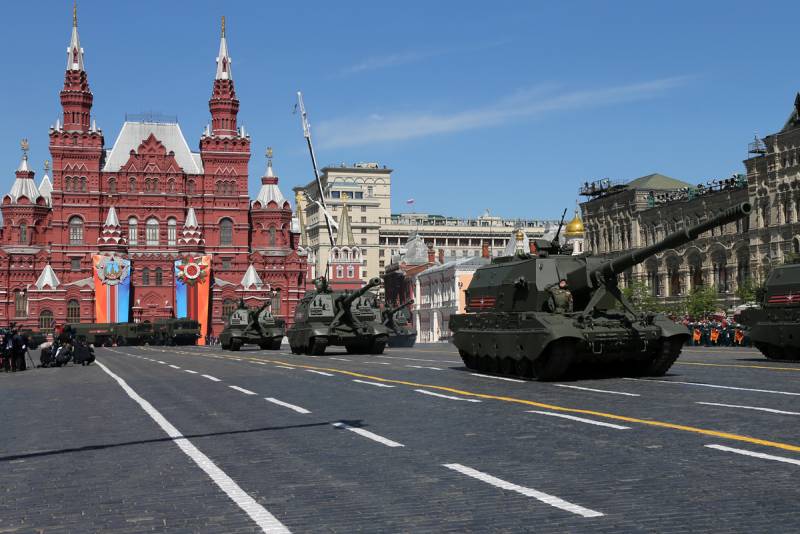 In the future, this technique will have to master new ammunition. Photo by the Ministry of Defense of the Russian Federation
Telescopic, i.e. the ammunition body is sliding - during flight it must open and increase its size. A ramjet is placed in such a case. The telescopic design of the munition allows you to improve the basic characteristics of the engine in comparison with other layouts, which improves flight performance. To ensure the required accuracy, the projectile is equipped with an unnamed type control system.
How other ultra-long-range shells are built and look is not reported. It can be assumed that several designs are being worked out at once, which allow one or another advantage to be obtained. How soon such details of the project become known is unknown.
Against the background of analogues
It is known that several foreign countries are also working on the issue of increasing the range of barrel artillery systems. Various ideas and solutions are proposed and tested in practice, which ensure the desired growth of characteristics. Through the use of several approaches, it has already been possible to exceed a range of 70 km, and in the near future shooting at 100 km is expected.
So, in the USA, the towed and self-propelled guns of the ERCA family (Extended Range Cannon Artillery) are successfully tested. In this project, an increase in firing range is provided by an increase in barrel length and the use of an active-rocket projectile. ERCA ammunition is compatible with existing self-propelled guns of the M109 family. In their case, a significant increase in range is also achieved.
Different countries are developing various designs of promising ammunition that can contribute to increasing the firing range. First of all, a search is being made for more advanced designs of an active rocket. Ammunition of the "traditional" type and equipped with ramjet are offered. A part of such products has already been brought to testing and confirms the calculated characteristics.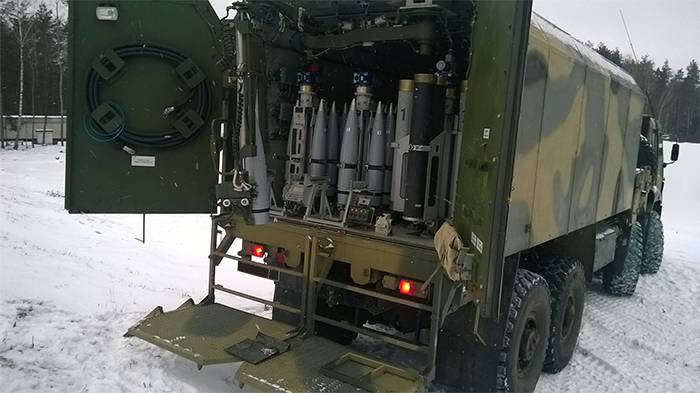 Transport and loading machine 2F66-1 for self-propelled guns "Coalition-SV". In the future, she will have to transport new types of shots. Photo Central Research Institute "Petrel" / burevestnik.com
It is expected that over the next few years, new projects will increase the characteristics of the barrel artillery. So, the U.S. Army should get a new modification of the M109 self-propelled guns with a firing range of 40 km, and in the future, fundamentally new systems are expected to hit targets 80-100 km or further.
Domestic specifics
According to recent reports, Russian and foreign gunsmiths use different approaches. In foreign projects, maximum characteristics are planned to be obtained due to the special development of a full-fledged artillery complex, including a new type of gun and shell. Promising Russian projects include the use of ready-made guns, possibly with minimal modifications, and fundamentally new ammunition.
Both approaches have their strengths and weaknesses, but allow you to get the desired results. The Russian approach has an important advantage in the form of the absence of the need to develop a new gun and / or self-propelled gun. A promising projectile is created taking into account the requirements of existing weapons. This can lead to some difficulties or limitations, but overall provides significant savings in design, production and operation.
Obvious advantages
The complex in the form of an existing weapon, initially capable of using a wide range of 152 mm ammunition for various purposes, and a new ultra-long-range projectile should show high combat qualities and flexibility in solving all basic problems. He must maintain the positive features of artillery systems and gain new opportunities due to increased firing range.
The replenishment of the Msta or Coalition-SV ammunition with a new ultra-long-range projectile will lead to an obvious increase in their combat potential. Divisional artillery will be able to hit targets at a greater depth of the enemy's defense or work from a greater distance from the line of contact, outside the zone of responsibility of enemy guns. In this regard, modernized self-propelled guns will be a good addition to operational-tactical missile systems.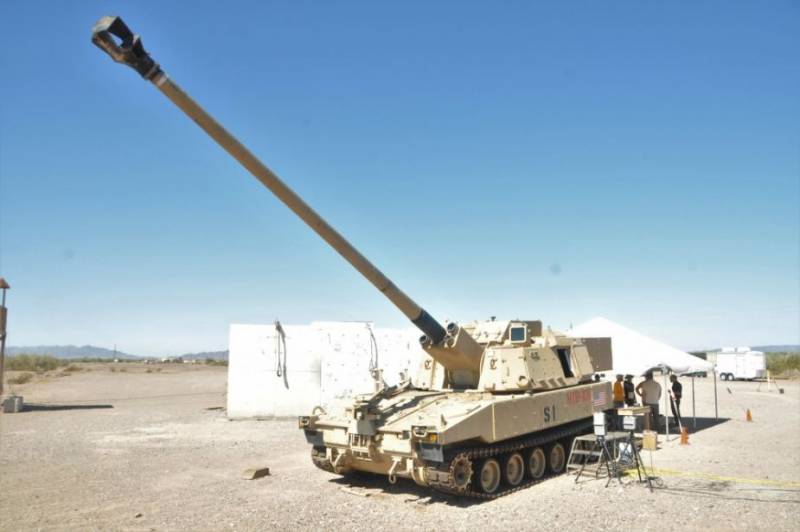 Experienced self-propelled guns XM1299 American design. High range characteristics are provided by a long barrel and a new projectile. Photo US Army
Loss in the power of ammunition at the same time compensate for other advantages. Despite a significant increase in range, the new projectile will be much cheaper than a rocket, the deployment of artillery at a position will still be quick, and the flight time of the projectile will remain at the required level. In addition, the enemy will not be able to repel the strike, intercepting flying projectiles - the technology required for this is not yet available.
Timing issue
According to the latest
news
, domestic projects of ultra-long-range artillery shells are still in their early stages, but in the near future it is expected to transfer prototypes for testing. Checking and comparing several designs, as well as selecting and fine-tuning the most successful one, will take some time. Probably, this process will stretch for several years.
It can be assumed that in the absence of serious difficulties, the new ammunition will reach adoption by the middle of the decade. By this time, army artillery will be ready to accept and use them.
The systems of the Msta family are already in service. Supplementing their ammunition nomenclature is unlikely to be difficult and time consuming. In fact, the use of new shells will require only some refinement of the fire control system. After such an upgrade, towed and self-propelled guns will be able to use the potential of fundamentally new ammunition.
Not so long ago, the readiness of a new batch of self-propelled guns 2S35 "Coalition-SV", intended for military trials, was reported. These events will last until 2022, after which it is expected to launch mass production. By the mid-twenties, the army will receive sufficient quantities of new equipment. Apparently, ensuring the compatibility of 2C35 and new ammunition will also not be particularly difficult and will not slow down the introduction of new technologies.
Thus, in the future, the Russian army will be able to get not only promising self-propelled artillery mounts with modern weapons and equipment, but also ammunition with enhanced characteristics. The introduction of all these products will be carried out gradually and over time, but the outcome of such measures is already clear. However, to obtain the desired results, it is necessary to carry out all the required stages of work. So far, the immediate plans of the industry are the first tests, which means that much remains to be done.