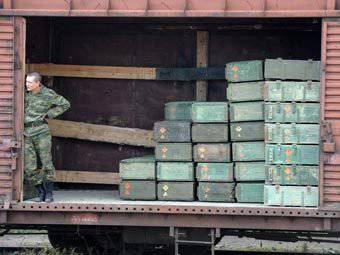 Near Novosibirsk, 10 wagons with ammunition burned, which were sent for recycling. This RBC reported in the management of the press service and information of the Ministry of Defense of the Russian Federation.
They noted that on Wednesday around 08: 00 Moscow time, during the passage of a military train in 100 km from Novosibirsk, a fire broke out in one of the cars with ammunition. According to a report from the scene, the train was stopped in a deserted place - 2 km from the Tikhomirovsky junction.
The guard personnel and the crew of engineers who were on the train quickly left the train and were taken to a safe distance.
A total of 10 railcars with 30-mm ammunition burned. No injuries. To clarify the causes, the commission of the Central Military District headed by the commander, Colonel-General Valery Gerasimov, left for the scene.
The Governor of the Novosibirsk Region Vasily Yurchenko also went to the site of the fire.
In the Orenburg region 11 of June, near the Koltubanovsky village in the Buzuluksky district, an artillery depot caught fire. Due to subsequent explosions of ammunition, 700 residents of nearby villages were evacuated, four people were injured. On the territory of the district was introduced emergency mode.