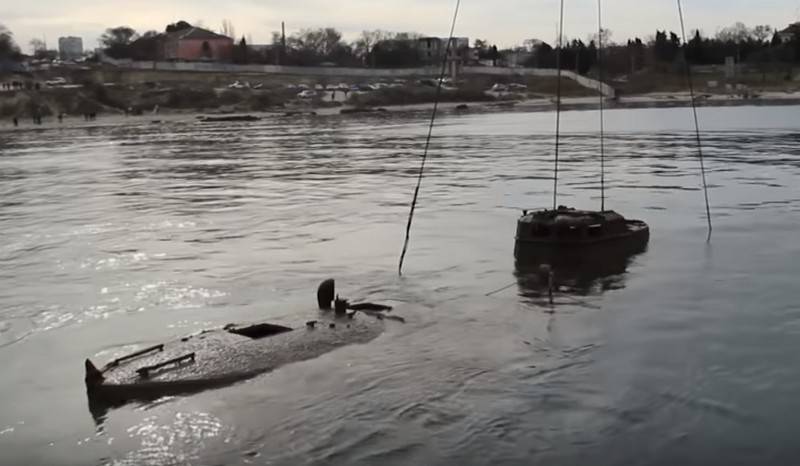 Military Divers of the Black Sea
fleet
found a torpedo boat at the bottom of the Black Sea during the Great Patriotic War. A boat of the G-5 type, which sank during the defense of Sevastopol, was lifted from the bottom by the crews of special ships of the Black Sea Fleet. This was reported by the press service of the fleet.
The crews of the rescue squad of the Black Sea Fleet search and rescue operations department completed the lifting of the hull of the G-5 torpedo boat, which died during the Great Patriotic War, from under water
- said in a statement.
It is specified that the boat was discovered at the exit from the Quarantine Bay, where a brigade of torpedo boats of the Black Sea Fleet was based during the defense of Sevastopol 1941-1942.
The press service noted that the hull of the boat raised from the bottom was perfectly preserved, despite the long time spent in sea water. The special commission will further establish the circumstances of the death of the boat and the possibility of using it as a museum apparatus.
For reference: torpedo boats of the G-5 type were developed in the early 30s of the last century under the guidance of the famous aircraft designer A. N. Tupolev. A seaplane float was taken as the basis of the hull for boats, which led to the creation of a convex upper deck, on which it was impossible to stand even with minimal rolling. In the arsenal of the boat were two 533-mm torpedoes in the grooved vehicles, which were launched by a dumping back. In addition, machine guns were present on the boats, which were constantly changing. At first, two 7,62 mm DA machine guns were put, then two 7,62 mm ShKAS machine guns, and since 1941 boats began to be equipped with one or two 12,7 mm DShK machine guns.
The displacement of the boat was 15 tons, length 19 meters, width - 3,3 m, draft - 1,2 m. Speed ​​- 50 knots (15 minutes), 47 knots (1 hour), 36 knots (7 hours). The crew of 6 people. Seaworthiness up to 2-3 points, the launch of torpedoes at 1-2 points.
Despite its shortcomings, a total of 1944 "G-333" boats were produced until 5. This boat became the most massive representative of its class in the Soviet Navy.