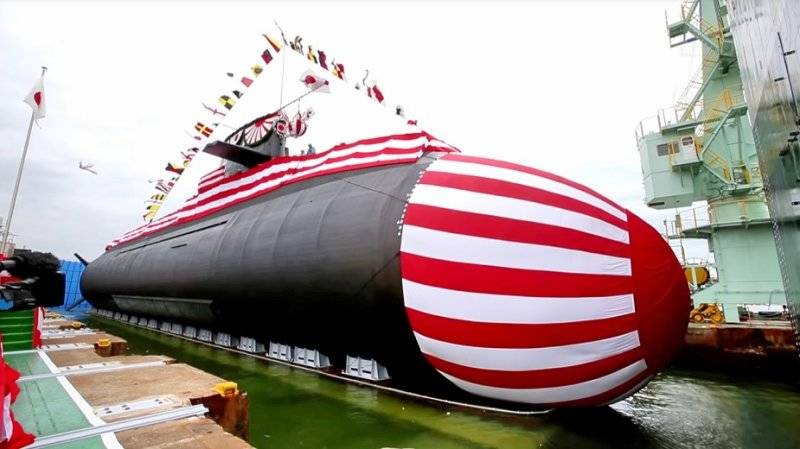 The naval forces of Japan replenished with the eleventh diesel-electric submarine of the Soryu type. The ceremony was held on March 5, 2020 at the shipyard of Mitsubishi Heavy Industries Corporation in Kobe.
Submarine "Oryu" transferred to the Japanese
the fleet
, is the eleventh in a series of twelve diesel-electric submarines of the Soryu class, which are under construction by two companies at once - Mitsubishi Heavy Industries and Kawasaki Heavy Industries. At the same time, Mitsubishi Heavy Industries is building odd submarines, and Kawasaki Heavy Industries is building even.
DEPL "Oryu" was laid in November 2015, launched in October 2018. The last submarine of the series, the Toru, was laid down in January 2017, launched in November 2019. Its delivery to the customer is scheduled for March 2021.
The length of the NPS is 84 m, width - 9,1 m, height - 10,5 m, draft - 8,4 m, surface / underwater displacement 2950 / 4100 t, Crew - 65 persons.
The boat is equipped with a main power plant consisting of two Kawasaki 12V 25 / 25SB diesel engines and four air-independent power plants (VNEU) V4-275R produced by Kawasaki Kockums. The maximum speed in a submerged position - 20 nodes, in the surface - 12.
Armament: six 533-mm torpedo tubes with torpedoes Type-89, Type-80 and UGM-84C Garpun. The submarine is also equipped with a PU for shooting false targets.
It is noted that "equipping with an air-independent power plant allows reducing the visibility of the boat for sonars and being under water for about 14 days, unlike 4-5 days for diesel-electric submarines without a VNEU". The submarine is also equipped with automated systems and GUS, allowing to increase the efficiency of conducting reconnaissance.