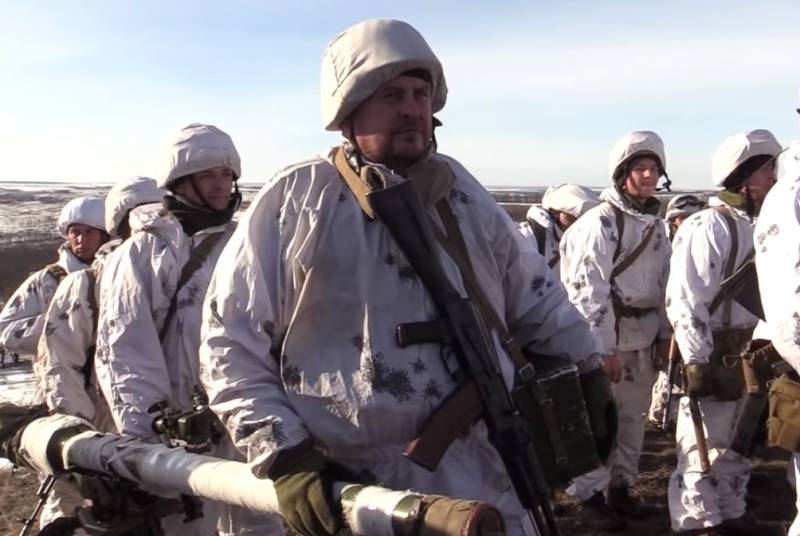 The press service of the OOS (Combined Forces Operations) reports about 10 shelling of the Ukrainian military by the Donbass militias, which they call the armed groups of the Russian Federation there. As a result, three servicemen of the Armed Forces were injured.
In the headquarters of the environmental protection system they say about shelling in the area of ​​settlements Avdeevka, Zaitsevo, Novotoshkovskoe, Orekhovo, Novozvanovka and Lugansk. They fired from 82 and 122 mm mortars, 122 mm artillery, anti-tank missile systems, AGS, heavy machine guns and small arms
weapons
. In response, the Ukrainian military allegedly did not open fire.
Today, special activity on the demarcation line was not noted.
The DNR People's Police report says that fighters of the 128th brigade of the Ukrainian Armed Forces fired on a civilian minibus within the city of Dokuchaevsk. A guided missile hit the bus, injuring two people by shrapnel. During the shelling, the Ukrainian military observed everything from a quadrocopter, which indicates the intentionality of their actions. Republic air defense forces managed to shoot down a drone.
The DPR People's Militia has questions to the Latvian Ambassador to Ukraine, Juris Poikans, who was during the shelling of a civilian vehicle in Dokuchaevsk at the location of the 128th Armed Forces brigade that committed it.
In the village of Novotroitskoye in the Volnovakha region, which is under the control of the Kiev authorities, the SBU conducted mass detentions of local residents. People were seized in the streets, in shops and other places. A total of 154 people were detained, of which 34 were later sent for interrogation to Volnovakha. Presumably, some of these people will be included in the lists for the exchange of prisoners with the DNI and LC, and some will be released for monetary reward.
In addition, the DPR reports on 11 shellings of the Armed Forces of Ukraine, including residential areas of the republic. Over the past XNUMX hours, one shelling was recorded in the LPR. The shelling was carried out from various types of weapons, including heavy artillery.
Today morning, the mayor of Gorlovka, Ivan Prikhodko, reported damage as a result of the shelling of a residential building in Zaitsevo, while in the LPR they fired at the Kalinovka village from the gas station and RPG.