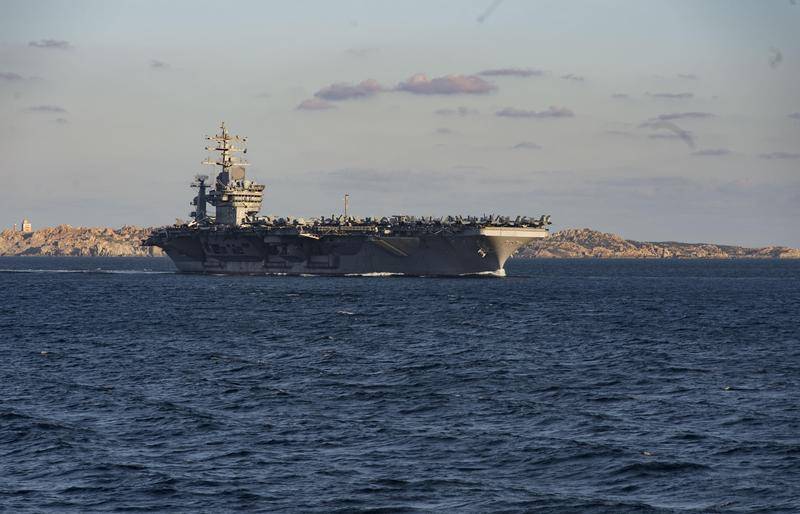 The US Navy has been conducting naval exercises under the name Atlantic Convoy Ops since the end of February this year. The main objective of these exercises is to ensure the transfer by sea of ​​personnel and military equipment of the American army to Europe through the waters of the Atlantic.
For the first time since the end of the Cold War, the US Navy has been conducting naval caravan exercises from the US coast to Europe across the Atlantic. Cover for maritime transport carrying personnel and equipment for participating in the Defender 2020 exercises is provided by an aircraft carrier strike group led by the nuclear carrier "Dwight D. Eisenhower", P-8 Poseidon aircraft and one strike submarine. According to the scenario of exercises, surface and submarine warships using
aviation
They worked out the "clearing" of the future shipping lane before the convoy passed, starting from the coastal waters of the USA and further to the Atlantic all the way to the European shores.
Our ships can no longer expect to operate in a safe place on the east coast or simply cross the Atlantic unhindered
- said Vice Admiral Andrew Lewis, commander of the 2nd
fleet
The USA, which controls the western and north Atlantic.
The convoy used civilian chartered ships as transports carrying military equipment.
As stated in the command of the American Navy, naval convoys remain the most effective way to deliver military cargo to another continent. According to US military planning, more than 90% of military cargo will come from the United States to the theater of operations through sea transport.