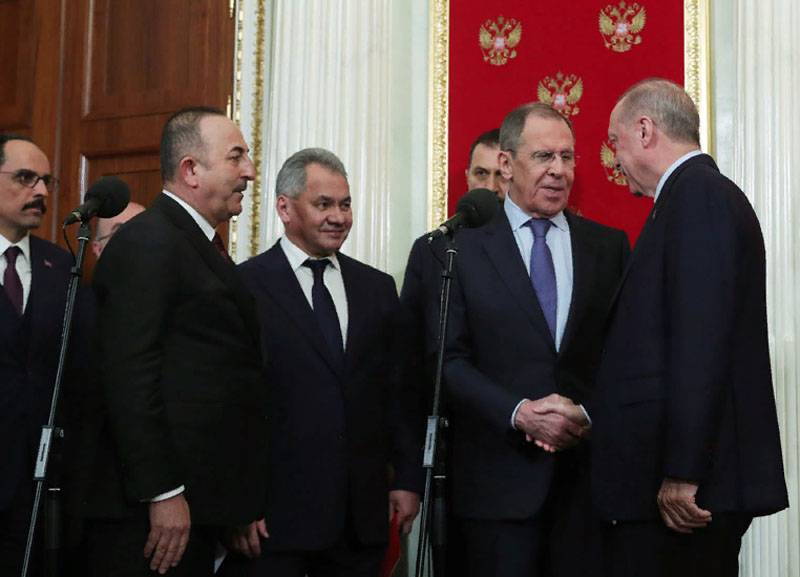 European media publish materials in which they comment on the meeting of the leaders of Russia and Turkey in Moscow on the eve of the meeting. It's worth mentioning right away: this topic is far from the first place for the European media - all the main pages of European newspapers and all the central ones
news
European channel issues are not about the situation in Syria, but about the coronavirus. However, the Europeans did not ignore the Russian-Turkish negotiations.
The French edition of Le Monde writes that the meeting between Vladimir Putin and Recep Tayyip Erdogan sets in a positive mood. From material:
The new agreement, which entered into force on Thursday at midnight, is expected to put an end to military escalation in the Idlib region, where about a million people were displaced. UN Secretary General Antonio Guterres expressed the hope that the deal will lead to an immediate and lasting cessation of hostilities.
Le Monde also notes an important remark by Erdogan during negotiations with his Russian counterpart:
Turkey reserves the right by all means and everywhere to respond to any attacks by the Syrian regime.
In the Polish newspaper Rzeczpospolita, it is noted that in Europe they are not inclined to express support for any particular side in the Syrian conflict. From the article:
The fact is that today both Moscow and Ankara are accused of escalating the conflict in Syria.
Comment by the Polish reader of the newspaper Rzeczpospolita:
The problem is whether the Turks want and can even stop the terrorists at civilian and military facilities in the area. Until now, they could not realize this, so a new war began.
After the negotiations between Putin and Erdogan were completed, the German press expressed hope that now Turkey will again close its borders for Syrian refugees, a new wave of which has already tried to rush to the EU.
The Danish publication Berlingske noted that the meeting in Moscow "took place because the Syrian conflict could escalate into hostilities between Russia and Turkey with unpredictable consequences."