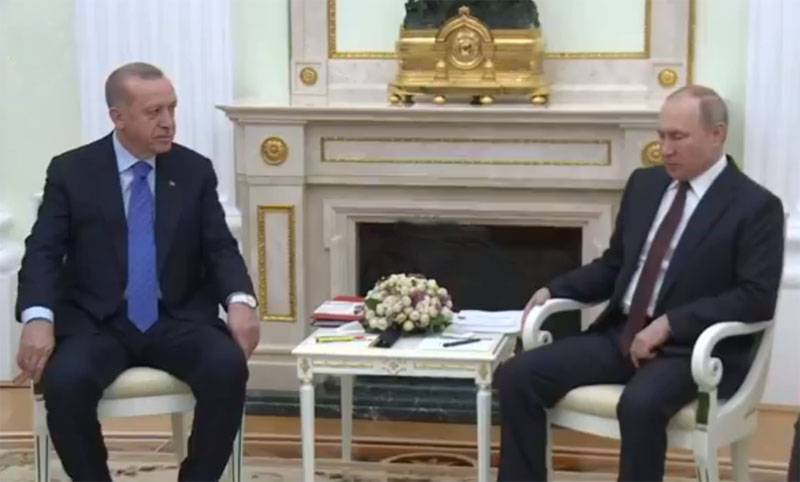 The talks between Vladimir Putin and Recep Tayyip Erdogan began on the Syrian crisis. The Turkish President arrived in Moscow on a working visit, which in itself provokes an ambiguous reaction in Turkey itself. So, opposition politicians in Ankara said that "weakness was shown" and that "it is not appropriate for the Turkish leader to bow to the Kremlin."
During a discussion of Syrian issues, the Russian president began by expressing condolences to his Turkish counterpart in connection with the death of Turkish armed forces in the Syrian province of Idlib.
Vladimir Putin called the incident a tragedy and added meaningfully:
As I said on the phone, no one, including the Syrian military, at that moment knew about the location of the Turkish soldiers.
This is actually a clear hint that Turkish soldiers strangely found themselves outside previously agreed observation posts - in places where there was a concentration of representatives of terrorist groups that the Syrian government army is fighting.
According to Putin, the conversation is very important, as as a result of recent events, including the Turkish operation, the Syrian army suffered serious losses.
In the Turkish media, the meeting in Moscow is paying increased attention. It is noted that the composition of the Turkish delegation, which landed on a government board at Vnukovo II Airport, is more than representative. In addition to Recep Tayyip Erdogan, the delegation includes the Turkish Foreign Minister Mevlut Cavusoglu, Minister of Defense Hulusi Akar, official representative of the President Ibrahim Kalyn, official representative of the ruling party of Turkey Omer Celik, head of National Intelligence Hakan Fidan. In addition, the Minister of Finance of Turkey Berat Albayrak joined the delegation. This person in the delegation further fueled the interest of the Turkish public.
One of the comments:
Why did the president take the head of the financial department with him? How is it related to the idlib crisis?
During a meeting with Putin, Erdogan said:
Today, worldwide attention is focused on the Idlib region. And our negotiations in this regard are of great importance. I believe that we will succeed.