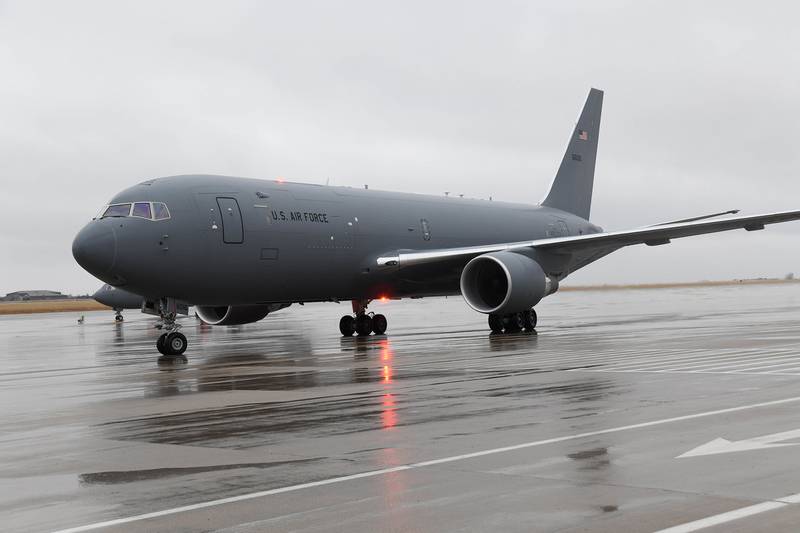 The Israeli Air Force will soon begin to receive the American Boeing KC-46A Pegasus tanker aircraft. The delivery of eight tankers has already been approved by the US State Department, reports bmpd.
On March 3 this year, the US Department of Defense's Defense Security Cooperation Agency (DSCA) sent a notice to the U.S. Congress about the upcoming sale of eight Boeing KC-46A Pegasus tankers to Israel. Delivery will be carried out through the American program of intergovernmental foreign military sales Foreign Military Sales (FMS). In addition to eight aircraft, the Israeli military will receive related equipment, spare parts and technical support. The agreement also includes training for pilots and maintenance staff.
The declared value of the estimated delivery will be $ 2,4 billion, but the planes will be delivered on account of US aid. As part of the Israeli Air Force, KS-46A tankers should replace the nine currently used Boeing 707 aircraft refitted as tankers.
As noted, Israel will become the second foreign customer after Japan, KS-46A tanker aircraft, created on the basis of the Boeing 767-200ER. Japan ordered the delivery of the KC-46A Pegasus back in 2016 with the delivery of the first aircraft in 2020. The US Air Force began receiving these tankers in January 2019.