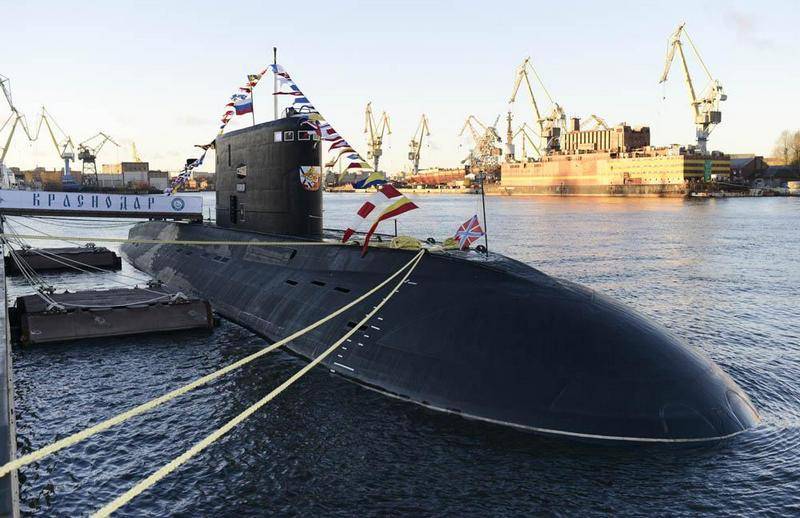 Black Sea diesel-electric submarine
fleet
"Krasnodar" project 636.3 (code "Varshavyanka") will be scheduled for repair immediately after completion of tasks as part of a permanent group of the Russian Navy in the Mediterranean Sea. This was reported by TASS with reference to a source in the shipbuilding industry.
According to the source, the submarine will go for repair in April this year, without going to the main base of the Black Sea Fleet - Sevastopol, immediately heading for one of the Baltic enterprises. Most likely, Krasnodar will undergo scheduled repairs at the Kronstadt Marine Plant, where currently the same type of submarine Stary Oskol Black Sea Fleet, which arrived directly to the Baltic from the Mediterranean, is undergoing scheduled repairs. It is estimated that Krasnodar will be repaired immediately after Stary Oskol.
Last May, it was reported that the Stary Oskol and Krasnodar diesel-electric submarines will undergo scheduled repairs at the end of 2020. In October 2019, the media reported that the repair will be carried out at enterprises in the north-west of Russia.
DEPL Krasnodar is the fourth Varshavyanka built at the Admiralty Shipyards in the interests of the Black Sea Fleet. Laid down on February 20, 2014, launched on April 25, 2015. Transferred to the Russian Navy on November 5, 2015. Krasnodar set off for the inter-naval transition from the Baltic to the Black Sea in April 2017.
Displacement above sea level 2350 tons, underwater 3950 tons. 73,8 meter length, 9,9 meter width, 6,2 meter draft. Surface speed 17 nodes, underwater 20 nodes. Working depth immersion 240 meters, 300 limit meters. The autonomy of swimming 45 day. Crew 52 man.
Engines: 2 diesel generators of 1000 kW each, supplying: main electric motor 5500 hp, economic electric motor with a power of 190 hp, two reserve electric motors of 102 hp each Propulsion: one seven-blade low-speed propeller.
The main armament: six 533 mm torpedo tubes, a mine and Caliber cruise missiles.
The submarines of the 636.3 project are designed to combat enemy submarines and surface ships, as well as for the defense of naval bases, sea and coastal communications.