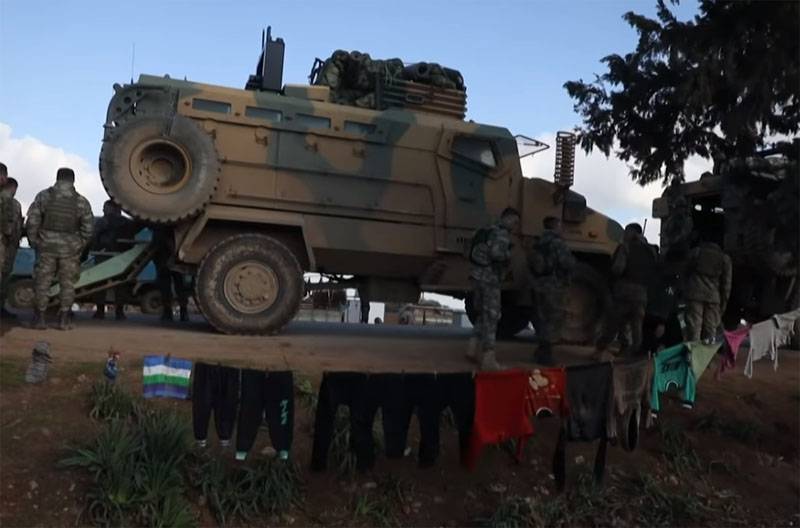 The Turkish Ministry of Defense has published data on the new losses of the Turkish military contingent in the Syrian province of Idlib. A summary of the Turkish main military department reports that two Turkish soldiers in Idlib died and six were injured. As stated, after some time, the press service of the Ministry of Defense of Turkey plans to provide details of under what circumstances these losses were suffered.
Representative of the military department of the country:
Our operation (in Syria) will continue until the regime's bloody hands, which extend to our warriors and innocent civilians, are broken.
The Turkish Defense Ministry said that since the beginning of the operation, 3 aircraft, 8 helicopters and 3
drone
SAA, 151 tanks, 47 guns and howitzers, 8 air defense systems, 27 armored vehicles, 34 pickup trucks with memory or machine guns, 60 army vehicles and 10 ammunition depots.
Against this background, religious actions were held in many mosques in Turkey in support of the actions of the Turkish military contingent in a neighboring country. The media noted that "spiritual support is extremely important for soldiers who are fighting the regime."
In fact, this is another confirmation of the fact that the main task of Ankara in Syria is not at all the defeat of terrorist groups, but the conduct of a war against Syria itself, against the legitimate authorities, against the government army.
A rally in memory of the dead Turkish soldiers was also held at the Turkish National Police Academy.
From a Turkish media report:
The cadets went to the rally with flags and created a "live" map of Turkey in memory of the dead heroes.