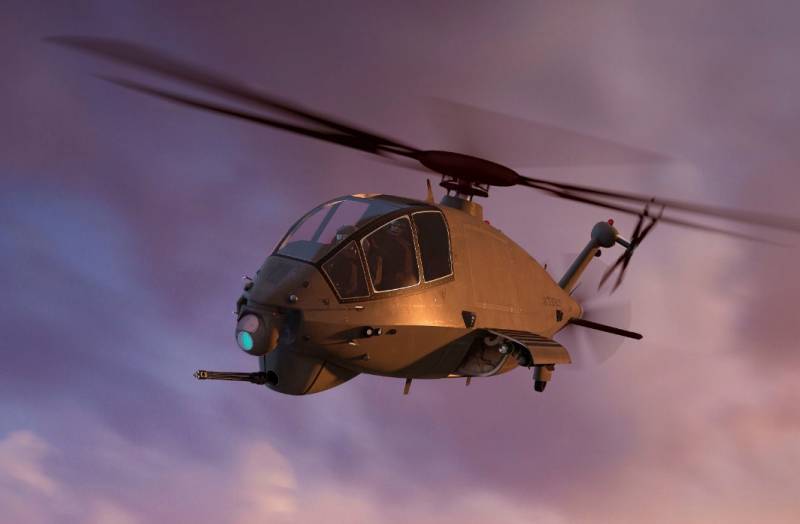 Boeing introduced the concept of a new reconnaissance helicopter for the US military. The new machine has several advantages and will make up for the existing disadvantage of such a technique.
Introduced by Boeing Helicopter specially designed to meet the needs of the army
aviation
US Army in reconnaissance aircraft. The composite traction helicopter has one engine, a modular modern cockpit with a reconfigurable large-area display and autonomous capabilities.
According to Mark Cherry, vice president of Phantom Works at Boeing, the proposed helicopter concept is an affordable and fully integrated system for upcoming US Army missions. The company combined the existing experience of helicopter engineering and combat use of helicopters with innovative technologies and advanced analysis, which allowed us to offer a very convincing solution.
If adopted, the FARA helicopter will carry out reconnaissance missions, and will be able to conduct a light attack on enemy positions. It is assumed that it will replace the multi-purpose helicopter Bell OH-58D Kiowa, which was used by the U.S. Army aviation from 1969 to 2016, having gone through many conflicts, starting from the Vietnam War and ending with modern military operations in the Near and Middle East.
It was to replace the Bell OH-58D Kiowa that the FARA reconnaissance aircraft program was launched in 2018. By the way, the tasks of modernizing the FVL (Future Vertical Lift) fleet of airborne aircraft are considered by the US military command as one of the six priority development areas, therefore, financing the project and its implementation promises to be generous.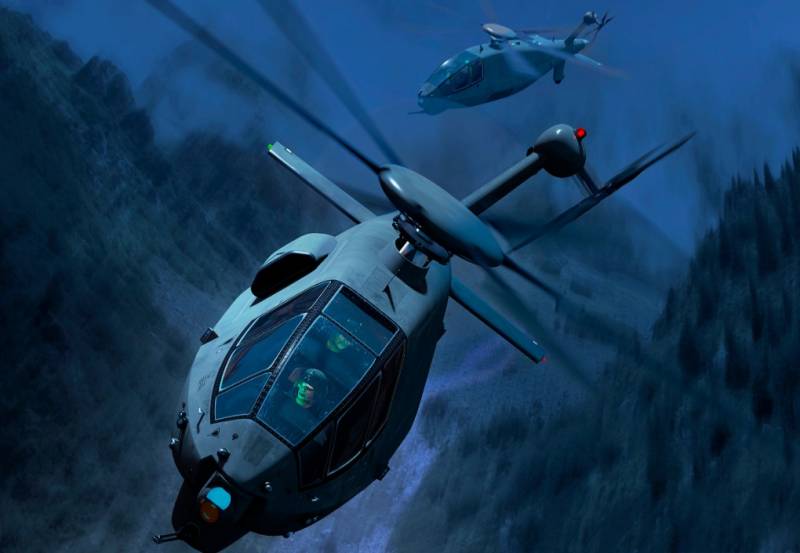 Boeing FARA Design Project
The command of the ground forces expects from the new reconnaissance and attack helicopter more optimal characteristics than were inherent in its predecessor Bell OH-58 Kiowa. We are talking about increasing cruising speed to 333 km / h and top speed to 380 km / h, survival against air defense systems of Russian and Chinese production, high maneuverability in urban conditions, the ability to hide behind obstacles.
In April 2019, concept development contracts were signed with five companies - Bell Helicopter, Boeing, Sikorsky Aircraft (owned by Lockheed Martin), Karem Aircraft and AVX Aircraft (in partnership with L3Harris Technologies). In 2020, two "finalists" of the competition should be selected, and in 2023, prototypes should already fly to the sky. And only in 2028 the American army will stop its final choice on the best example of the two presented.
Thus, the Boeing concept has serious competitors and it is far from the fact that the responsible officials of the US Department of Defense will ultimately choose the company under consideration. By the way, Boeing rivals have already presented their reconnaissance helicopter projects.
Experts believe that one of the most likely candidates for the role of the new army aviation helicopter will be the Sikorsky Aircraft project, which is already at the stage of a flying prototype and, accordingly, has a certain temporary advantage. However, it is still premature to talk about which project will still win the competition.