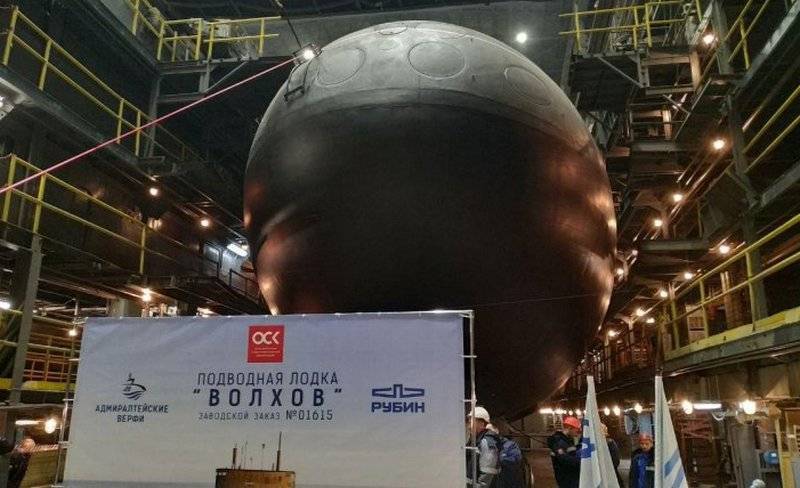 DEPL "Volkhov" before launching in November 2019
The second diesel-electric submarine of project 636.3 "Volkhov", being built in the interests of the Pacific
fleet
, started mooring trials. This was reported by the press service of the Admiralty Shipyards, leading the construction of a series of Varshavyanka.
According to the report, the mooring tests will take about three months, after which the submarine will begin to pass the factory sea and state tests.
Specialists will check all systems, devices and mechanisms of the ship. Among them are a navigation system, a communications complex, general ship systems, control systems, a torpedo missile system, a sonar system and others
- stated at the enterprise.
DEPL "Volkhov" is the second submarine of the type "Varshavyanka" in the series, which is being built for the Pacific Fleet. Laid down on the same day as the main diesel-electric submarine "Petropavlovsk-Kamchatsky" - July 28, 2017, launched on December 26, 2019. The lead submarine for the Pacific Fleet has already been accepted into the Russian Navy after passing state tests. The third and fourth submarines, called Ufa and Magadan, were laid down at the Admiralty Shipyards on November 1 last year.
The contract for the construction of a series of six "Varshavyanka" for the Pacific Fleet was signed by the Ministry of Defense of the Russian Federation and the "Admiralty Shipyards" in September 2016. DEPLs belong to the third generation of diesel-electric submarines. As previously reported by the Ministry of Defense, some changes were made to the design of submarines to improve their tactical and technical data.
The length of the submarine is 73 meters, width - 10 meters, the maximum immersion depth - 300 meters, underwater speed - 20 knots, autonomy - 45 days. Crew - 52 person. The submarines are armed with six 533 mm caliber torpedo tubes, mines and Caliber rocket launchers.